An Iranian family in Finland waits in for a vital decision in Hamy Ramezan's personal first feature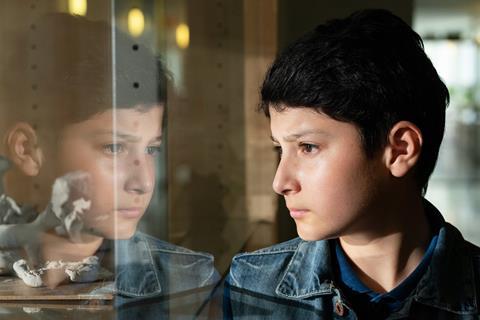 Dir. Hamy Ramezan. Finland. 2020. 82 mins.
Hamy Ramezan draws upon his own family's experience of fleeing the war in Iran for Finland in his debut fiction feature, Any Day Now. As a result, the story about a family's long wait for their asylum application to be process carries a strong emotional resonance even though the narrative, co-written by Antti Rautava, can struggle to maintain its focus and momentum in places.
A welcome lightness of touch
Screening as an international premiere at Berlin in the Generation KPlus section, selected with young audiences in mind, the film's warm-hearted spirit and family appeal are likely to see it secure further festival play. Where many films about the refugee experience linger on the minutiae of applications and the grind of bureaucracy, Ramezan, who previously made documentary Refugee Unknown about the reality on the ground, leaves those elements to brew in the background while focusing on 13 year-old Ramin Mehdipour (Aran-Sina Keshvari), his dad Bahman (Shahab Hosseini), mum Mahtab (Shabnam Ghorbani) and little sister Donya (Kimiya Eskandari),as they wait to hear their fate.
He even observes the family for a while before introducing the theme – via a letter – focusing instead on their day-to-day life at the refugee centre. The family's room is small and the thin walls are a cause of some disagreement over noise with the neighbours but the Mehdipours' energy is cosy and infectious, with Bahman and Mahtab keeping their focus upbeat for the children even in the face of bad news. Finland is also shown to be a broadly welcoming place for incomers, emphasised by Arsen Sarkisiants' camerawork, which captures the verdancy of the natural landscape as the family spends time at the home of older local couple Onni (Eero Melasniemi) and Helena (Kristiina Halkola), or with friends at the centre, while Ramin hangs out with fearless best mate Jigi (Vilho Rönkkönen).
This is the sort of family we'd all like to be a part of, with Asghar Farhadi regular Hosseini making the most of his eternal optimist dad and Ghorbani bringing a playful element to mum Mahtab, in a minor but memorable first screen role. Ramezan also elicits natural performances from Keshvari and Rönkkönen as they take the plunge together – whether it's in water or in their new class – with Eskandari acting as a sort of impish chorus. The portrayal of school and their teacher (Laura Birn, most recently seen in Tallinn Baltic film winner The Last Ones) is also served sunny-side up. But despite many strong individual moments, the story unfolds in fits and starts, with some scenes ending abruptly - a longer running time might have helped smooth the flow.
Ramezan finds his best rhythm with the youngsters and family, but loses momentum when he strays once too often to Bahman's night-time drinks with his buddy Fazel (Muhammed Cangore), who is largely defined by his enjoyment of a tipple and a good moan. The subsidiary characters feel rather sketched in general – we barely find out anything, for example, about Onni and Helena beyond their capacity to be nice. A subplot about Ramin's first crush also feels tacked on to give an additional emotional arc when his friendship with Jigi is more than able to carry the film, even if it would benefit from more fleshing out. But if his debut is a bit rough around the edges, Ramezan also shows a welcome lightness of touch with heavy issues that makes them accessible for audiences of all ages.
Production company: Aamu Film Company
International sales: New Europe Film Sales, info@neweuropefilmsales.com
Producers: Jussi Rantamäki, Emilia Haukka
Screenplay. Hamy Ramezan, Antti Rautava.
Production design: Kari Kankaanpää
Cinematography: Arsen Sarkisiants
Editing: Joona Louhivuori
Music: Tuomas Nikkinen, Linda Arnkil
Main cast: Aran-Sina Keshvari, Shahab Hosseini, Shabnam Ghorbani, Kimiya Eskandari, Vilho Rönkkönen, Laura Birn, Eero Melasniemi, Kristiina Halkola