Dir. Denis Villeneuve. US/Canada, 2016. 120 mins.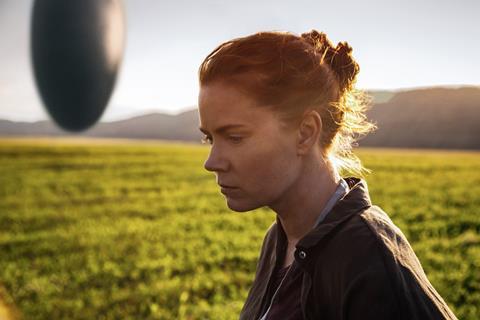 Extra-terrestrial forces arrive on Earth in Denis Villeneuve's Arrival, seemingly to make a smarter version of Contact, Robert Zemeckis' 1997 close encounter film in which Jodie Foster was the first human to join the dots. This time, it's Amy Adams, playing a linguist (as opposed to a scientist), with a dead daughter (previously a father): she's the "chosen one", and her sorrowful back story gives this competent sci-fi its added resonance. In a crowded genre, Villeneuve's picture is distinguished chiefly for being so richly realised and executed, gifted with an almost symbiotic score by his regular collaborator Johann Johannsson.
While Arrivals looks to other worlds, its main pleasure turns out to be the most intimate of questions
With its clear thematic parallels to Interstellar, the more intimate Arrival begs – like all good sci-fi – a spaceship-sized suspension of disbelief. If The Martian hit a home run partially due to its sense of humour, Arrival's USP is its introspective heroine and the larger-than-life question she becomes a vehicle to pose. Fans of Villeneuve's recent films Sicario and Prisoners won't be surprised to find him probing at human impulses, but they may be disappointed at the lack of tension at play here when Arrival goes into wide play mid-November.
Arrival is based on the sci-fi novel Story of Your Life by Ted Chiang which burrowed deep into linguistics and the Sapir-Wharf Theory – the idea that our view of the world is shaped, if not determined, by the language we speak. This is placed in the context of a politically divided planet which is in danger of misinterpreting the aliens' intentions and launching a war of its own making. Thus, posits Eric Heisserer's script, the greatest peril facing Earth is simple misunderstanding – a problem which a human, theoretically, could be able to solve.
That human is Louise Banks (Adams), a professor of linguistics who is clearly still mourning the unexplained loss of her husband and death of her only child to cancer. When twelve spaceships, which look like giant black hanging lozenges, park themselves in the skies across the planet, the desperate US military (via Forest Whitaker) contacts her to try decipher what the aliens' squeals might mean. Soon, she's walking up a ship's honeycomb interior, brandishing a sign with the word "human", and rashly taking off her biohazard suit in an attempt to communicate with the giant seven-tentacled squid inside.
If spaceships do arrive on Earth – and Villeneuve does a good job of imagining how that day might play out – it is to be hoped that the authorities have more available resources than a depressed university prof, but Louise's vast promotion into inner-space is explained away by the fact that she recently interpreted an Isis communication in Farsi and still has security clearance.
With a tentative global political alliance coming apart at the seams – led by bad boys China and Russia, who take to their guns – Louise's time to find a way to communicate with the visitors is cut perilously short, as is a half-hearted flirtation with her theoretical physicist counterpart played by Jeremy Renner.
Villeneuve brings a real visual refinement to Arrival – something which bodes well for his Blade Runner remake, currently shooting. Working with a new DoP, Bradford Young, the Canadian director delivers a range of lucid imagery from Louise's empty lakeside house to the Montana camp which has been set up outside the elaborate alien vessel. The orange biohazard suits turn an ominous black in relief as the team enters the ship, and there's a real sense of darkness descending. Production designer Patrice Vermette has also brought credible worlds to the screen here, although it's Johannsson's score which successfully unifies the piece, seeming to almost speak its own language.
In terms of the aliens, much of Arrivals' dramatic thrust has been explored before (Close Encounters is another parallel). CG is nicely-executed, and the inky moving symbols they use to communicate are impressive. But it almost feels as if Villneuve needs to move through this, and the linguistic sideshow, to focus on what he really cares about — Louise's personal dilemma. Arrivals becomes an unexpectedly moving rumination on life's bigger questions by its end. While it looks at other worlds, its main pleasure turns out to be the most intimate of questions.
Production company: 21 Laps Enterainment
International sales: FilmNation
Producers: Shawn Levy, Dan Levine, Aaron Ryder, David Linde
Screenplay: Eric Heisserer, from the book Story of Your Life, by Ted Chiang
Executive producers: DanCohen, Karen Lunder, Stan Wlodkowski, Eric Heisserer, Tory Metzger, Milan Popelka
Cinematography: Bradford Young
Production designer: Patrice Vermette
Editor: Joe Walker
Music: Johann Johannsson
Main cast: Amy Adams, Jeremy Renner, Forest Whitaker, Michael Stuhlbarg