Valentyn Vasyanovych's film, set in Eastern Ukraine of the near future, is the winner of the grand prize at Venice's Orrizonti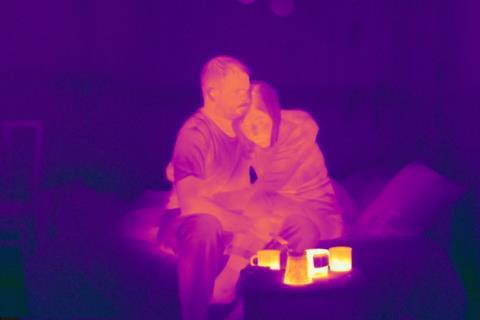 Dir/scr: Valentyn Vasyanovych. Ukraine. 2019. 106mins
Sensitively observed and meticulously crafted, the latest feature from Ukranian filmmaker Valentyn Vasyanovych (Black Level) proves to be both intimate character study and powerful exploration of the ravages of war on mankind and his environment. Winner of the top prize at Venice's Orrizonti section, it is set in near-future Eastern Ukraine, a decaying landscape that has been ruined, both economically and ecologically, by conflict with Russia. While its message may ultimately be one of hope amid the ashes, it should also be read as a cautionary tale.
A remarkable piece of filmmaking from an exciting emerging Eastern European voice
With an ambition that far exceeds its relatively small on-screen scale, Atlantis is a remarkable piece of filmmaking from an exciting emerging Eastern European voice. That, coupled with the Orrizonti prize, may be enough to see it play to fans of accomplished, intelligent world cinema. Further festival interest is certainly likely and positive word-of-mouth — together with increased cultural interest in the region fuelled by the similarly-themed HBO series Chernobyl — will help.
It's 2025, one year after the Ukraine-Russia war has ended, and former solider Sergey (newcomer Andriy Rymaruk) is struggling to adjust to life outside the military. Unable to sleep and beset by suicidal daydreams, he is clearly suffering from PTSD and shuffles through life as a factory worker at the nearby smelter. When the factory closes — the owners claim that it will be refurbished to accommodate new technologies — Sergey finds employment delivering drinking water to the region's few remaining inhabitants. The decaying factories and mines have polluted the natural supply.
A chance roadside encounter with Katya (Liudmyla Bileka, also in her first role) brings Sergey into contact with Black Tulip, a volunteer organisation which travels the countryside exhuming bodies in an attempt to identify them, reunite them with relatives or, at the very least, give them a proper burial. Sergey volunteers to assist; a gesture that's driven, at least in part, by a desire to atone for his actions. While the work is horrendous, its doing brings Sergey some kind of peace — and, as he and Katya grow closer, a chance, perhaps, for some small happiness.
As Sergey, newcomer Rymaruk is excellent. Scarred by his experiences to an almost wordless, and certainly joyless, existence, the actor conveys the character's deep-seated traumas through an expressionless face and a resigned gait. Deeply moving sequences, such as his visit to the bombed-out the ruins of his former home, where he places a pair of children's shoes carefully against a small devastated bed, are made all the more poignant by his emotional restraint. It's a shame Katya is reduced to supporting love interest, for one suspects her story is at least as interesting as Sergey's, but Bileka brings genuine depth and feeling to her limited amount of screen time.
One of the major strengths of Atlantis lies in the tight control Vasyanovych has over everything from screenplay to performance and — acting as both cinematographer and editor — visuals and pace. It would have been easy to direct such a film from atop a soapbox, to turn every piece of dialogue into a sermon, to offer up the whole thing as a didactic shaming device. Instead, he immerses his audience so completely in this decimated landscape that we experience, rather than observe. The camera is often present in a scene several moments before Sergey arrives or remain long after he's disappeared from the frame, it lingers over seemingly innocuous events (ironing, eating), and places the viewer firmly in the position of witness.
In a sharp juxtaposition to its ugly themes, Atlantis is stunning to watch. Vasyanovych has a painter's eye for composition; silhouetting a tiny Sergey against the looming factory, placing him dead-centre of an inhospitable landscape. Extended scenes in which the Black Tulip volunteers carefully and repetitively record every detail of the decomposing bodies they dig from the earth are shockingly explicit in a way that the real-world horror demands.
Elsewhere, the colour palette of muddy browns and khaki greens underscore the hopelessness and claustrophobia that blight this region; flashes of colour, such as the infra-red cameras that bookend the film or the pouring of red-hot molten steel onto black rock, are both jarring and fleeting. And in an absence of traditional score, sound designer Sergiy Stapenskiy builds an often-overwhelming aural landscape of hard-edged metallic and vehicular sounds, allowing background noise to surge into scenes, effectively replicating the cacophony that's playing out within Sergey's own head. It's only towards the film's end that natural sounds — thundering rain, birdsong — finally make themselves heard, bringing with them a small but definite sense of hope.
Production companies: Garmata Film Studios, Limelite
International sales: Best Friend Forever martin@bffsales.eu
Producers: Iya Myslytska, Valentyn Vasyanovych, Volodymyr Yatsenko
Production design: Vlad Odudenko
Editing: Valentyn Vasyanovych
Cinematography: Valentyn Vasyanovych
Main cast: Andriy Rymaruk, Liudmyla Bileka, Vasyl Antoniak