Marvel hurls a 'genuine blockbuster' at world multiplexes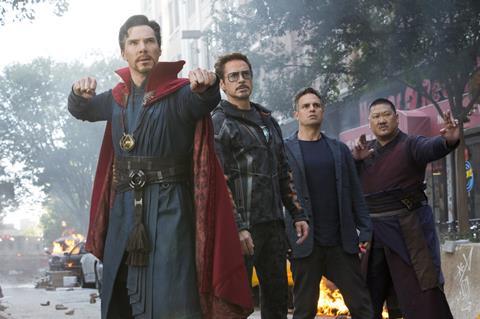 Dirs: Anthony and Joe Russo. US. 2018. 149mins
A gargantuan entertainment — funny, confident, thrilling — Avengers: Infinity War has been advertised as the culmination of Marvel's decade of box-office dominance, and for once the hype is warranted.
Brolin exudes such calm, cruel malice that his evil is gripping and horrifying
Expertly juggling a mammoth amount of characters — as well as introducing a truly monstrous villain, which hasn't always been this franchise's strong suit — the film boasts plenty of comic-book action while also making room for a darker tone and emotional resonance rarely matched in previous instalments. In a cinematic world stuffed with big-budget movies, Infinity War is a genuine blockbuster.
Opening across the globe April 27, this Marvel entry — the studio's 19th in the last 10 years — will be competing with its own past record-breakers, including The Avengers ($1.5 billion worldwide), Avengers: Age Of Ultron ($1.4 billion) and Black Panther (currently $1.3 billion). Superhero fatigue could be an issue, but it seems foolish to bet against the company at this point.
Infinity War brings together the fractured, squabbling Avengers (led by Robert Downey Jr.'s Iron Man and Chris Evans' Captain America) alongside other Marvel heroes such as the Guardians Of The Galaxy (led by Chris Pratt's Star-Lord) and Black Panther (Chadwick Boseman) to battle Thanos (Josh Brolin), an intergalactic menace who wants to collect the six Infinity Stones that will give him the power to rule the universe.
This is the third Marvel film directed by brothers Anthony and Joe Russo (Captain America: The Winter Soldier and Captain America: Civil War), and it's a sizable achievement that they're able to find the narrative space for so many superheroes. Working with frequent Marvel screenwriters Christopher Markus and Stephen McFeely, the Russos quickly capture the essence of characters as different as Tom Holland's impetuous young Spider-Man and Mark Ruffalo's self-conscious Hulk. Though these superheroes' standalone movies have their own styles, Infinity War blends them together seamlessly — while early on suggesting what violent, sadistic fiends Thanos and his henchmen are.
The Marvel Cinematic Universe has often been knocked for its lack of colourful heavies, but in Thanos we're presented with a villain whose ruthlessness gives Infinity War significant stakes. It's de rigueur for a Marvel movie to put the fate of Earth (or the universe) in the balance, but Brolin exudes such calm, cruel malice that his evil is gripping and horrifying.
Marvel executives have hinted that at least one superhero could die in Infinity War, and without revealing anything, let it be said that the film's occasionally bleak tone creates the possibility that death might be imminent. As a result, the superheroes' moments of self-sacrifice have real weight to them — unlike most Marvel movies, we don't feel certain we'll get a happy ending.
Infinity War's suspense is amplified by a sterling ensemble. Celebrated actors such as Downey, Evans and Scarlett Johansson have laid the groundwork in previous Marvel films, bringing enough authority and gravitas to these pop-culture icons that we're invested in what happens. In the new film, when the odds often seem to be against the Avengers, the cast delivers some of its most stirring work, projecting an almost mythical level of heroism that taps into the universal allure of comic books with their valiant, larger-than-life characters.
Along those lines, the Russos have crafted several superb action sequences, mixing laughs, adrenaline and a little pathos that successfully convey the seriousness of the Avengers' mission. Interpersonal relationships established in earlier films play out in satisfying ways in Infinity War, and the movie doesn't strain to invent fresh conflicts to create narrative obstacles. There's a refreshing simplicity to this story — Thanos wants the Stones, and the Avengers have to stop him — that eschews the furrowed-brow philosophical musings that often gummed up proceedings in the past.
It's inevitable that fans of individual Avengers will be disappointed that their favourite doesn't receive more screen time, but that frustration is mitigated by Infinity War's suggestion that these dazzling heroes must put aside their egos in the service of defeating a common foe. The Russos send the Avengers across Earth as well as other planets, constantly putting them in harrowing situations but also enjoying the novel friction that arises from such mismatched characters having to learn to work together. It's been easy to criticise individual chapters of the MCU for being insubstantial — merely episodes in a longer, denser, years-long narrative. Infinity War pays off that patience, and even leaves one waiting for what comes next.
Production company: Marvel Studios
Worldwide distribution: Disney
Producer: Kevin Feige
Screenplay: Christopher Markus & Stephen McFeely
Production design: Charles Wood
Editing: Jeffrey Ford, Matthew Schmidt
Cinematography: Trent Opaloch
Music: Alan Silvestri
Main cast: Robert Downey Jr., Chris Hemsworth, Mark Ruffalo, Chris Evans, Scarlett Johansson, Benedict Cumberbatch, Don Cheadle, Tom Holland, Chadwick Boseman, Paul Bettany, Elizabeth Olsen, Anthony Mackie, Sebastian Stan, Tom Hiddleston, Idris Elba, Peter Dinklage, Benedict Wong, Pom Klementieff, Karen Gillan, Dave Bautista, Zoe Saldana, Vin Diesel, Bradley Cooper, Gwyneth Paltrow, Benicio Del Toro, Josh Brolin, Chris Pratt