A cruelly capricious fairytale from Spain's Juanma Bajo Ulloa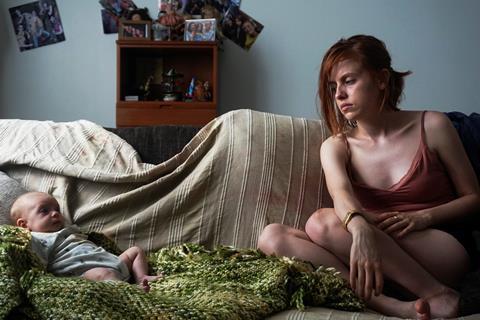 Dir/scr: Juanma Bajo Ulloa. Spain. 2020. 115 mins
Ill-equipped to care for her newborn baby, or even herself, a junkie at rock-bottom sells her child to a female adoption broker. It's a decision she regrets, almost immediately, but her quest to reclaim her infant leads her into the heart of the grimmest of fairy tales. This curio from Juanma Bajo Ulloa (who won San Sebastian's Golden Seashell with his debut, Butterfly Wings) is a macabre psychological thriller which contains no spoken dialogue, but which delves into its cruelly capricious fantasy world through creative sound design, expressive performances from an all-female cast, and extensive use of fake cobwebs.
A macabre psychological thriller which contains no spoken dialogue
Reminiscent of the sinister self-contained worlds created by Lucile Hadzihalilovic in Evolution and Innocence, but not quite as fully realised, Baby is an atmospheric oddity which tiptoes over the creaky floorboards of horror without ever fully descending into the genre cellar. Screening in Tallinn following its world premiere at Sitges, Baby is a picture which should find fans on the festival circuit among audiences attuned to its immersive weirdness, but which would perhaps benefit from a tighter edit if it were to gather momentum on a streaming platform. A potential issue, however, is the fairly off-hand attitude to child mortality, even if it does chime with the fairytale aspect of the piece.
British actress Rosie Day is persuasively bedraggled and haggard as the young woman whose mothering instinct takes a distant second place to her need for the next hit. Her apartment is a wreckage of discarded bottles and ashtray overspill. Her baby is stranded on a sofa stained by numerous bad nights and worse mornings. There's one link to what we assume was a happier past life – a large jewelled pacifier on a gold chain which the young mother finds in a suitcase alongside pictures of her younger self.
Desperate, with no money, the mother arranges to sell her child to a woman with a knowing smile and a taste for strawberries (Harriet Sansom Harris). Accompanied by a semi-feral albino sidekick (Natalia Tena) and a child with a limp and penchant for fancy dress, the woman takes the baby back to her crumbling abode. Anyone familiar with the language of fairy tales will recognise that this is the kind of building that could only be home to witches.
And it's here, in this derelict mansion with its candles and vermin and tangle of creepers forcing tendrils through cracked windows, that the junkie mother finds herself when, with a shock of realisation, she regrets what she has done. She finds her child abandoned in what looks like a nest of thorns, its cries weakening as each day passes. But, racked with withdrawal symptoms, she is unable to escape the building, which perhaps serves as an allegory for her addiction.
This is a film which is not short on symbolism. In the absence of dialogue, Ulloa pointedly fills the film with shots of the natural world. Spiders lurking in webs, mice caught in traps, extreme close-ups of various predatory insects: all this is balanced against more photogenic aspects of nature. Delicately tripping deer and mist hanging over treetops seem tantalisingly close if the junkie can escape the house. The score and the sound design also does a fair amount of heavy lifting, spiking with tension some quite repetitive scenarios which involve the young mother getting herself trapped under various bits of furniture while the inhabitants of the house come terrifyingly close to discovering her.
Most affecting, however, is Nick Drake's gorgeous, melancholy 'River Man', a song which is used twice in the film and is wrenchingly powerful on both occasions.
Production company: Fragil Zinema
International sales: Latido juan@latidofilms.com
Producer: Juanma Bajo Ulloa
Cinematographer: Josep M. Civit
Editing: Demetrio Elorz
Art Direction: Llorenc Mas
Music: Koldo Uriarte Bingen Mendizabal
Main cast: Rosie Day, Harriet Sansom Harris, Natalia Tena, Charo Lopez, Mafalda Carbonell