Hugh Jackman stars in this real-life tale of embezzlement by American school administrators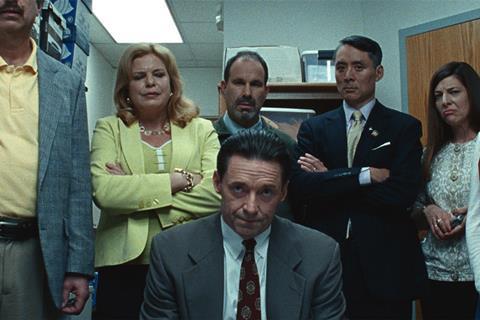 Dir: Cory Finley. US. 2019. 108mins
Cory Finley's directorial debut Thoroughbreds was an upsetting examination of two sociopaths, and he follows it up with another portrait of disturbingly immoral behaviour — although not quite as successfully. Bad Education is based on a scandal at an American school district in which $11 million was embezzled by administrators, but the actual story proves more engaging than the telling, leading to an intriguing but superficial and familiar exploration of pride, greed and wilful blindness. Hugh Jackman commits fully to his role as a vain superintendent trying to stay two steps ahead of his lies and self-delusion. Ultimately, though, the character and themes feel a little too simplistic — a movie's paltry attempt to explain the inscrutability of human nature, which is so interesting precisely because it's so mysterious.
Struggles to find much new to say about the perversion of the American dream
After premiering in Toronto, this dark comedy will court buyers on the strength of its cast — which also includes Oscar-winner Allison Janney — and its outrageous true story. Reviews will highlight Jackman's change-of-pace villainy, although Bad Education's commercial potential seems only moderate, with crossover beyond speciality markets no sure thing.
The film takes place in Long Island over the 2002-'03 school year as Frank Tassone (Jackman), the district superintendent at Roslyn, oversees a thriving public high school with a stellar track record of sending students to prestigious Ivy League colleges. But when Rachel (Geraldine Viswanathan), a junior working for the student newspaper, starts looking into the school's financial records, she uncovers questionable expenses approved by assistant superintendent Pam Gluckin (Janney), which may hint at widespread malfeasance.
Thoroughbreds presented a chillingly off-centre universe ruled by the movie's beautiful but wicked teen protagonists, and Frank is equally image-conscious. (When he's not getting plastic surgery or obsessively watching his cholesterol, he's steadfastly projecting a bulletproof confidence to students and faculty members alike.) Jackman nails the character's shiny exterior — his vision of himself as the embodiment of Roslyn's excellence — but the screenplay by Mike Makowsky, who grew up in the school district where the embezzlement was exposed, doesn't offer him a particularly original figure to play.
From American Psycho to Shattered Glass, American cinema has no shortage of photogenic men hiding ugly secrets, and audiences can't help but be riveted by that internal tension between the handsome face these characters show the world and the seething darkness within them. Jackman's portrayal is nicely controlled and brittle — we'll soon learn that Frank's strenuous efforts at self-improvement mask a self-loathing — but the character's psychological makeup isn't especially nuanced or insightful. If anything, he's but one of a long line of charming sociopaths we've seen at the movies; maybe not a serial killer, but certainly a sick soul.
Likewise, Bad Education offers a familiar slice of regional American life with its heightened accents and local-colour peculiarity, although it struggles to find much new to say about the perversion of the American dream or people's willingness to rationalise away their worst tendencies. (The movie constantly walks in the footsteps of Election, a sharper metaphorical critique of class and ethics seen through the prism of a school.) Once it becomes clear that it wasn't only Pam involved in this embezzlement scheme, Finley has fun mapping out the surprises in store. But rarely are the revelations truly shocking, and the characters aren't three-dimensional enough for us to invest in their fate.
That said, Viswanathan helps elevate the de facto "journalist on the case" role, unearthing the administrators' crimes and, along the way, learning how much adults hide their misdeeds from young people in a fog of self-righteousness. Janney is cutting as a smug Long Islander whose taste for the good life seals her fate — Pam is a master justifier, and in any other movie she'd probably be the story's monster.
But that dubious honour belongs to Frank, and Jackman locates a tender vulnerability within this very bad man who, to the end, defends his corruption by saying that he's trying to help his students achieve their dreams. Bad Education suggests that criminal enterprises can happen anywhere — even at your neighbourhood school. But that universality becomes the film's liability. Where Thoroughbreds made sociopathic behaviour unnervingly unknowable, Bad Education makes it seem commonplace; so much so, in fact, that this comedy's observations are rather academic.
Production companies: Automatik, Sight Unseen, Slater Hall
US sales: Endeavor Content, ecfilmsalesinfo@endeavorcontent.com; and Creative Artists Agency, filmsales@caa.com
International sales: Endeavor Content, ecfilmsalesinfo@endeavorcontent.com
Producers: Fred Berger, Eddie Vaisman, Julia Lebedev, Brian Kavanaugh-Jones, Oren Moverman, Mike Makowsky
Screenplay: Mike Makowsky, based on the New York Magazine article "Bad Superintendent" by Robert Kolker
Production design: Meredith Lippincott
Editing: Louise Ford
Cinematography: Lyle Vincent
Music: Michael Abels
Main cast: Hugh Jackman, Allison Janney, Geraldine Viswanathan, Alex Wolff, Rafael Casal, Stephen Spinella, Annaleigh Ashford, Ray Romano