A crumbling hotel in a Portugese seaside village is the setting for Joao Canijo's first of two linked films to play at the Berlinale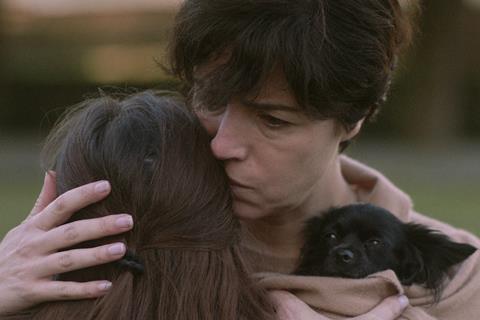 Dir/scr: Joao Canijo. Portugal/France. 2023. 127mins
The British poet Philip Larkin once wrote of how "man hands on misery to man". Here it is women who pass on that torch, in the first part of Portuguese director Joao Canijo's most ambitious project to date – a diptych of films both set in a seaside hotel near Porto that has seen better days. Bad Living charts the bitter daily coexistence of five women from the family that runs the hotel, while the second film, Living Bad, turns the perspective inside-out to follow the stories of three groups of guests. Both films were selected for this year's Berlinale, with Bad Living – the subject of this review – screening in Competition, while Living Bad airs later in the festival's Encounters section.
The mood remains unremittingly bleak
Canijo is a director steeped both in his homeland's talent for melancholia and the Scandinavian school of dourness: at times, his film pushes its penchant for misery to the edge of parody. And yet, here's the strange thing: if you allow yourself to be inducted into Bad Living's tragic seaside universe, it is also a haunting work with a ritualistic feel, as if its five central characters have been possessed by the souls of some ancient Greek theatre troupe. Even at the thin end of the arthouse wedge that is the film's allotted destination, audiences will be split between those who have little patience for the film's relentless wallow in existential anguish and those rapt by its old-fashioned tragic rigour.
One pleasure on which both camps are sure to agree is the film's lambent visual beauty. Shot by DoP and documentary director Leonor Teles, Bad Living plays out in a series of fixed-camera scenes, mostly long- and medium-shots bathed in chiaroscuro light and distinguished by a striking, painterly colour palette ably supported by the costume and production design departments.
The first shows of these show the hotel's outdoor pool, surrounded by scrawny pine trees, where middle-aged Piedade (Anabela Moreira) – a depressive whose recurring catchphrase is "everything is so difficult" – takes her morning swims. It's only gradually that we piece together the relationships between the five women who run a hotel that is losing money and gradually falling apart. Piedade's mother Sara (Rita Blanco) is a piece of work, a stern matriarch who softens only in the presence of Piedade's teenage daughter, Salome (Madalena Almeida). Salome went to live with her father after her parents' divorce years before; the story opens just after his death, when Sara returns from the funeral with her granddaughter in tow, partly – we suspect – in order to turn a knife in her daughter's open wound.
Emotional sadism is a sport in which both Sara and Piedade excel, and one that the defiant Salome is also learning fast – though there's also a deep vulnerability and need for affection inside her, a mix that makes her the film's most relatable character. Anabela Moreira's fine performance as Piedade nails the pathos (a quality inherent in her name) of a clinically depressed woman who is also difficult to love – brittle, unapproachable, lost in her own pain, she lavishes more affection on her lapdog, Alma, than on her daughter. The hotel's other two staff members, Angela (Vera Barreto) and Raquel (Cleia Almeida) – who appear to be lovers – are sketched in less distinctly. We learn that blonde, promiscuous Raquel is Salome's cousin; Angela, who does a lot of the actual work, from pool cleaning to cooking, may or may not be another cousin.
This uncertainty is a deliberate tactic in a story that is about blurred boundaries, about mothers who become needy little girls, about a hotel that is also a home but not a real home because it is also a hotel. The rare guests – who will be given their place in the sun in the second part of the diptych – bicker and row as much as the hotel owners. Even the dialogue often comes in overlapping volleys that are difficult to prise apart.
Bad Living and its companion piece were shot in a late example (1972) of Portuguese seaside modernism in Fao province. Its floor-to-ceiling windows make it something of a social and emotional aquarium and provide some lovely long-shot framing opportunities as we see little dramas play out in bedrooms and communal areas. But the mood remains unremittingly bleak – so much so that when a brief moment of joy and convivial laughter comes an hour and three quarters in, we know things are about to get really bad.
Production company: Midas Filmes
International sales: Portugal Film, sales@portugalfilm.org
Producer: Pedro Borges
Production design: Nadia Henriques
Editing: Joao Braz
Cinematography: Leonor Teles
Main cast: Anabela Moreira, Rita Blanco, Madalena Almeida, Cleila Almeida, Vera Barreto