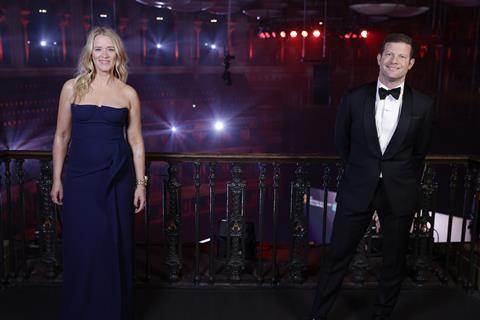 The feelings were certainly familiar as the Bafta ceremony began: tinny applause from an empty Royal Albert Hall and a hirsute Liam Payne singing to his own hologram in a weird Milky Way, an event which had about as much to do with British cinema as that stellar system. What fresh hell is this? Can we book a flight out before we get trapped forever with this swaying, arm-waving Edith Bowman and her sidekick Dermot O'Leary?
In the end, though, you got used to it: you can get used to anything, as lockdown has proved. And in a similar way, it became profound and moving in parts: all those young faces, first-time nominees, how hopeful and beautiful and diverse they were, and look at what they've achieved. The long, sad rollcall of the people we've lost, led by Bafta's first ever president, the Duke of Edinburgh. And, at the end, the night's big winner, Nomadland – a film about how we, as a society, disregard amd discard our elderly (and if we don't know that by now, we really have learned nothing). To cap it all, the best actor Bafta went to the oldest-ever nominee, Sir Anthony Hopkins, for his role as a man suffering from dementia in The Father. Pass the Kleenex!
Bafta was a triumph of content over format. This, admittedly, was a technically-difficult event to arrange in a strict lockdown scenario with cinemas closed and the exhibition industry devastated, even before the death of the Duke of Edinburgh turned it a shade more sombre for the BBC, the state broadcaster. Still, though, the presenter link-ups weren't quite as seamless as they should have been (the network can pull off nightly news broadcasts live from war-torn countries, so a studio in Los Angeles should have been considerably less nail-biting). The tinny applause, engineered from a virtual audience of 1,000, was a jarring mistake, and Bowman pitched her presentation to it, not the quieter, reflective ceremony that Bafta 2021 turned out to be.
There was also a bizarre lack of context, as if it hadn't occurred to anyone that cinemas are shut so most people tuning in on a Sunday night don't know what these nominated films are, or when and where they can see them. May 17, the reopening date, was mentioned once, just shy of an hour in to the telecast and before a montage of upcoming features which weren't identified. Given that, the ceremony probably did well to peak at 3.8 million viewers with an average of 2 million, half the slot average and down a million on last year's live event.
So, like Liam Payne's Milky Way, it was a ceremony almost out of time and space, anchored by familiar faces like Chiwetel Ejiofor, Jonathan Pryce and Hugh Grant presenting, and beaming into nominees' homes as they awaited their results (frustratingly, we barely saw those who didn't win). It was speedy, and it was also genuine: Thomas Vinterberg (Another Round), Bukky Bakray (Rocks), Youn Yuh-jung (Minari), Joshua James Richards (Nomadland), gave endearing, funny, and in the case of Bakray, still only 19, profound speeches as their friends and families whooped with joy. In that sense, surrounded by their loved ones, you could feel the real achievement of a Bafta for the winners and their support base: nobody walks the road to Bafta alone.
Also, in the way of any good drama, there were surprises. Remi Weekes, with his home bunting, won outstanding British debut for his brilliant, haunting horror His House, out of an incredibly strong and diverse field. Anthony Hopkins's win was deserved, if unexpected, given the money has been on the late Chadwick Boseman for Ma Rainey's Black Bottom since the start. Promising Young Woman taking oustanding British film felt a little out of the real world as well, something from Payne's Milky Way, given it barely scraped into that classification, while the documentary win for My Octopus Teacher marked the populist part of Bafta having its say over the committees which have done such a great job of bringing eclectic, diverse and important talent to the shortlists.
After such a precarious start, the Baftas did right themselves. Aside from Payne, a notable triumph was the musical selection, which ushered in the mood the production never seemed to really know it was searching for. Celeste, stripped down and powerful; Leslie Odom Jr and Corinne Bailey Rae's haunting, magnificent rendition of Sam Cooke's 'A Change Is Gonna Come' was a showstopper, especially given the clear diversity of the nominees and presenters.
With Nomadland director Chloe Zhao's plaid shirt and dungarees, Fellowship recipient Ang Lee's stripped-down and direct acceptance speech, two hours zipped by – not something you can say about any other awards show, ever. The mood was honest, open, and to the point. A capella, even. Like lockdown, you could get used to this new kind of awards show, although maniacal laughter in an empty room is hopefully something that will go the way of the rule of six.
BBC1, Sunday April 11, 2021.
Presented by Dermot O'Leary, Edith Bowman
Executive producer: Katherine Allen
Producer: Ceire Deery

Screen International's chief critic and reviews editor