For his debut feature, the UK's Mark Jenkin relates the bourgeois invasion of a coastal Cornish town left defenceless by recession.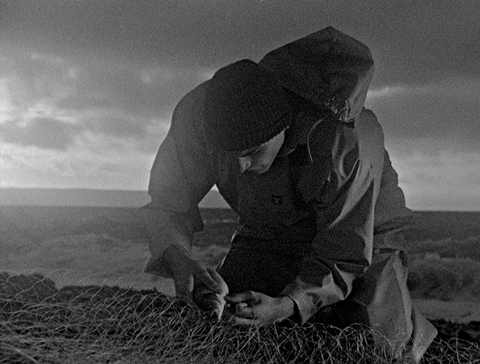 Dir: Mark Jenkin. UK. 2018, 89 mins
With his first full-length feature, British director Mark Jenkin continues both his celebration of hand-made filmmaking and his chronicling of Cornish communities under threat from the modern world. It's a combination at once nostalgic and angrily contemporary. And it happens to involve some ravishing cinema. While festivals with a penchant for experimental filmmaking will lap it up, there may be enough here for select arthouse distributors to also consider taking the bait.
It's a veritable soap opera of ill will, the broad-shouldered, steely-eyed, chain-smoking Martin at the heart of most of it
Shooting on an old Bolex camera in 16mm black and white, processing the Kodak film himself by hand and adding all dialogue and sound in post-production, Jenkin's practice calls to mind any number of directors who look back in order to keep cinema moving forward, Guy Maddin and Ben Rivers among them. Arguably, what sets this apart is the unusual meeting of form and social context: Jenkin's previous film, the 44-minute Bronco's House, dealt with the UK housing crisis, also in Cornwall, Bait with the bourgeois invasion of a coastal town left defenceless by recession.
The plot posits confrontation on a number of fronts. Fisherman Martin Ward (Edward Rowe) is at war with his brother Steven (Giles King), who has appropriated their boat The Buccaneer to conduct tourist cruises. Martin is also bristling against Tim and Sandra Leigh (Simon Shepherd and Mary Woodvine), well-off Londoners who have bought his childhood home – and most of the street. Squawking on the sidelines, the Leighs' son is jealous of his sister dating Steven's broodingly handsome boy Neil (Isaac Woodvine).
It's a veritable soap opera of ill will, the broad-shouldered, steely-eyed, chain-smoking Martin at the heart of most of it – obsessed with maintaining a way of life that has economically moved beyond him, resentful of those obliviously trampling over it. As Martin obstinately decides to fish from the shore, Jenkin lovingly frames him and Neil working on the nets, in stark contrast to the drunken "trippers" who fall into The Buccaneer for a jaunt around the bay.
It isn't all grim. Marvelling at the Leigh's remodelling of his old home, complete with faux porthole, ropes and chains, Martin suggests wryly that "it looks a bit like a sex dungeon". Yet there's no escaping the pathos in his futile attempt to save money for a new boat. As shot and edited by the multi-tasking Jenkin, bank notes pass between these locals' hands as if part of a magic trick, to disappear in an instant.
That the story doesn't play like a soap, or indeed a Ken Loach film, is down to the director's technical and narrative approach. Shot on location in Charleston and around Penzance, the black and white images are strikingly atmospheric, Jenkin's practice leading to imperfections that flit across the texture of the film and a mesmerising shimmer to its surface. This visual quality, the dubbed dialogue and sometimes silent montages, and Jenkin's pulsing, mournful soundtrack all conjure up the notion that the film has been rediscovered­ (dug up from the beach, perhaps) and that the tragedy which is undoubtedly on the cards is something that has already happened – and may happen again.
As high-contrast close-ups capture faces against the sea and sky, or hands at the nets, the earthy evocation of men heroically at one with their environment carries an echo of Flaherty's Man of Arran. The film is at its strongest when it has this mythic quality. It's only when the out-of-towners are involved – their grotesqueness a little too formulaically "posh" – that the decision-making falters and the film becomes stilted. Though with Jenkin's obvious affinity for the beleaguered Cornish, who could blame him?
Production company/international sales: Early Day Films, linn@earlydayfilms.com (The Festival Agency lv@thefestivalagency.com)
Producers: Kate Byers, Linn Waite
Screenplay: Mark Jenkin
Production design: Mae Voogd
Editing: Mark Jenkin
Cinematography: Mark Jenkin
Music: Mark Jenkin
Main cast: Edward Rowe, Giles King, Mary Woodvine, Simon Shepherd, Chloe Endean, Isaac Woodvine