Alejandro Gonzalez Inarritu's latest is a sprawling, indulgent and deeply personal portrait of an ageing Mexican filmmaker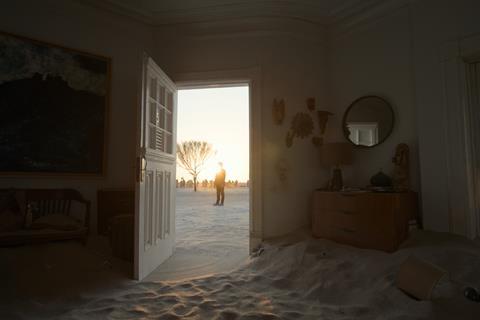 Dir/co-scr/prod/co-ed/music: Alejandro G. Inarritu. US/Mexico 2022. 174 mins
It is not just helpful but imperative that audiences are reminded of the meaning of 'bardo' before attending – or switching on, as it's a Netflix title – Alejandro G. Inarritu's sprawling, sumptuous, almost-three-hour opus. It's the Tibetan buddhist name for the state of the soul after death and before rebirth; limbo, but with potentially better prospects. For most of this gorgeous, taxing, indulgent yet often touching film, the director, producer, co-writer and -editor and composer indicates that the soul is that of Mateo, the short-lived son of acclaimed journalist and film-maker Silverio (Daniel Gimenez Cacho) and his wife Lucia (Griselda Siciliani). Or is it Silverio's earthly state, circling between a tenuous expatriate life in Los Angeles and an ethically uncomfortable one in his native Mexico City? It turns out to be something else entirely in this deeply personal film, which comprises a carousel of masterly tableaux looking for a connector.
A defiantly singular piece, rangy and disconnected and meta
This ambitiously cinematic work, which hails Inarritu's own Oscar-winning Birdman and flies with it into Fellini's 8 1/2, is not an obvious fit for a youth-orientated broad-based streaming platform. It's a Spanish-language meander, if not a ramble, into the mind of a successful film-maker basting himself in the juices of his own doubt and self-loathing (although there's a lot of humblebrag here as well). Inarritu's alter-ego Silverio is a grey-haired, 60-something, middle-class Mexican expat, and just because he hasn't sold out quite so much as his former TV colleagues, that doesn't mean he has done enough to help his benighted country either. And he knows it.
In his first Mexico-set film since Amores Perros (2000) and seven years after The Revenant, Inarritu pours liquid visual after visual into this melting pot of emotions, working with master craftsman Darius Khondji as DoP. The camera circles, soars and bubbles (the fisheye lens is favoured) as one masterful sequence or redolent mise-en-scene topples into another. The viewer may arrive at, around the two-hour mark, a point of being equally bored with Silverio and enraged by his narcissism. Does the world need yet another film about the self-obsessed angst of an ageing, affluent male film-maker; this one at just under three hours?
Yet it's impossible to deny the strength of the startling array of thoughts and concepts which Inarritu has brought to life and, ultimately, brings together, although the impact is clearly diluted by his unwillingness to cut. The absence of a powerful producer or production entity to toughen this work is a scar on the heart of Bardo. Today's conditions for independent cinema dictate you either accept compromise and head into the marketplace, or go with a streamer in the pursuit of 'creative freedom' with the realisation that your 'difficult' film might just dissolve away. The latter could happen here: awards seems a stretch for the major categories, although Khondji is a natural front-runner for lensing.
It's clear, though, that Inarritu has not made Bardo with the marketplace in mind. It's his film – for him, by him, about him. It's a defiantly singular piece, rangy and disconnected and meta, a film which can hop between a hokey re-enactment of a doomed battle in the Mexican-American war of the 1840s to a conversation between Silverio and the conquistador Hernan Cortes on top of a mountain of bodies in the centre of El Zocalo; a chat which, of course, is also being filmed. Bardo is a portrait of the artist caught in a circle of time which somehow spins out from the birth of his first son Mateo and the jumping shadow which starts the picture so beautifully.
The spirit of Fellini and, latterly, Paolo Sorrentino kick their way into the film with some vigor when Silverio, who is about to receive a major prize in the US for his work as a documentary film-maker (his last film was called 'False Chronicle of a Handful of Truth') visits home and the TV studio in which he once worked. Dancing girls, telecasters, news footage, even a sexy siren called Tania Kristel (Fabiola Guajardo) parade in front of Khondji's one-shot, and they will all return – although the less said about the sucking of fried eggs from Kristel's breasts by a child-bodied, adult-headed Silverio the better.
The meaning of a LA train ride and a water-filled bag carrying axotles will not become clear until much later, and Silverio's children appear and grow into teenagers in a non-linear manner. But there are two big bravura set pieces to take the viewer through to some of the answers, as Silverio moans that 'success has been my biggest failure'. The first is that party in Mexico City to celebrate his award. The second, and most impactful visually and ideologically, is a walk he takes through the capital's streets: at first empty, now filled with corpses of his countrymen and women who drop to the ground, disappeared. It's clear to Silverio that this award-winning documentary work about migrants is superficial in the face of Mexico's ruin, reinforced by a cartel member's speech from prison.
Not to mention the fact that Amazon is set to buy Baja California, which fits nicely with his country's history of external and self-subjugation. Silverio ends up at a luxurious beach house there, not permitted to bring his maid (played by Roma's Clementina Guardarrama) to the shore (he's such an unlikeable character, he goes on without her). Engorged with self-pity, or depression (a middle-class problem, he's told), Silverio examines his psyche and finds it wanting. Luckily his lovely wife is always there to provide tea and sympathy, and a bare-breasted romp through their apartment.
Awarded a less-stylish riff on the Marcello Mastrionanni/Toni Servilo role, Daniel Gimenez Cacho is effective as an ageing – or is that raging? – ego suddenly coming to the realisation that it might all be meaningless. As the director's alter-ego, it's really the actor's show. Technical credits are wonderful. Production design by Eugenio Caballero (Pan's Labryinth) feeds Khondji's ravenous eye and effects, when added, enhance the conceptualisations, rather than burdening them.
Inarritu has a lot of answers for his audience in this film. It is, at least partly, a puzzle with interlocking elements, although a character does add a footnote that 'people these days swallow any old bullshit.' But a family member who questions the length of Silverio's last film, is told 'It's 90 minutes long, you lazy bum.' Mexico is described as 'a dead country, where none of us die' – something that Silverio, and by extension Inarritu, can't, and won't, alter in their lifetimes. That's another clue as to the real intent of Bardo, Inarritu's purgatory of a film.
Production companies: M Productions
Worldwide distribution: Netflix
Producers: Alejandro G. Inarritu, Stacy Perskie Kaniss
Screenplay: Alejandro G. Inarritu, Nicolas Giacobone
Cinematography: Darius Khondju
Production design: Eugenio Caballero
Editing: Alejandro G. Inarritu, Monica Salazar
Music: Alejandro G. Inarritu
Main cast: Daniel Giménez Cacho, Griselda Siciliani, Ximena Lamadrid, Iker Sanchez Solano, Andrés Almeida, Francisco Rubio