Dir. James Watkins. UK/Fr, 2016, 92 mins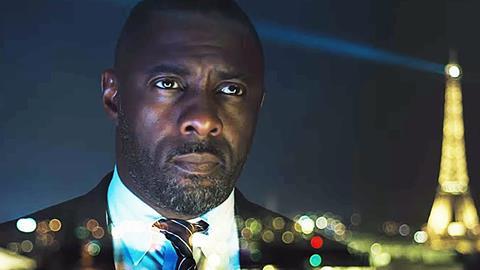 Idris Elba stalks his way through the small-but-ambitious UK-France thriller Bastille Day like a Bond-in-training, playing a lone wolf FBI operative charged with deflecting a gang of supposed terrorists who are ripping Paris apart at the seams. Postponed after the Paris attacks, this is a solid, commercially-minded release from British director James Watkins (Eden Lake, The Woman In Black).
Bastille Day is fun, for the most part, but the biggest take-home here is how easily Elba could slip into 007's shoes.
Opening in the UK on April 22 and set for French release on the eve of July 13, Bastille Day is hampered by a lack of chemistry between its leads - Elba and Richard Madden as an unlikely American pickpocket in Paris. Elba is a physically imposing actor, though, and he lays about his work with a force that ultimately carries the film. (He even sings and co-composes Bastille Day's theme song, along with Norman Cook -aka Fatboy Slim).
Elba's fanbase (lately through Luther and Beasts of No Nation) has been growing in a way which should make Bastille Day an urban commercial proposition, although VOD prospects are also good (Focus handles US release). Cinderella's Richard Madden, too, has a Game of Thrones following, although he fails to connect with viewers or other cast members here. Charlotte Le Bon (The Walk), replacing Adèle Exarchopiulos as the girl caught in the conflict, is good in a frustratingly small part. How Bastille Day will play in a post-Bataclan Paris is a more dubious proposition, but the production should at least get full marks for an ambitious screenplay - which pays tribute to 2004's gritty 36, Quai Des Orfevres - and committed execution.
While the Bastille Day bears the marks of its low-budget confines - this is no London Has Fallen - this lack of resources hasn't dampened Watkins's ambition as he attempts to bring Paris to a halt, dodging the screenplay's more obvious genre cliches. Elba is set up from the get-go as your typical CIA deep-cover lone wolf, deemed a "reckless, insubordinate and irresponsible" field agent by his superiors. These turn out to be helpful attributes, though, when a bomb, carried by the misguided mule Zoe (Le Bon), goes off in the Sacre Coeur area and an American pick-pocket working that zone (Madden) is implicated.
In a reflection of the levels of trust currently operating on the world stage, the Americans are running their own investigation in Paris, separate to that of the French government. This also proves helpful when the French police are implicated in a dastardly plot which is set to unspool on Bastille Day. Smartly, the film uses social media and hashtags to effectively move the plot forward without resorting to images of people typing in front of a computer screen. The rest is done by Elba, charging through Paris.
Director Watkins and his cinematographer Tim Maurice-Jones and production designer Paul Kirby deploy a good, unified eye – the film's opening sequence, for example, is arresting, and sleight-of-hand blends Paris with UK-shot sequences. . The screenplay thinks big when it comes to plot, but glosses over human considerations – it may be acceptable to have the taciturn Elba leading off the action, but more narrative flesh needs to decorate the film's other human bones.
Of note here is a thrilling rooftop chase between Elba's character and Richard Madden's thief – two fit Brits, playing Americans, on the run in Paris. Bastille Day is fun, for the most part, but the biggest take-home here is how easily Elba could slip into Bond's shoes.
Production companies: Anonymous Content, StudioCanal, Vendome Pictures, Anton Capital Entertainment
Producers: David Kanter, Philippe Rousselet, Bard Dorros
International sales: Studiocanal, info@studiocanal.co.uk
Screenplay: Andrew Baldwin
Cinematography: Tim Maurice-Jones
Editor: Jon Harris
Production designer: Paul Kirby
Music: Alex Heffer
Main cast: Idris Elba, Richard Madden, Charlotte Le Bon, Jose Garcia, Kelly Reilly