Afro-Latino filmmaker Rebeca Huntt makes her debut with a striking biographical documentary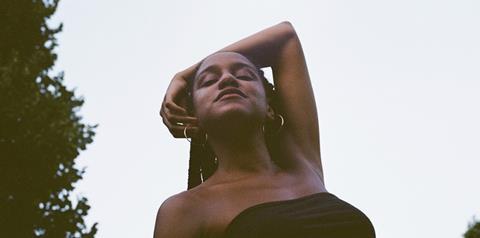 Dir/scr: Rebeca Huntt. US/Mexico. 2021. 79mins
"You are now entering my universe," first-time feature filmmaker Rebeca Huntt announces in voiceover early on in Beba, a meditative, searching essay film that journeys through her memories, seeking answers but sometimes being content to simply sit with the questions. Huntt's initial invitation opens the door to a series of musings — on family, mental health, racism, identity — and the free-flowing style, aided by dreamlike editing from Isabel Freeman, is both playful and sombre, offering a captivating snapshot of a young artist trying to make sense of her complicated self.
Beba emits a restless, curious charge
Beba will screen as part of Toronto's Next Wave section, announcing Huntt as a talent bursting with ideas. Further festival play seems assured and, although the picture isn't particularly commercial, this Afro-Latina filmmaker's brand of personal cinema could score her arthouse support.
Huntt narrates Beba, which gets its title from the nickname her mother bestowed on her. Drawing on archival footage, interviews with family members, home movies and even a scripted segment, Huntt presents a loose overview of her life, focusing first on her relationship with her parents and siblings before segueing into stories about dating, attending the predominantly white university Bard College and eventually moving back into her family's New York apartment.
Graduating to features after helming the shorts 1-800-Lovable and ¡Hay Coro!, Huntt adopts a poetic tone for her voiceover, sometimes offering evocatively pithy recollections of the people she's encountered. (For instance, a romantic relationship with a bipolar Bronx resident, Michael, has a beginning, middle and end in just a few minutes of screen time.) But there's also an unmistakable melancholy that suffuses the work; in particular when she talks about her Venezuelan mother and Dominican father and their complicated rapport with their children. Talk of schizophrenia and depression meshes with Huntt's struggles operating in white spaces. Weariness coexists with defiance, notably when Huntt declares at one point, "God, bring me back black every time."
But Beba never lingers on one topic for too long, as the filmmaker bounces around between subjects like they're random thoughts that popped into her head. Likewise, Freeman gives the picture a brisk but contemplative pace, sometimes juxtaposing Huntt's words with images of nature that don't immediately match up with her thoughts. But rather than being jarring, this collision is engaging and provocative, making the film's more direct moments that much more piercing. Simply seeing footage of Huntt over the years — she's now in her early 30s — creates a palpable sense of someone coming into her own, even if she doesn't quite know what that person will be.
Some of Beba's strongest moments occur during the writer-director's casual interviews with her family. Huntt's exchange with her mother is contentious, underlining their rocky relationship, whereas her talk with her father couldn't be warmer. It's no surprise that Huntt always preferred him of her two parents, but later she acknowledges the dark aspects of both their personalities that have seeped into her own psyche. The filmmaker isn't afraid to direct her criticism inward, at one point describing herself as "chronically cruel."
Cinematographer Sophia Stieglitz lends the 16mm images a vividness that also feels nostalgic — like a memory Huntt is trying to recall. But the film can also be caustically funny, such as during a scripted sequence in which she challenges a group of obtuse white liberals about their racial blind spots. Huntt makes a passing comment that she's trekked around the world in search of something, and likewise Beba emits a restless, curious charge. Her universe is one well worth exploring.
Production company: BEBA Film, LLC
International sales: United Talent Agency, filmsales@unitedtalent.com
Producers: Rebeca Huntt, Sofia Geld
Editing: Isabel Freeman
Cinematography: Sophia Stieglitz
Music: Holland Andrews