All-female anthology takes a sparky driver's seat approach to life in the Kingdom of Saudi Arabia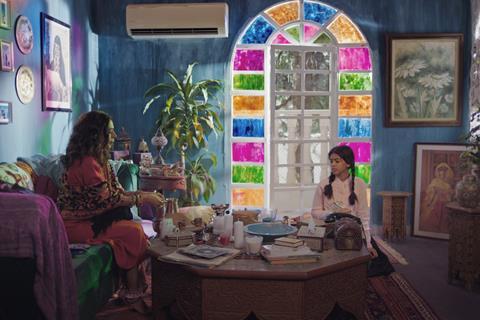 Dirs. Sara Mester, Fatima Al Banawi, Jawaher Alamri, Hind Al Fahhad, Noor Alamir. Saudi Arabia. 2021. 70 mins.
A warm welcome into a world of Arab women, the Saudi Arabia-based and -backed Becoming is an easy watch - five short and sharp films which add up to a snappy 70 minutes. Directed and written by young Saudi female film-makers, they're mostly under-stated, intriguing little gems, flashing some real depth and, on occasion, precision skills. Even the most obvious piece carries some insight, while the most stubbornly enigmatic impresses the most. Premiering at Cairo before moving on to the Red Sea Film Festival, this should be catnip for festival programmers and specialty channels in 2022.
All the issues dealt with here are taboo subjects at home, so it's doubly reassuring to see these shorts being made at home too
As with any omnibus, the quality is uneven, but the scarcity of insight into modern Saudi life, especially from a female perspective, lends the project extra weight. All the writer/directors are at the very start of their careers and it seems certain, especially with the backing of the Red Sea Festival and a drive to enhance film-making from the Kingdom, that we shall see more of them. There's an ease to their pieces which suggest they have much to say: Becoming is also structured smartly, with a short and effective curtain-raiser leading into three longer pieces and another small send-out.
Brief though it may be, Noor Alamir's Samaya's Pride is a six-minute visit to a wedding party where the mother of the bride can't find her daughter is nicely cut and entertaining, adroitly conveying the growing urgency of the matter without being over-stated and helped greatly by a large - but not outsized - performance from Reem Al Habib (herself a director) in the main role as Samaya's frustrations mount and her position becomes untenable.
It's followed by Aldabah, by Sara Mester - a 20-minute, complex and elusive piece about a mother (Lana Komsany) and her daughter (Jana Bomri). Mester's short The Girls Who Burned The Night played at Cairo last year. Recently named a Screen International Arab Star of Tomorrow, Mester's film is easily the most sophisticated, stubborn, and lingering in the portmanteau in its view into the forbidden and the unstated. Festivals will pay note.
Until We See Light by Fatima Al Banawi is the most technically accomplished of all the films and a strong short. Based in and immediately outside a car which has been penned in, it brings up many issues with Saudi Arabia - a working mother (Swzaj Abu Al Khair), a female driver - and the physical and metaphorical need to reverse around the issues in order to escape constriction. With a fast edit, tight scoring, and an ambitious agenda, this 10-minute short is entertaining, but there's always a sense of underlying sense unease and, possibly, danger. As the star of the Saudi film Barakah Meets Barakah, Al Banawi is probably the best known of any of the talents here on an international level.
The Unforgetting Hand, directed by Hind Al Fahhad and written by Manal Alawibeen is the more archetypal film you might expect from a film industry in its infancy, juggling the themes of tradition and modernity. At 24 minutes, it's the most obvious of the films, with an infertile career medic (and another lady car driver) reluctantly seeking help from an old female shaman despite her misgivings.
Jawaher Alamri talks about a young girl and her outspoken auntie in A Gathering With The Cosmos, written by Norah Al Mouwalad. On a visit to her colourful relative's house, the child reveals that she's had her first period - but kept it a secret from her ultra-religious mother for fear of being put in a niqab and locked away. At six minutes, this is short, sharp and effective.
The Arabic-language title of this compendium translates to puberty, but it's more in a sense of transitioning – all the characters here move through obstacles as women and mothers. All the issues dealt with here are taboo subjects at home, so it's doubly reassuring to see these shorts being made at home too.
Production company/international sales: Red Sea Film Festival Foundation, suzan.abulkhair@redseafilmfest.com
Producer: Ragheed Al Nahdi, Nora Alfraikh, Hajar Alnaim, Khulood Kamal, Abdulrahman Fares
Cinematography: Rawan Namngani, Abobakr Alshibli, Heyjin Jun, Hussain Alsadeq, Ahlam Fadel
Editing: Rawan Namngani, Ziyad Abdulrazaq, Almuthana Kutbi, Bashayer Abdulaziz, Hussam Alsayyed, Mahmoud Amjad.
Main cast: Suzan Abulkhair, Ghada Aboud, Lana Gomushani, Reem Al Habeeb