A bright ensemble cast tackles the ups and downs of Chinese students in Japan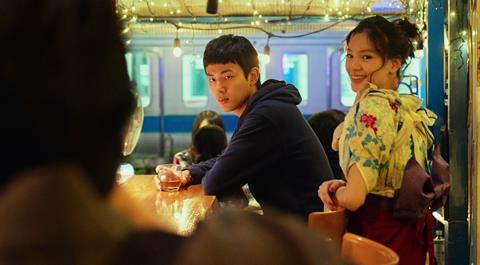 Dir: Li Gen. China. 2021. 105 mins
With regards to studying overseas, it could be argued that time spent beyond the classroom is actually the most beneficial part of the experience. This seems to be the perspective of writer-director Li Gen as his debut feature Before Next Spring follows a Chinese exchange student in Japan who takes a part-time job in the service industry alongside fellow Chinese nationals and forms some firm friendships as a result. Unassuming in visual style and appreciably light on contrived developments, this breezily watchable semi-autobiographical drama succinctly illustrates various attitudes towards navigating another culture.
Li offers a balanced take when it comes to the relationship between China and Japan
Having received its world premiere at the Udine Far East Film Festival, this gentle slice-of-life affair will enjoy international exposure at further Asian-themed events before quietly drifting to streaming platforms, where it may struggle to gain attention. Domestic theatrical appeal seems limited, although the student crowd could prove receptive with the right marketing campaign.
Unfolding over the course of a year, the loose narrative revolves around Nankokute, a Chinese restaurant in a sleepy Tokyo suburb. In need of funds due to his family's financial struggles, student Li Xiaoli (Xie Chengze) is hired there as a waiter, having been introduced by classmate Qiu Qiu (Qiu Tian) who is friendly with waiter Zhao Qingmu (Niu Chao). Li overcomes his clumsiness and becomes friendly with manager Guan Wei (Qi Xu) and chef Wan Lao (Chen Yongzhong), but Qingmu is less welcoming since he has a crush on Qiu and sees Li as a potential romantic rival.
In low-key fashion, these co-workers confront life's obstacles. Li frets that he has left his cash-strapped parents in the lurch and seeks guidance from one of his teachers (Sylvia Chang); Wei has her application for permanent residency rejected and goes through a bumpy patch with her boyfriend, undocumented immigrant Xiao Song (Song Ningfeng); and Lao cannot decide whether to relocate his family from China. The most turbulent arc goes to Qingmu who has been stealing money from his father, a volatile alcoholic who ejected his family to marry a Japanese woman.
Even with Xiaoli's story serving as a bookend, Before Next Spring is very much an ensemble piece with deft editing by Matthieu Laclau and Tsai Yann-Shan skilfully weaving together an appealing set of characters as their routines overlap. Although the restaurant is a prominent location, the personal circumstances depicted here reflect the rise of the gig economy in Japan as some characters have multiple jobs: Qingmu also picks up after hours shifts at a karaoke lounge and a supermarket, where Qiu works in addition to her other source of income as a bar hostess. This is not an economic critique, though, as they generally seem happy to juggle whatever low commitment moneymaking opportunities come along. Rather, it's a considerate look at people who maintain realistic expectations, with glimpses of the iconic Tokyo Tower evoking an acceptance that bigger things will likely remain out of reach.
Li offers a balanced take when it comes to the relationship between China and Japan. He is keen to stress how human connections can be forged regardless of an antagonistic history, with Wei becoming close to a Japanese couple who run a barber shop following a chance encounter at a medical appointment. However, he also touches on the red tape, cultural differences and occasional public displays of hostility which make it hard for Chinese immigrants to determine whether they will ever truly feel at 'home' in Japan. These dynamics and difficulties are capably conveyed by an engaging cast. Qi is particularly fine as the burdened yet determined boss and television drama performer Niu makes a strong impression as the outwardly nonchalant waiter who is privately seething about his family situation. To his credit, Li doesn't try to resolve all the individual problems, instead using the one-year framework to believably leave some matters in a state of flux.
The film is shot in a pleasingly unfussy manner by Yao Hung-I, who gives the restaurant scenes a warm glow to emphasise the sense of a makeshift family but otherwise photographs the suburban environs in natural tones to ensure an everyday texture. A melodic, stripped down score courtesy of rock band Hualun adds to the modest charm of this nicely realised indie production.
Production company: Xiang Xiang Shi Dai Entertainment Culture Media (Beijing)
International sales: Huace Pictures, cicycao0808@hotmail.com
Producers: Wang Hongwei
Screenplay: Li Gen
Editing: Matthieu Laclau, Tsai Yann-Shan
Cinematography: Yao Hung
Music: Hualun
Main cast: Qi Xi, Xie Chengze, Niu Chao, Qiu Tian, Song Ningfeng, Chen Yongzhong, Sylvia Chang