Dir Anthony Wonke. UK/Ireland, 2015. 98 mins.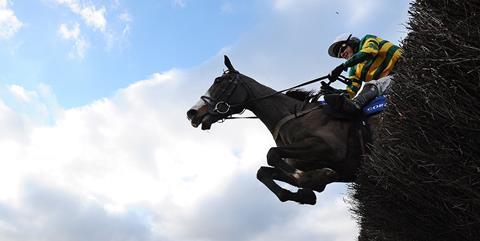 The business of horses – owners, trainers, jockeys, form, meets, prizes – has never been quite so dispassionately or compellingly observed as in Being AP, a sparkling, close-up documentary about Irish jump jockey AP McCoy in the last year of his tremendous, never-to-be-seen-again-in-our-lifetimes career.
"I don't think I was ever content in my life," he says. "I'm an addict riding horses."
It's horses for specialised courses commercially here, but Being AP isn't just notable for its take on the camera-shy professional racing community in the UK and Ireland. The film also probes the one-track mind of a champion – exposing the bed of thorns under the winner's podium, the disturbing mental processes which drive AP past the finish post time and time again. Set to go out theatrically in the UK and Ireland through Entertainment One, this is a cinematic ride which makes some unexpected editorial choices and will benefit from good exposure across all VOD platforms (with commercial spikes in National Hunt-savvy territories such as Hong Kong and Australia, and potential dips in zones like the US where the sport is unfamiliar).
The kind of drive which propels a man to be champion jockey for 14 consecutive years as Being AP opens doesn't sit well with the mundanity of day-to-day life; marriage, kids, what's-in-the-fridge. AP (Anthony Peter, or Tony) McCoy only cares about winning. And as he's the greatest jump jockey we are likely to see, there are few barriers left – he has notched 4,000 wins, taken the Grand National, the Cheltenham Cup, broken almost every bone in his body, become a household name across the UK and Ireland. Now he's chasing down 300 titles in a year, a quest which has to be mathematically parsed and pursued. With his life now on the line every time the 40-year-old rides, McCoy's relentless ambition flies in the face of his young family – or that's how his glossy wife Chanelle sees it.
Director Anthony Wonke and his team were presented with a narrative gift when they chose to follow AP at what turned out to be a crossroads in his career. They've made unusual choices elsewhere which can weaken the film's initial impact – McCoy's personal history (he hails from Northern Ireland) is not even raised, and the failure to mention his height (he's tall for a jockey) and how that bears on his weight and how he lives his life practically screams to the camera for context with every shot of him eating or weighing in.
But this is still a film which hooks in. It's cinematic, almost lyrical; steam rising off the horses on their early-morning workouts at the Irish-run stables. The elusive, gruff trainers and owners, the professional, unsentimentalised communication between man and beast. The randomness of the selection, the senseless danger of the National Hunt races, in particular the Grand National. And AP's own torment. The jockey has written several autobiographies and while he's clearly reticent in person, he's also surprisingly forthcoming in voiceover – AP and Chanelle seem fully committed to this film and there are some electric scenes between them. He's also reflective: "I don't think I was ever content in my life," he says. "I'm an addict riding horses."
In time, Being AP would probably benefit from a coda to see how McCoy and Chanelle survive without their drug. It was a lucrative business – he was estimated to take £1m a year in fees from trainer JonJo O'Neill alone at one point (which might just about cover that astonishing walk-in-wardrobe in which he has words with Chanelle over his reluctance to take a holiday in Barbados). At the end, though, and with a confident rising arc from documentarian Wonke as he finally unleashes the big races, Being AP is about a champion's struggle which doesn't fail to move. It's a story we never tire of watching, whether it be in the race or from the stands.
Production companies: Moneyglass Films
International sales: HanWay Films
Producers: Alan Maher, Richard Moore, Nick Ryle, John Woolcombe
Cinematography: Tom Elliott, Neil Harvey, Andrew Thompson
Editors: Paul Carlin, Kevin Konak
Music: Andrew Phillips