The realities of armed conflict suffuse this sombre documentary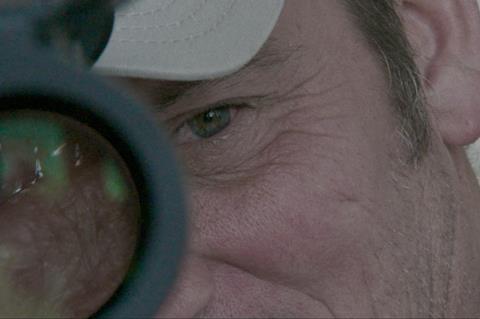 Dirs: Georg Gotmark, David Herdies. Denmark/Sweden. 2021. 87 mins.

Bellum – The Daemon of War, the first feature-length directorial collaboration between Swedish duo Georg Gotmark and David Herdies — they previously co-directed 2009's 58-minute Citizen Oketch — moves somewhat ploddingly between three widely-scattered protagonists whose lives have been shaped in different ways by the realities of armed conflict. The grandiose-sounding title unfortunately proves to be this sombre documentary's most memorable feature.
Each of the film's three "stories" has considerable potential, but none are quite developed satisfactorily
In Uppsala, Swedish robotics/AI developer Fredrik Bruhn is nerdishly devoted to futuristic "defence" projects; in Nevada, long-serving military contractor Bill Lyon impatiently cools his heels between active tours in the Middle East; in Kabul, veteran photojournalist Paula Bronstein chronicles the youthful victims of collateral damage with flinty empathy. A fourth, offscreen element is provided by Swedish poet Johannes Anyuru, whose metaphysical musings seek to nudge proceedings in Malickian directions.
Premiering in the main competition at Visions du Reel will increase the chances of further festival exposure for this slickly-mounted widescreen enterprise, which is being sold internationally by Deckert Distribution, although its primary destination would seem to be Scandinavia. Partly funded by the national broadcasters of Denmark (DR), Sweden (SVT), Norway (NRK) and Iceland (RUV), it will also clearly have small-screen appeal there.
Each of the film's three "stories" has considerable potential, but none are quite developed satisfactorily; the triptych also never quite knits together to make a convincingly coherent philosophical, psychological or sociological thesis. The project feels strangely lopsided: two of the three focal "characters" are men in young middle age, and two of the three (Bronstein and Lyon) are American. In terms of structure, Bronstein receives less screen time than either Bruhn or Lyon, despite being a rather livelier and more engaging presence.
It's hard to ascertain, of course, to what degree these decisions come from Gotmark and Herdies, or their two lead editors; the directors are also among four "additional" editors credited, a different manifestation of the too-many-cooks syndrome. Chief cutters Ida Bregninge and Kristoffer Nordin have greater experience in commercial fictional cinema and television than in the creative-documentary genre to which Bellum evidently aspires.
There are moments when efforts to "featurise" nonfiction material — with sound effects, musical score, slow motion and so on — are excessively evident. Bellum boasts several worthwhile sequences, some impressive visuals and thought-provoking speculations scattered throughout. But perhaps a lengthier running time than 87 minutes (there is also reportedly a 55-minute version available) would have allowed these to accumulate in a more persuasive and distinctive style.
The most baffling misstep, however, comes in the closing credits. Two title cards note that Lyon died this year during the film's postproduction — shooting took place between 2014 and 2020 — and Bellum is dedicated to his memory. Lyon had, only seconds before these cards, been shown debating with his wife about whether or not to sign up for another lucrative but hazardous tour of duty. Whether he was killed in action or not, electing to conclude proceedings on a tragic note of such evasive ambiguity is, at the very least, poor journalism.
Production companies: Momento, Film i Vast, SVT, Made In Copenhagen
International sales: Deckert Distribution, Leipzig, info@deckert-distribution.com
Producers: David Herdies, Michael Krotkiewski
Screenplay: Johannes Anyuru, Georg Gotmark, David Herdies, Mercies May
Cinematography: George Gotmark, Ellis Hallin, Jorgen Lindskog, Camilla Skagerstrom
Editing: Ida Bregninge, Kristoffer Nordin
Music: Krister Linder