Confrontational debut is a black comedy set in an immigration detention centre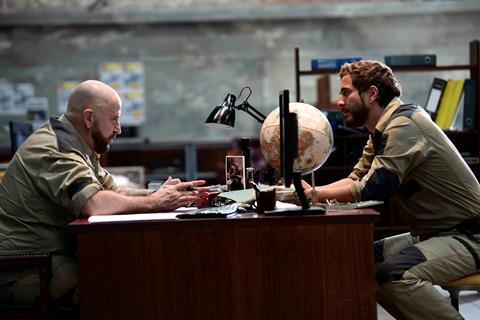 Dir. Maziar Lahooti. Australia. 2019. 93 mins
In Maziar Lahooti's ambitious feature debut Below, a Scottish-accented Anthony LaPaglia and an over-amped Ryan Corr hit up an immigration detention centre, blackmailing refugees into an underground fight club and then profiting from their live-streamed brawls. Adapted by Ian Wilding from his play of the same name, the film raises a wry smile more often than laughs, but it's a dynamic and memorable feature which frequently calls to mind the absurdity of Chris Morris's Four Lions.
Lahooti brandishes Below's audaciousness like a weapon
While it comes across as dystopian comedy, Lahooti's film is steeped in Australia's present-day political reality. Comedically, it could hardly be blacker, yet the global nature of its subject matter is inherently marketable. In Australia, where Below premiered at the Melbourne International Film Festival, it will spark conversation — the feature's brazenness is meant to incite a response, and offshore refugee processing facilities already generate local news headlines on a near-daily basis.
Lahooti brandishes Below's audaciousness like a weapon, finding an incendiary and amusing slant to detention centres, questioning the murky morality and political rhetoric used to justify them, and depicting the confronting conditions experienced by detainees. Mirroring the real-life criminalisation of workers who turn whistleblowers, signs plastered across the fictional Newhaven Border Solutions remind viewers that speaking about the site's goings-on is "digital terrorism". Also caught under that blanket term is broadcasting from the facility, although new guard Dougie (Corr) happily flouts the rule in the name of making enough cash to leave the job he instantly hates.
An enterprising grifter who will do almost anything for a dollar, Dougie's arrival at Newhaven is a last resort. With violent thugs chasing overdue loan repayments, it's the only way to keep out of trouble and earn the money to pay them back. It's also the sole option offered by his stepfather Terry (a gruff and effective LaPaglia), Newhaven's onsite boss. But Dougie merely trades one precarious situation for another, entering a world where people fleeing atrocities to seek a better life are imprisoned, dehumanised, forced to wear barcodes, and have to beg and barter for necessities.
Every detail of Below makes a statement, from the suicidal inhabitants, to the cavalier attitudes sported by staff, to posters laughingly spouting mental health buzzwords — and, especially, the remote punishment cage that inspires Dougie's radical moneymaking idea.
Nothing better encapsulates Below's feverish mood than Corr's performance, with the 1% and Holding The Man star reminiscent of Tom Hardy at his most lively. He's in unchained, expressive, mile-a-minute mode in a polished package lensed by Michael McDermott (Hounds of Love) and edited by Ken Sallows (Chopper). Lahooti is guilty of pushing that vibe to the limit, especially in the parade of ultra-stylised, slow-motion fight scenes. Yet the freewheeling atmosphere taps into the chaos of the movie's constrained yet virtually lawless setting.
A conscience obviously lingers beneath all the anarchic humour, but so does a heart. Lahooti and Wilding find the latter through the plight of Dougie's prized fighter Azad (Phoenix Raei) and his traumatised pre-teen sister Zahra (Lauren Campbell), an emotive storyline that ensures the film reaches beyond pointed parody. That said, while Dougie's growing conflict over his role in their lives feels genuine, the developments that follow can smack of neatness. Gleeful provocation and earnestness don't sit always comfortably together, even in a feature filled with juxtapositions designed to send an overt, attention-grabbing message.
Production company: GoodThing Productions
International sales: Seville International, anickp@filmsseville.com
Producers: Nick Batzias, Veronica Gleeson, Kate Neylon, Virginia Whitwell
Screenplay: Ian Wilding
Cinematography: Michael McDermott
Editing: Ken Sallows
Production design: Lawrie Cullen-Tait
Music: Ned Beckley, Josh Hogan
Main cast: Ryan Corr, Anthony LaPaglia, Alison Whyte, Phoenix Raei, Lauren Campbell, Morgana O'Reilly, Zenia Starr