Dir/scr. Eran Kolirin. Israel, 2016, 90 mins.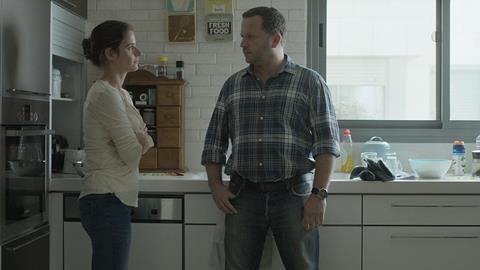 While dissecting the battle between old and new mindsets is hardly fresh filmic territory, there's a distinctive search behind Beyond the Mountains and Hills that helps Erin Kolirin's third feature chart its own path through familiar terrain. After The Band's Visit and The Exchange, the writer/director not only attempts to depict the reality of modern-day Israel, but to come to terms with it, focusing on the difficulties of trying to reconcile the ways of the past with his compatriots' incessant march towards the future.
Conflict seethes through Beyond the Mountains and Hills, infusing the feature with an unsettling air
It's a topic teeming with multiple issues demanding attention, from older generations trying to adjust to the competitive nature of contemporary society to their children's efforts to forge a more inclusive way forward in a politically troubled climat. Yet Kolerin's almost too-patient approach is somewhat stifling, at least initially. Slow-moving despite its brief 90-minute running time, and feeling intermittently stilted even as it combines several storylines and embraces a pointed soundtrack, the gradual build of Beyond the Mountains and Hills' may be a stumbling block when it tries to venture beyond the international festival circuit following its Cannes Un Certain Regard premiere.
"Success means doing unpleasant things," David Greenbaum (Alon Pdut) is told early in the film, a line that sums up his forthcoming journey while simultaneously speaking of his country as a whole. Recently discharged after 27 years of military service, the former Lieutenant-Colonel embraces sales as his new profession but, when shilling dietary supplements and adapting to life at home in general proves problematic, he resorts to firing his gun into a field under the cover of night to feel something other than powerlessness. It's an act that's both cathartic and crucial to the tale that follows, and typifies its underlying contemplation of the chasm between intentions, actions and consequences.
David's malaise, forever plastered across his face despite his efforts to hide his despair from his family, is juxtaposed with the transformative plight of his daughter Yifat (Mili Eshet). Refusing to blindly conform to prevailing attitudes, she attends anti-war protests, explores Arab culture and befriends two Palestinian men — first, the welcoming Ayman (Mohamed Name), and then, his pal Imad (Ala Dakka) — yet can't quite find the comfort that she seeks. As she strives for something more, the rest of the Greenbaum family is similarly divided. David's high school teacher wife Rina (Shiree Nadav-Naor) is drawn to one of her students (Yoav Rothman), while son Omri (Noam Imber) is driven to act when watching from the background becomes too much.
If Kolirin's decisions, both as a storyteller and as a helmer, don't always make a mark in the way that he plans, it's not due to a lack of conviction. Conflict seethes through Beyond the Mountains and Hills, infusing the feature with the unsettling air that can only come from knowing the truth of a tumultuous situation, but still wishing for change, acceptance and a reason to retain hope.
With his regular cinematographer Shaai Goldman, the filmmaker ensures every one of his images reflects this clash as well as the distance that surrounds each character as a result. When figures appear unexpectedly in the foreground of the frame, often intruding upon another's space, the film bristles with disruption; when the camera stares out over the rocky landmass of the title, which acts as a barrier in several ways, it broods with unease.
With only Pdut boasting any significant acting experience out of the central quartet, much of the on-screen burden of conveying the feature's simmering tension resides with his lead performance — though, in a film that ponders both the enduring absence and sudden presence of a source of strength, that almost proves apt. Eshet and Nadav-Naor offer nuanced portrayals, with Kolirin yet again showcasing thoughtfulness across gender lines (although sadly, the same sensitivities don't always apply when it comes to cultural divides). And, almost to stress the former, the movie ends with a note of goodbye to his The Band's Visit star Ronit Elkabetz, who recently passed away.

Production companies: July August Productions, Entre Chien Et Loup, Match Factory Productions
Sales: The Match Factory, thania.dimitrakopoulou@matchfactory.de
Producers: Eilon Ratzkovsky, Yochanan Kredo, Yossi Uzrad, Lisa Shiloach Uzrad, Guy Jacoel
Co-producers: Diana Elbaum, Sebastien Delloye, François Touwaide, Michael Weber, Viola Fügen
Cinematographer: Shaai Goldman
Editor: Arik Lahav-Leibovich
Production designer: Miguel Merkin
Music: Asher Goldschmidt
Main cast: Alon Pdut, Shiree Nadav-Naor, Noam Imber, Mili Eshet, Yoav Rothman