Dir. Khurram H. Alavi. UAE, 2015, 114 mins.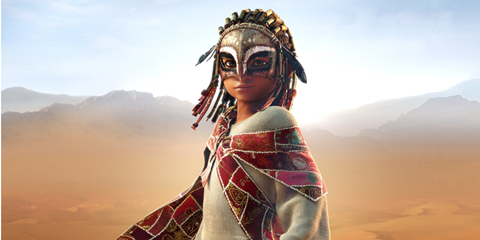 The animated feature Bilal - the first of its kind from the United Arab Emirates - tells the story of one of Mohammed's closest companions, a former slave from Ethiopia. Addressing the need to live in honesty as a free man and the desire to worship one God, it deals with common religious themes amid the casual cruelty of 600 AD. This is a muscular story about the fight for freedom which is rich and vibrant and authentic. However, Bilal's beefy approach also extends to scenes of torture and bloodthirsty battle sequences which may curtail the film's demographic appeal, and its 114-minute running time reflects a too-loose narrative.
This is, visually, an electrifying debut for Barajoun Entertainment
Visually, Bilal repatriates animated Arabian iconography after a spell locked up in the Disney bunker of Aladdin and 1001 Arabian Nights, before Lord of the Rings and Game of Thrones comprehensively raided the region's costume department and settings. With some tweaks and trims to curb excesses, this could be seen widely in observant households and schools on the international stage, while it clearly boasts powerful local appeal.
However with a theme song entitled Warrior, and playing out to the words: "I'm a warrior, oh, mama, I'm not afraid," Bilal turns the story of a child's pain into a lustily violent film which could possibly be an awkward fit in the current, charged political atmosphere, even if the events are true to life.
Bilal experiences a few minor teething problems in the animation department – particularly with too-evident performance capture. Figures can glide as opposed to walk. But these are generally overcome by the film's impressive aesthetic. Trading on Arabian iconography, Bilal makes play with shifting sand dunes, a preying eagle, magnificent stallions, medieval marketplaces and witch doctors and hooded figures who might easily terrify the young. This is, visually, an electrifying debut for Barajoun Entertainment.
The story is about the orphaned slave boy Bilal and his sister who are forced into servitude for the nasty Lord Umayya, voiced by Ian McShane. Starting out with the death of their mother, the film moves into Bilal's adolescence and early adulthood as he is oppressed by Umayya, his evil son, and the witch doctors in Mecca who run society with their grasping idolatry. His main concern is to keep his sister safe but he will eventually undergo a political and religious awakening.
Bilal is based on the real-life historical figure Bilal Ibn Rabah, a close companion of the prophet Mohammed who ultimately moved to Medina and was the first Muaddhin to call the faithful to prayer. He sacrificed much for his freedom in a cruel, feudal society.
Bilal, however, eschews being too overtly religious to deliver a morality tale which crosses faiths in its exhortations to be free and live a good life. Those unfamiliar with well-known Islamic figures including the 'Lord of Merchants' should still be swept along by the film's visuals. What isn't quite so easy, however, especially for young audiences, is the relentless wave-upon-wave of climactic battle sequences which director Khurram H. Alavi unleashes, some of which are bracingly repetitive and impede the narrative as opposed to enhancing it. At times magnificent and imperiously seductive, Bilal is does not attempt to soft-peddle the origins of the faith.
Production company: Barajoun Entertainment
International sales: info@barajoun.com
Producer: Ayman Jalal
Screenplay: Alex Kronemer, Michael Wolfe, Khurrum H Alavi, Yassin Kamel
Cinematography: Ajdin Durakovic, Khurrum H Alavi, Nareg Kalenderian
Editor: Patricia Heneine
Music: Atli Orvarsson
Voice cast: Adewale Akinnuoye-Agbaje, Ian McShane, China Anne McClain, Jacob Latimore