Naomie Harris excels in Sony's curiously retro chase thriller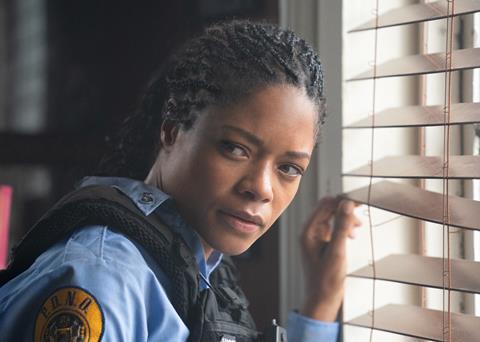 Dir: Deon Taylor. US. 2019. 108mins.
One good cop battles for her life against a corrupt police force and a bevy of criminals in Black And Blue, a solidly crafted piece of B-movie entertainment. This taut, disposable chase thriller has its share of cheesy plot twists and cardboard supporting characters, but for the most part the film follows the lead of its star Naomie Harris, who gives a no-nonsense performance which is fully committed to the script's tightly wound tension. Although less convincing when it tries to say something meaningful about racism and police brutality, Black And Blue has sufficient pulp pleasures and a winning confidence in executing its modest ambitions.
Peter A. Dowling's economical screenplay capably keeps raising the stakes while delivering effective action sequences without CG spectacle
Opening October 25 in the US, this Sony release will hope to surpass the box office collected by director Deon Taylor's previous outing for the studio, The Intruder ($37 million worldwide, with the large majority coming from America). Oscar-nominee Harris' (Moonlight) involvement in the James Bond movies and Rampage has boosted her profile, and she's joined by venerable Fast And The Furious fixture Tyrese Gibson. That star power should help this low-budget offering find its commercial niche before Terminator: Dark Fate enters the marketplace.
Harris plays Alicia West, a conscientious rookie police office in New Orleans who has recently returned to her hometown after years spent serving in the military in the Middle East. Just a few weeks into the job, she walks in on an assassination of unarmed civilians orchestrated by a dirty narcotics agent, Malone (Frank Grillo), which is captured by her body camera. Malone and his cohorts race after Alicia, determined to destroy the incriminating evidence, turning both the police and local gangsters against her. Desperate to stay alive and unable to convince anyone that Malone is lying when he claims she killed the civilians, she reaches out to Milo (Gibson), a lowly convenience store employee she hasn't seen since they were both kids.
Taylor (Traffik, The Intruder) specialises in muscular, straightforward thrillers, and with Black And Blue he's operating with very familiar material as an innocent, honourable main character tries to clear her name while evading those who would do her harm. Nonetheless, Peter A. Dowling's economical screenplay capably keeps raising the stakes while delivering effective action sequences without CG spectacle. Black And Blue focuses on stripped-down fight scenes and lean shoot-outs, and older viewers may become nostalgic watching how Taylor choreographs simple, enjoyably low-tech chase scenes.
The film's barebones craftsmanship is complemented by the unsubtle character dynamics — sometimes to the story's detriment. Although Harris brings brawn and urgency to Alicia, who is mourning the recent death of her mother and believes that everyone can make a positive difference in the world, most of the rest of the ensemble is comprised of one-dimensional types. When an expert B-movie actor like Grillo is essaying his umpteenth menacing baddie, the clichés can be delightful — comforting, even. But outside of Gibson's stoic, surprisingly heroic Milo, just about everyone around Alicia blends into the film's gritty background.
Aided by Dante Spinotti's unfussy lensing and Geoff Zanelli's throbbing score, Taylor indulges in shop-worn genre tenets that are so predictable that they're downright charming. Black And Blue unveils hoary narrative chestnuts with obvious brio — including a scene of a countdown clock breathlessly indicating how much of a crucial data file is left to download — but the filmmaking precision is such that one tends to forgive the lack of storytelling innovation.
As its title suggests, Black And Blue wants to examine the anxious relationship between the African-American community and law enforcement. Alicia is both black and a cop — hence, black and blue — and occasionally the film pauses for her to ponder the awkward position in which she finds herself, serving in a profession that many of the people she grew up with despise.
It's potentially rich thematic subject matter that this blunt action-thriller simply doesn't have the sophistication or time to adequately explore. As a result, Black And Blue's message is much more succinctly conveyed when Alicia is valiantly fighting to bring these crooked cops to justice, proving herself to be far more resourceful and steely than the men around her have anticipated.
Production company: Royal Viking Entertainment
Worldwide distribution: Sony
Producer: Sean Sorensen
Screenplay: Peter A. Dowling
Production design: Frank J. Zito III
Editing: Peck Prior
Cinematography: Dante Spinotti
Music: Geoff Zanelli
Main cast: Naomie Harris, Tyrese Gibson, Frank Grillo, Mike Colter, Reid Scott, Beau Knapp, Nafessa Williams