Spike Lee returns to Cannes with a film of raw anger and sadness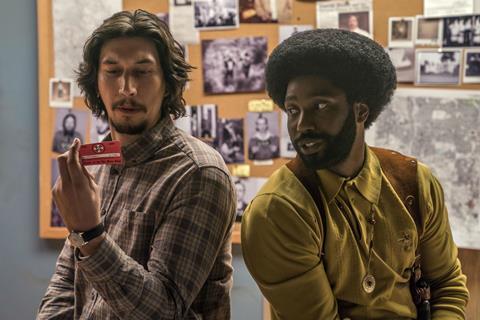 Dir: Spike Lee. US. 2018. 128mins.
A movie of raw anger and sadness, BlacKkKlansman uses a 1970s case in which a black detective infiltrated the Ku Klux Klan to shine an ugly light on the racism still roiling America. It's no surprise that director Spike Lee prefers a hammer to a scalpel for this real-life drama, but his righteous fury is supplemented with a mature thoughtfulness that gives the proceedings the grim weight of history. Led by strong performances from John David Washington and Adam Driver, BlacKkKlansman is sobering, darkly funny, uneven and impossible to ignore.
A blunt power that's terribly, painfully persuasive
After its premiere in Competition at Cannes, this Focus release is set to open in US theatres on August 10 with a possible eye to an awards run later in the year. With the rise of hate groups in America in recent years, the film should attract considerable media attention. Incredibly critical of the alt-right forces that helped elect Donald Trump, BlacKkKlansman will be divisive, which is no doubt how Lee wants it.
Based on the memoir of longtime policeman Ron Stallworth, the film stars Washington as Ron, who joins the Colorado police force where he quickly volunteers for a daring operation. He wants to infiltrate the local Ku Klux Klan, which would seem impossible since he's black. But Ron as a bold notion: he'll talk to the Klan members by phone, essentially pretending to be white, and then have his more experienced white partner Flip (Driver) meet them in person.
Race relations have often been at the core of Lee's best work, and in a sense BlacKkKlansman is a continuation of the debate started in a previous Cannes entry, Do The Right Thing. In both films, Lee asks what is the best way for black people to confront intolerance: through peaceful resistance within the system or through violent revolution from without? What's moving about BlacKkKlansman is how this struggle is manifested within Ron, who is the one black cop on the force and believes he's making a difference, despite the fiery rhetoric of a Black Power advocate (Laura Harrier), with whom he's smitten, who argues that he's merely a pawn who's sold out.
The film's atmosphere, period details and modern-day relevance sometimes overpower the machinations of Ron's undercover operation. Lee gives Flip's interactions with these white nationalists sufficient tension, but the twists tend to be rather familiar for this kind of high-stakes crime drama.
Instead, we focus on the eerie parallels between then and now, particularly in Topher Grace's convincingly slimy performance as KKK Grand Dragon David Duke, who was a rising figure at the time and, decades later, remains an inspirational figure for these racists. Even if Lee hits too hard on the connections between his film's milieu and America's current racial woes, the lack of subtlety can sometimes feel like a tonic, speaking plainly to the country's deep, violent divisions that can seem intractable.
Washington (the son of frequent Lee star Denzel) has some of the same swagger as his Oscar-winning father. Ron quickly proves himself to be a man trying to find his place in a country that treats him as a second-class citizen, oscillating between rage and diplomacy when interacting with whites. Meanwhile, Driver displays his usual casual command, playing Flip as a man with his own identity issdues. (He's Jewish, another group of people despised by the Klan.) The deeper Flip embeds himself within the KKK, his loyalty is constantly questioned, forcing him to remain cool no matter the danger. Driver is excellent at portraying unflappability, although always hunting at the character's inner anxiety.
BlacKkKlansman has moving sequences and bravura stylistic flourishes, trademarks of this intuitive, grandiose auteur. Working with his regular composer Terence Blanchard, who drapes the film in melancholy tones and majestic swirls, Lee is outraged by but also grieving for his nation, which has such cultural richness undercut by such deep-rooted racial disharmony. BlacKkKlansman doesn't always get the balance between polemic and procedural right, but the movie's final stretches — obvious and blatant, intentionally so — have a blunt power that's terribly, painfully persuasive.
Production companies: Focus Features, Legendary Pictures, Perfect World Pictures, QC Entertainment, Blumhouse, Monkeypaw, 40 Acres And A Mule Filmworks
US distribution/international sales: Focus Features, melody.holmes@nbcuni.com
Producers: Sean McKittrick, Jason Blum, Raymond Mansfield, Jordan Peele, Spike Lee, Shaun Redick
Screenplay: Charlie Wachtel & David Rabinowitz and Kevin Willmott & Spike Lee, based on the book Black Klansman by Ron Stallworth
Production design: Curt Beech
Editing: Barry Alexander Brown
Cinematography: Chayse Irvin
Music: Terence Blanchard
Main cast: John David Washington, Adam Driver, Topher Grace, Corey Hawkins, Laura Harrier, Ryan Eggold, Jasper Pääkkönen, Paul Walter Hauser, Ashlie Atkinson, Alec Baldwin, Harry Belafonte