Takashi Miike's adaptation of a beloved manga classic is both tasteful and bloody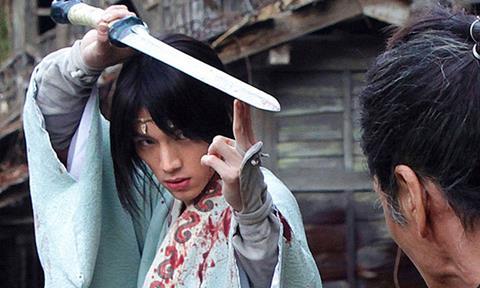 Dir Takashi Miike. Japan, 2017. 140 mins
Said to be prolific Japanese director Takashi Miike's 100th film (but even he has probably lost count), this adaptation of Hiroaki Samura's hugely successful martial arts manga dresses the director's cine-punk aesthetic in glossy, high-end production values. The result is a tasty, violent but not entirely original revenge-movie-with-a-twist, anchored by the gleefully sardonic central performance of Asian TV, film and music mega-star Takuya Kimura as a samurai whose wounds heal soon after they are inflicted – a gift of immortality that turns out to be something of a double-edged sword, as it were.
Miike is on fine form, never losing his sense of humour, or sense of character, even as yet another axe is embedded in yet another skull
Of Miike's two other samurai movies in recent years, it's more obviously comparable to 13 Assassins rather than the more introspective Hara-Kiri: Death of a Samurai, not least because both Assassins and Blade end with a spectacular, seemingly endless fight scene. And here again, the director has taken on a project that allows him to question the codes of honour that govern Japan's male brotherhoods – just as he did with the country's mafia rituals in his far more out-there zombie movie Yakuza Apocalypse.
But Blade of the Immortal doesn't feel entirely Miike's film in the way 13 Assassins did. Despite the buckets of blood and barrelfuls of severed limbs, there's a sense that the director of Audition and Ichi the Killer is on good behaviour, charged with transposing to the screen a manga that has sold more than 7.5 million copies worldwide.
In true manga style, key characters are introduced late on, like the crew of ex-con government mercenaries we first meet 90 minutes in. They're there to provide a fresh challenge for Kimura's world-weary samurai Manji, who was healed by a Buddhist nun with 'sacred bloodworms' – creatures that close up wounds soon after they're made and can ever reattach severed limbs – after defeating a legion of hoodlums in a terrific opening stand-off, filmed in black and white. There's an unspoken action-hero joke lurking in the wings here: with these kind of odds, Miike is telling us with a wink, you need superior swordplay and bloodworms.
Foil to Manji's jaded worldview is fresh-faced Rin (teen star Hana Sugisaki), the young but determined daughter of a martial arts master who was killed by the ruthless Itto-ryu, a school of fighters led by the androgynously creepy Anotsu (Soto Fukushi). The Itto-ryu have a whatever-works approach to technique as they annihilate or incorporate other dojos, or martial arts schools, like a samurai multinational. Rin seeks out Manji to help her take revenge on the Itto-ryu; he warns her that identifying baddies and goodies isn't always as easy as it looks, but takes on the job anyway.
It's the lack of development of Rin's character (she's a one-note vulnerable but feisty child-woman throughout), combined with a story lull around an hour in, that's responsible for a mid-term weakening in the audience grip on a film that's at least a quarter of an hour too long. In the end, though, it's the bravura fight sequences that will sell Blade of the Immortal to its target indie-action audience both at home in Japan and elsewhere: sequences where Miike is on fine form, never losing his sense of humour, or sense of character, even as yet another axe is embedded in yet another skull.
Production companies: A Blade of the Immortal Film Partners production led by Warner Bros. Pictures Japan
International sales: Hanway Films,
Producers: Jeremy Thomas, Misako Saka, Shigeji Maeda
Screenplay: Tesuya Oishi, based on the manga by Hiroaki Samura
Cinematography: Noboyashu Kita
Production design: Toshiyuki Matsumiya
Editor: Kenji Yamashita
Music: Koji Endo
Main cast: Takuya Kimura, Hana Sugisaki, Sota Fukushi, Hayato Ichihara, Erika Toda, Kazuki Kitamura