A real life Chilean child abuse case forms the basis of Fernando Guzzoni's atmospheric thriller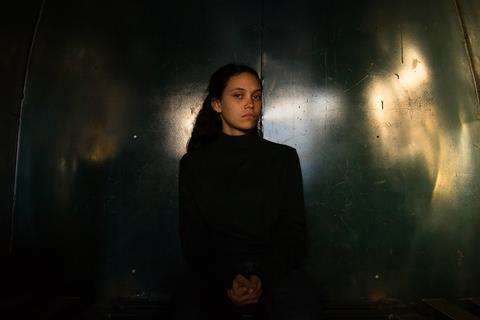 Dir/scr: Fernando Guzzoni. Chile-Mexico-Luxembourg-France-Poland. 2022. 99mins
A network of child abusers – wealthy paedophiles, public figures, politicians – is finally in the cross hairs of Chile's prosecutors. And the key witness in a high profile case which has rocked the country is Blanca (Laura López), an eighteen-year-old girl whose short life has been spent in and out of the care system. Supporting her is Father Manuel (Alejandro Goic), a tough but principled man who runs a children's home and who sees first hand the impact of abuse on his vulnerable charges. But as the spotlight on the case intensifies, holes appear in Blanca's testimony. The third feature from Chilean director Fernando Guzzoni is an atmospheric thriller which is carried by an assured central performance from López.
Guzzoni crafts a suitably glowering and hostile atmosphere for this story, which delves into the very murkiest corners of Chilean society.
A name to watch in Latin American cinema, Guzzoni's first feature was Dog Flesh (Carne De Perro), which was written at the Cannes Film Festival Residence and premiered at San Sebastian in 2012, where it won the New Directors award for Best Picture. His second film, Jesus, premiered at Toronto in 2016 and won a prize at Torino. His latest film is an accomplished, if thematically bleak, offering which should enjoy a similarly healthy festival run and could find a home on a curated streaming platform.
The story is loosely based on the real-life Spiniak Case, an investigation into a network of child prostitution and trafficking run by a powerful businessman which unfolded in Chile in 2004 and 2005. Caught up in the case was a witness who, like Blanca, was found to be unreliable, but who, it could be argued, lied for honourable reasons.
Stony-faced and implacable, Blanca is a survivor. Having recently returned to the care home, now with a young baby, she takes a nurturing role for some of the more damaged fellow residents. One such individual is Carlo (Ariel Grandon), who is described by a psychiatric appraiser as "an empty vessel". He is so hollowed out by drug and sexual abuse that he doesn't have the cognitive capacity to function on a day to day basis, let alone as a witness in a high profile case which could bring down some of the most powerful men in the country.
But Blanca is a different matter. Self-possessed, articulate and extremely angry, she seems to share many of Carlo's experiences, but has the steely strength to hold up to cross-examination. The formidable Father Manuel, with his monolithic breeze block of a face and ferocious sense of justice at all costs, has her back. "A good lie is made up of truths", he says. But while much of what Blanca recounts is based in truth, there are inconsistencies which undermine her entire testimony.
Guzzoni crafts a suitably glowering and hostile atmosphere for this story, which delves into the very murkiest corners of Chilean society. The care home dormitories are lit in a corpse skin grey-green; the knife-like slashes of strip lights carve up the frame. And on the score, a tolling bell brings an almost funereal sense of foreboding as the story unfolds; and in Blanca's case, unravels.
Production company: Quijote Films
International sales: New Europe Film Sales jan@neweuropefilmsales.com
Producer: Giancarlo Nasi
Cinematography: Benjamín Echazarreta
Production design: Estefania Larrain, Angela Leyton
Editing: Jarosław Kaminski, Soledad Salfate
Music: Chloé Thevenin
Main cast: Laura López, Alejandro Goic, Amparo Noguera, Marcelo Alonso, Daniela Ramírez, Ariel Grandon