Philip Barantini's accomplished one-shot drama chronicles a restaurant on one of the year's busiest nights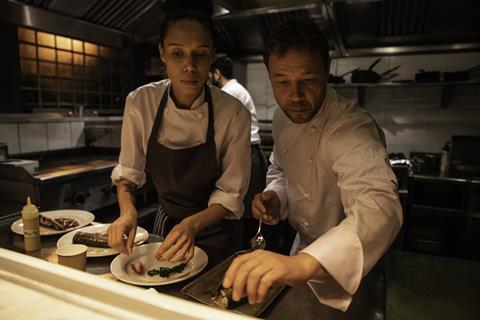 Dir: Philip Barantini
. UK. 2021. 94 mins.
Both courses are tasty, but the starter proves more memorable than the main in Philip Barantini's one-shot restaurant drama Boiling Point. Featuring a flavoursome ensemble headed by the ever-reliable Stephen Graham — playing a top chef dealing with various personal and professional crises one hectic pre-Christmas Friday evening — this is an accomplished, adult-oriented British indie, which will likely use its Karlovy Vary competition slot as a springboard to further festival (and later small-screen) exposure.
There is no weak link among the dozens of speaking parts
Apparently achieved without the "cheating" evident in (ostensible) one-shot recent sensations Birdman and 1917 — and thus more comparable to Sebastian Schipper's 140-minute 2015 technical tour-de-force Victoria — this logistically nightmarish affair was, like all the best meals, assembled with the benefit of considerable "prepping." Barantini, his crew and many of his performers completed a 22-minute short with the same title and similar premise back in 2019, earning a BIFA nomination for their pains.
Here the concept is expanded satisfactorily to feature length, augmented with numerous plots and subplots which convey the semi-managed chaos of a London restaurant on one of the year's busiest nights. The smack of verisimilitude is sharpened by the fact that the (single) location used is an actual N16 eatery: even the name, Jones & Sons, is retained. Whether or not Boiling Point will boost the takings of this Dalston establishment is debatable, given how multi-facetedly the script (by Barantini and James Cummings) evokes both back and front of "house."
Like nearly all enterprises of its type, this is clearly a stressful place in which to work — pressures increased by the unexpectedly tough verdict of a hygiene inspector (Thomas Coombes) whose visit kicks off the narrative. The downgrading of the premises from the maximum 5 rating ("very good") to 3 ("generally satisfactory") is accepted grudgingly by dynamic head chef Andy (Graham) and tough-tasking manager Beth (Alice Feetham), who jointly urge the overworked, underpaid, multicultural staff to raise their game.
Complications abound, chiefly in the form of those pesky inescapables of restaurant life: diners. Adding to Andy's numerous woes — including but not restricted to substance-abuse issues, a broken marriage and problematic finances — is the presence of his longtime friend and former boss, celebrity chef Alistair Skye (Jason Flemyng), who turns up in the company of influential critic Sara (Lourdes Faberes). As the dinner rush gets underway, interpersonal frictions escalate and tiny mistakes turn out to yield catastrophic consequences.
Boiling Point is structured in two roughly equal halves, bifurcated by a much-needed breather for performers and audience alike: slackerish factotum Jake (Daniel Larkai) casually saunters out of the joint and into the underlit backstreet for a chatty encounter with a drug-dealing pal. The 40 minutes up to this point have introduced the characters and their environment in brisk and notably convincing detail, sowing the seeds of the second half's increasingly dramatic (and increasingly plausibility-straining) action.
This is only Barantini's second feature — his well-received gangland thriller Villain, made with many key personnel from both versions of Boiling Point, debuted just last year — and he betrays his inexperience by piling on the incidents in the climactic half-hour, to counterproductive degrees. To the credit of all concerned, however the one-take approach feels appropriate and organic, rather than gimmicky or stunt-like. At one point it's mentioned that the key to a successful chef is "confidence and a great team;" the picture functions as a paean to camaraderie and teamwork in catering and filmmaking worlds alike.
Certain individual contributions also excel: the full impact of Matthew Lewis's widescreen cinematography and camera-operating, clearly pulled off via virtuoso choreography and blocking, only dawns after the picture is over. The film is also a feather in the cap of casting director Carolyn McLeod: there is no weak link among the dozens of speaking parts; Barantini's own prolific acting background in television and film shows in his capable handling of the performers.
This helps ensure that Boiling Point, while a fine showcase for the versatility and energy of pocket-battleship Graham — fresh from holding his own opposite Pacino, De Niro and Pesci in Martin Scorsese's The Irishman, and here equally excellent at reacting as acting — is never merely a vehicle for the Liverpudlian dynamo. Vinette Robinson as Andy's feisty number two Carly, and Feetham as the bossy but brittle Beth stand out from the pack. Likewise Lauryn Ajufo as soft-spoken waitress Andrea, who has the misfortune to serve the horrible boor on table 7, and is an incongruously sweet presence amid the tumult of so many larger-than-life, gloriously foul-mouthed characters.
(A technical note: the Karlovy Vary screening featured distracting English subtitles throughout on the DCP, despite the dialogue being entirely in English. It is unclear whether future screenings elsewhere will follow suit; non-British audiences baffled by Graham's rapid-fire Scouse accent may welcome the aid. Further text-editing is needed, however: at one point a "commie chef" — actually a Commis Chef — is mentioned, raising the misleading prospect of revolutionary political developments.)
Production companies: Ascendant Films, Burton Fox Films

International sales: Charades, sales@charades.eu 

Producers: Bart Ruspoli, Hester Ruoff

Screenplay: James Cummings, Philip Barantini

Production design: Aimee Meek

Editing: Alex Fountain

Cinematography: Matthew Lewis

Main cast: Stephen Graham, Vinette Robinson, Jason Flemyng, Ray Panthaki, Hannah Walters, Malachi Kirby, Alice Feetham, Izuka Hoyle, Lourdes Faberes, Thomas Coombes, Gary Lamont, Lauryn Ajufo, Daniel Larkai