Olivia Wilde makes her directorial debut with this authentic portrait of female friendship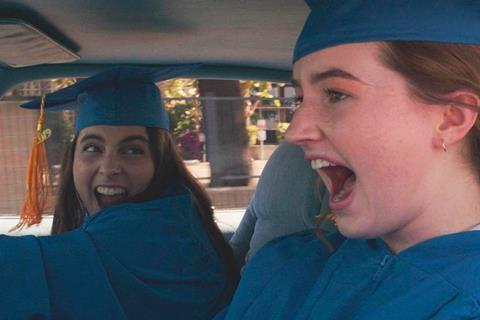 Dir: Olivia Wilde. US. 2019. 102mins
Kaitlyn Dever and Beanie Feldstein are terrific company in Booksmart, a one-crazy-night teen comedy with familiar contours but a winning portrait of female friendship. Playing two overachieving, socially awkward high school seniors who decide to finally have some fun, this dynamic duo convey a lifetime of shared experience with a look or a quip, and actress Olivia Wilde delivers a confident feature directorial debut, mixing humour, embarrassment and poignancy to crowd-pleasing effect.
One of Booksmart's most refreshing elements is its willingness to see many of its characters as complex individuals
Expected to be released in May in the US and UK, Booksmart (which world-premiered at South By Southwest) will be exhaustingly compared to hit teen buddy comedies like Superbad, which grossed $170 million worldwide against a relatively low budget. Good reviews and even better buzz could make this a potent counter-programming option amidst summer's glut of action blockbusters.
Feldstein plays Molly, her graduating class's valedictorian and president. She and her best friend Amy (Dever) have put their studies ahead of their social lives, and while they're happy about the elite universities they'll be attending, Molly discovers to her horror that their classmates will be going to good schools, too — even though they partied far more than she and Amy did. Impetuously, Molly convinces Amy that, the night before graduation, they must attend a blowout party being thrown by a classmate.
Wilde has experience directing music videos, and she brings that talent to Booksmart, giving this comedy a little style but also skilfully mixing evocative songs with striking visuals to capture the dreamy, hyper-vivid reality of teenagers on the precipice of adulthood. She ably guides her cast through a story (credited to four writers) that, while sometimes episodic and predictable, maximises its opportunities to just let Molly and Amy riff off each other.
The film's title might lead one to assume that these two young women are hopeless losers, but one of Booksmart's most refreshing elements is its willingness to see many of its characters (not just Molly and Amy) as complex individuals. As a result, these best friends aren't one-joke nerds — rather, they're thoughtful, sweet and very funny people who have a rapport that no one else is privy to. (Because Amy is gay, many around them think they're lovers; a misconception that the two characters mostly find hilarious.)
Like her brother Jonah Hill, who starred in Superbad, Feldstein attacks punch lines from an angle, getting laughs from both her verbal jabs and physical comedy. Molly is a competitive and petty teen — she wants to be the best, in part, to make other people feel inferior — and Feldstein never lets viewers forget the insecurity that drives so much of her character's actions.
Dever gives us an Amy who's less assertive than her friend but is up for any adventure — and always ready to pick up Molly when she's feeling down about her chances with guys. But as Booksmart moves along, the actress hints as some of the festering resentments Amy feels about being perceived as Molly's sidekick — and when she has an opportunity to pursue a romantic interest, we see her deep longing for a soul mate.
As might be expected, Booksmart careens from incident to incident as the two friends get try to track down the location of this purportedly amazing party. Some of the sequences prove sharper than others, but once Molly and Amy get to the soiree, Wilde unveils some of the film's finest moments, detailing the bittersweet emotions that arise as the characters realise they'll soon be going their separate ways in life.
Booksmart recruits a who's-who of talented comic actors for its supporting cast, although their roles aren't always well-developed. Lisa Kudrow and Will Forte are underused as Amy's loving but religious parents, while Jessica Williams is a warm presence as a favourite teacher who, like Molly and Amy, is wondering what might have happened if she'd allowed herself to enjoy a party or two along the way. But even the minor characters are drawn with compassion — an indication of this film's generous spirit and infectious good cheer.
Production company: Annapurna Pictures, Gloria Sanchez Productions
International sales: Annapurna Pictures
Producers: Megan Ellison, Chelsea Barnard, David Distenfeld, Jessica Elbaum, Katie Silberman
Screenplay: Emily Halpern & Sarah Haskins and Susanna Fogel and Katie Silberman
Production design: Katie Byron
Editing: Brent White, Jamie Gross
Cinematography: Jason McCormick
Music: Dan the Automator
Main cast: Kaitlyn Dever, Beanie Feldstein, Jessica Williams, Lisa Kudrow, Will Forte, Jason Sudeikis