Warners goes wide with Aml Ameen's all-Black festive romcom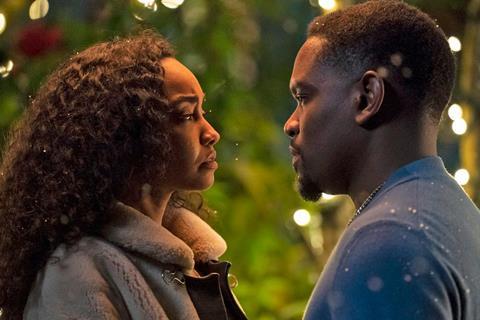 Dir. Aml Ameen. UK. 2021. 110 mins.
'Tis the season to be jolly stressed out by family, and Aml Ameen taps into this sensation for his warm romantic comedy with a transatlantic twist that is set against the backdrop of London's British-Caribbean community. The plot of his debut directorial feature, like so many of us by Boxing Day, may be overstuffed, but it's mitigated by sensitive performances and a generosity of spirit.
This Christmas confection may not be perfect but the cast and open-hearted sentiment add a sparkle and fizz that's hard to resist
Opening wide across the UK through Warner Bros on the first weekend of December, its status as the first British Christmas-set romcom led by a Black cast adds to its feelgood vibe and the presence of Little Mix's Leigh-Anne Pinnock helped Boxing Day notch £255,000 over its opening weekend (£265,000 including previews) over 443 screens. It's an average haul, although Boxing Day will be expected to bed in further as Christmas approaches. Ameen – who co-wrote the film with Bruce Purnell – has seen his screen stature grow ever since 2006's Kidulthood. He was also a Screen Star of Tomorrow, under the 'Brits in LA' label in 2013, an accolade nodded to here as he steps into the shoes of British author Melvin, who has just won a similar writing award.
Melvin, who is living in LA and has just (sort of) proposed to his American girlfriend Lisa (Aja Naomi King), is about to fly home to promote his latest book. He is also set to attend one of his family's Boxing Day gatherings, the last of which crashed and burned with the announcement of his parents' divorce. Lisa, who in the spirit of this kind of romcom, is hiding secrets of her own, decides to go along, little realising that she is about to run into Melvin's past in the form of his ex-girlfriend Georgia (Pinnock). To make matters worse, Georgia is an old friend of Melvin's family and has become an international singing sensation in his absence.
Though this would be more than enough set-up to sustain the film, Ameen throws in additional subplots. These include the closet romance his mum Shirley (serial scene stealer Marianne Jean-Baptiste) is having with white guy Richard (Stephen Dillane) and the lovelorn attempts of his brother Josh (Sheyi Cole, doing a lot with an underwritten role) to win a girl's heart without getting beaten up by her ex (Samson Kayo). All of this leads to both a lack of focus and a lot of contrivance in places.
Ameen is brave enough to wear his Richard Curtis influence on his sleeve, directly referencing Love Actually, but the sense of things being spread too thin is particularly apparent when it comes to the female roles. There are plenty of them, including Tamara Lawrance's feisty performance as Ameen's sister Aretha, whose personality is perfectly married to vibrant costuming from Buki Ebiesuwa. But all too often the women are being talked about in the third person by men rather than taking centre stage themselves – as though Purnell and Ameen feel more confident when writing about male emotions than female ones.
When the actresses do share scenes, they make a big impression. Pinnock brings a soulfulness to her spurned lover and she and King offer a winning combination of friction and empathy in their encounters. Ameen also shows a knack for ensemble direction at a get-together featuring a gaggle of "aunties" and "uncles" at Shirley's house, which captures the way emotions can ebb and flow along with alcohol at these sort of gatherings. The original score from James Poyser is suitably upbeat, while the solo numbers sung by Pinnock – including an unplugged version of Aretha Franklin's 'I Say A Little Prayer' – offer plenty of heart. This Christmas confection may not be perfect but the cast and open-hearted sentiment add a sparkle and fizz that's hard to resist.
Production company: DJ Films, Studio 13
International sales: Rocket Science, info@rocket-science.net
Producer: Matthew Zamias, Aml Ameen, Damian Jones, Joy Gharoro-Akpojoto, Dominique Telson
Screenplay: Aml Ameen and Bruce Purnell
Production design: Gini Godwin
Cinematography: David Pimm
Editing: Rebecca Lloyd
Original music: James Poyser
Main cast: Aml Ameen, Aja Naomi King, Leigh-Anne Pinnock, Tamara Lawrance, Marianne Jean-Baptiste, Sheyi Cole, Samson Kayo Robbie Gee, Stephen Dillane, Joshua Maloney, Lisa Davina Philip, Claire Skinner, Martina Laird, Frazer James, Derek Ezenagu, Ricky Fearon