Scotland's premier festival opens with a lively teen comedy set in the highlands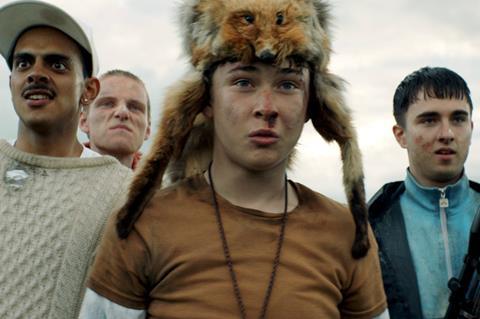 Dir. Ninian Doff. UK. 2019. 87 mins
Three drop-out delinquent teens and a hapless homeschooled nerd are pitted against a pair of tweedy psycho toffs equipped with shotguns and masks made out of the flayed skin of previous victims. They certainly don't put this in the brochure for the Duke of Edinburgh award scheme. With its Highland setting, and cast of both new and established Scottish talent, this unruly teen comedy makes for a spirited, if dramatically scattershot, opening night film for the Edinburgh International Film Festival.
A densely-packed onslaught of visual mayhem
The first feature from director Ninian Doff, who cut his teeth making music videos for, among others, The Chemical Brothers and Graham Coxon, Boyz is precision tooled to connect with an adolescent and early-adult crowd. It could find further festival exposure, particularly in late night slots where its rowdy humour and anarchic approach to pacing might best connect with an audience versed in cult cinema and midnight movies. A theatrical release is not out of the question although the film could also make its mark rather effectively on streaming platforms.
Dean (Rian Gordon), Duncan (Lewis Gribben) and DJ Beatroot (Viraj Juneja) are on a final warning at school after an experiment testing the flammable qualities of faeces resulted in the destruction of the entire toilet block. The Duke Of Edinburgh award scheme is their last chance – it's that or expulsion and a job in the local fish processing factory. Meanwhile Ian (Samuel Bottomley) has eagerly volunteered for the trip, keen to boost his university application package with demonstrable teamwork, orienteering and foraging skills.
The boys are too busy comparing supplies – Duncan has packet soups, DJ Beatroot has stickers and CDs, Dean has a block of hash – to notice the ominous figure on the hilltop watching them through the scope of his rifle. But soon enough they encounter the locals and the storytelling releases its brakes and careers off into comic-horror carnage.
Dean's hash is augmented by copious intake of a local speciality – the droppings of rabbits who have feasted on magic mushrooms. Gleefully silly trip-out effects add a further layer of playfulness to an already densely packed onslaught of visual mayhem but lose some of their novelty after the third or fourth time. Stalking the lads, the local police divert their resources from an ongoing investigation of a bread thief into what they are increasingly convinced is a paedophile terrorist zombie invasion of the highlands.
Use of music – particularly a scene scored by Glasgow-based hip hop producer S-Type – is key to the film's success. The brash swagger of the score holds the picture together at the moments when the storytelling gets sloppy. This is a homemade pipe bomb approach to filmmaking – Doff chucks in plenty of amusing gags and lights the fuse. The result is messy and uneven, but impossible to ignore. Sporadically very funny, always entertaining, tonally, it's a blend of The League of Gentlemen and Deliverance, but with beatboxing rather than banjos, and considerably more drug use.
Production company: Highland Midgie, Material Pictures, Nowhere
International sales: Endeavour Content
Producers: Matthew Plouffe, Tobey Maguire, Brian Coffey, Laura Tunstall
Screenplay: Ninian Doff
Cinematography: Patrick Meller
Editor: Ross Hallard, Ninian Doff
Production design:Tom Sayer
Music: Alex Menzies, S-Type
Main cast: Samuel Bottomley, Rian Gordon, Lewis Gribben, Viraj Juneja, Kate Dickie, Kevin Guthrie, Jonathan Aris, Georgie Glen, Alice Lowe, Brian Pettifer, James Cosmo, Eddie Izzard