Vince Vaughn adds a heavyweight presence to Craig Zahler's follow-up to 'Bone Tomahawk'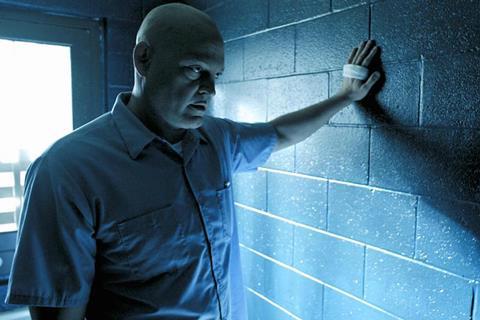 Dir/scr. Craig Zahler. US. 2017. 136mins
Opening shot, opening joke: an empty can of lite beer is crushed under the wheels of Vince Vaughn's pick-up truck. The implication, which will come home to roost in the stomach-churning final half hour of this strange, lo-fi, arthouse-exploitation prison drama, is that lite-weights should leave the room now. But anyone who has seen prolific, multi-disciplined novelist, screenwriter and musician S. Craig Zahler's directorial debut, the 2015 horror western Bone Tomahawk, might have guessed that things would get rough.
Vaughn brings a tenderness to the role of a man forced into animal violence for the sake of love
Yet this is by no means Zahler's breakout movie. That's more likely to be his upcoming police brutality drama Dragged Across Concrete, starring Mel Gibson, Vince Vaughn and Jennifer Carpenter. Brawl in Cell Block 99, also starring Carpenter, is firmly in the same fanboy, fright-fest niche as Bone Tomahawk - which is probably why RLJE Films has chosen to release it on VOD in the States on 13 October, just a week after its limited theatrical opening. One thing, however, does stand out about Brawl, and it could turn out to have a life of its own: the counter-intuitive soundtrack of 70s-style soul tracks, written by the director and his composer and heavy metal band associate Jeff Herriott, and performed in large part by soul legends The O'Jays.
Unveiled out of competition at the Venice Film Festival, Brawl offers up an odd mix of ultra-violence and observational drama: if ever there were an introspective exploitation flick, this is it. It courts comparison not with Tarantino but certain Asian genre titles, particularly Takeshi Kitano's yakuza strand. At two and a quarter hours, it's way longer than any self-respecting prison drama ought to be, but the most disappointing part of the package is its flat digital look and some distinctly murky night photography.
This is Vaughn's film as much as Zahler's. Out-badassing the tough sergeant he played in Hacksaw Ridge, the actor plays Bradley, a bulky hard-case with a crucifix tattooed on the back of his shaven head. We know he's on a short fuse, but we also know he has some rules, because when he discovers that his wife Lauren (Carpenter) has been cheating on him on the same day that he's laid off from his job at an auto-repair shop, he beats up her car rather than lay into her. He rips the bonnet off with his bare hands and throws it into the street before stepping into the house for a civilised confab with Lauren about the couple's future.
Eighteen months later she's expecting, and the couple are living in a nice house - thanks to Bradley's new job as a courier for a local drug lord. The road from here to prison passes through a shoot-out where patriotic Bradley (who hates to be called Brad) saves police lives by taking out a couple of double-crossing Mexican associates - but he still gets sent down for seven years by a draconian judge.
What follows is an intriguing but not entirely successful mix of austere prison procedural (rarely have jail admittance routines been shown in such painstaking detail) and schlocky B-movie. That moves into top gear when Lauren gets kidnapped by the Mexican drug baron Bradley double-crossed, and he is forced to get himself committed to Red Leaf, a notorious, fictitious New York high-security facility, in order to rub out an inmate the boss wants dead.
It's here that Brawl begins to unhitch itself from realism and move into full-scale, lurid genre territory. On Bradley's arrival at Red Leaf he is greeted by a cigarillo-smoking warden played by Don Johnson, a dandyfied autocrat whose facility's deepest, darkest, most Medieval pit of correction, Cell Block 99, is Bradley's ultimate destination.
Cue bone-crunching fight sequences, oddly lumbering in their choreography but perhaps all the more authentic because of it. Yet in the midst of the carnage are long lulls, walk-and-talk chunks of prison business, long takes of Bradley sleeping, brooding and suffering. Vaughn brings a tenderness to the role of a man forced into animal violence for the sake of love and the miracle of birth, and the rangy anarchy of Zahler's deeply kooky film gets under the skin at times. But in the end, you wish some big bad studio boss had been there to cut this director's cut.
Production companies: Assemble Media, Cinestate, IMG Films
International Sales: XYZ Films
Producers: Jack Heller, Dallas Sonnier
Cinematography: Benji Bakshi
Production design: Frederick Waff
Editor: Greg D'Aria
Music: Jeff Herriott, S. Craig Zahler
Main cast: Vince Vaughn, Jennifer Carpenter, Marc Blucas, Udo Kier, Don Johnson