Quirky crime comedy headlined by Allison Janney, with Awkwafina, Mila Kunis and Wanda Sykes in support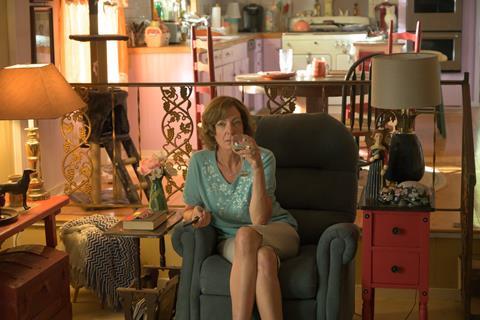 Dir: Tate Taylor. US. 2020. 96mins.
A timid wife who feels unappreciated finds a new lease on life by lying to everyone — including herself — in Breaking News In Yuba County, a quirky crime comedy which is not quite so cutting as it assumes. Allison Janney locates the pathos within her pushover character, and initially there's some sly fun in watching this everywoman try to hide her unfaithful husband's accidental death by pretending he has been kidnapped, in the process earning the sympathy (and attention) of local TV journalists. But director Tate Taylor doesn't have much new to report about our obsession with celebrity or our need for self-affirmation.
Both a satire of sensationalised media coverage and a dark comedy boasting a surprisingly high body count
Breaking News will be available in theatres and digitally in the US from February 12, where Janney should be a draw, as will a cast that includes Mila Kunis, Awkwafina, Regina Hall and Wanda Sykes. Audiences attracted to tales of small-town strangeness may be on board, but it's hard to imagine this modest picture gaining too much traction.
Janney plays Sue Buttons, who at first encounter is picking up her own birthday cake at the grocery store. Her name has been misspelled, but Sue simply accepts it — an early indication of how passive she is. (Another clue is the self-help audio clips she listens to — but the way she tentatively repeats their affirmations suggests she doesn't quite believe that.)
After discovering that her disengaged husband Karl (Matthew Modine) is having an affair with married Leah (Bridget Everett), she confronts him in the act, only to send him into a shock that causes a fatal heart attack. Leah is stunned, but Sue suddenly becomes assertive, telling the mistress to keep this a secret and then burying her husband. Enraptured by a story about a local missing girl which has gripped her Midwestern community, Sue decides to tell the authorities that Karl has been abducted, quickly learning how much people notice her once she's on television crying about her missing husband.
Taylor (The Help) and screenwriter Amanda Idoko, whose original script was a Black List winner, give us a film which is meant to be slightly ludicrous, piling on the coincidences and screwball shenanigans with gusto. It turns out that Karl, a banker, was helping to launder money for criminals Ray (Clifton Collins Jr.) and Mina (Awkwafina), and the bag he had on him when he died contained millions of dollars. Now Ray and Mina need to find Karl, putting them on a collision course with Petey (Jimmi Simpson), Karl's ne'er-do-well brother, and Detective Harris (Hall), who has been assigned to this kidnapping case.
Meanwhile, Sue's lie starts to take on a life of its own, with her half-sister, a local reporter named Nancy (Kunis), hoping to land an exclusive interview. But the spotlight-craving Sue would rather court a high-profile, ambulance-chasing talk-show host, Gloria Michaels (Juliette Lewis), who has a large, ravenous audience that would devour her invented sob story.
Both a satire of sensationalised media coverage and a dark comedy boasting a surprisingly high body count, Breaking News feels like it has been adapted from some outrageous true-crime tale. Apart from Janney, though, the performances tend toward the cartoonish without the necessary humanity underneath. By comparison, the Oscar-winning actress believably portrays a person who has always felt invisible — and who responds to the TV camera's gaze by drifting into a delusion that she's now, at last, special.
Breaking News is hardly novel in arguing that a need for notoriety can prove toxic. (The picture's small-town setting and colourful crime backdrop recall To Die For, which was based on actual events.) Sue's actions become progressively more unconvincing — and her sickening need for media attention feels awfully familiar — although Janney's melancholy turn elicits compassion for this damaged soul.
The film's suspense element proves far less interesting. Wanda Sykes plays Petey's coworker, who becomes his literal partner in crime when he needs to raise a lot of cash fast in order to free his brother. (Ray and Mina trick him into thinking that they've kidnapped Karl.) Not everyone makes it out alive in Breaking News, and the blunt death scenes intend to be a jolt in relation to the gentle laughs elsewhere. But Taylor can't juggle the different tones, and as Sue tries to stay a step ahead of the crooks and the cops as her lies threaten to unravel, the film's attempts at societal critique feel facile.
Production companies: Wyolah Films, Nine Stories, Black List
International sales: AGC Studios, sales@agcstudios.com
Producers: Franklin Leonard, Jake Gyllenhaal, Riva Marker, John Norris, Tate Taylor
Screenplay: Amanda Idoko
Production design: Bruce Curtis
Editing: Lucy Donaldson
Cinematography: Christina Voros
Music: Jeff Beal
Main cast: Allison Janney, Mila Kunis, Awkwafina, Regina Hall, Wanda Sykes, Juliette Lewis, Samira Wiley, Jimmi Simpson, Clifton Collins Jr., Matthew Modine, Ellen Barkin