A Georgian former wrestling champion journeys to Brooklyn to visit his son in Levan Koguashvili's study of community and masculinity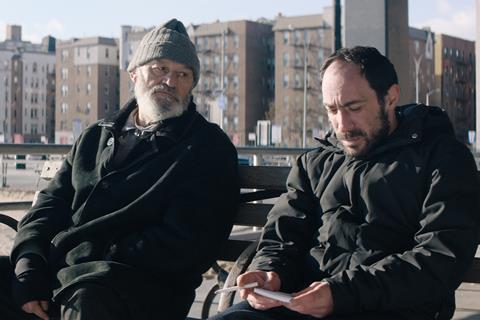 Dir: Levan Koguashvili. Bulgaria/Georgia/Monaco/Russia/US. 2021. 95 mins.
This portrait of Georgian masculinity is populated by burly, short-fused men with a weakness for gambling and self-sabotage, 40-a-day cigarette habits and a loyalty, above all, to blood relations. At the heart of the film is taciturn former wrestling champion Kakhi (Levan Tediashvili, himself an Olympic wrestler in his youth). Having dealt with his brother's latest debt crisis, Kakhi arrives in Brooklyn's Brighton Beach to visit his son, Soso (Giorgi Tabidze), only to discover that Soso shares the family weakness for cards and the family tendency to lose, heavily. He also encounters a loose community of Georgian immigrants, bonded by song and the enforced proximity of a ramshackle boarding house. Levan Koguashvili evocatively captures the unpredictable crackle of tensions and the tacit loyalties between the men; all sweat and beer and maudlin machismo, although the atmosphere of the picture is rather more compelling than its somewhat workmanlike plot.
Koguashvili deftly blends tones in his vividly realised snapshots of Georgian manhood
This is the third fiction feature from Koguashvili, following 2010's Street Days, which screened at the Rotterdam International Film Festival, and Blind Dates, which premiered at the Toronto International Film Festival three years later. It shares with these films, and the 2016 feature documentary Gogita's New Life, a fascination with a kind of masculinity which feels increasingly out of step with the modern world.
Following its premiere in Tribeca, Brighton 4th should find a receptive audience at further festivals, where the affectionate attention to detail (Georgian cheese is a recurring motif, reverently appreciated by big men who find in it a sense memory of home) and the unaffected naturalism of the performances will likely be appreciated. The film may struggle to assert itself theatrically, although domestic interest is likely.
Koguashvili deftly blends tones in his vividly realised snapshots of Georgian manhood, both in Tbilisi, where the film starts, then in the tight-knit community of Georgian migrants in Brooklyn. A stoic glumness rubs shoulders with moments of levity and warmth. The same juxtaposition is evident in the use of music. Mournful, breathy clarinet refrains weave through the score like the halos of cigarette smoke which hang over these fallen men; impromptu bursts of song punctuate the film — full-throated, beer-sodden laments which combine absurdity and beauty.
A man of quiet dignity, Kakhi has taken on the responsibility for his family's mistakes and misfortunes. When his brother gambles away the money that his wife has sent from America, losing his flat in the process, Kakhi finds a temporary solution. However his son's debt — $14,000 owed to a Georgian gangster — is something which is not so easily patched up. Kakhi's status as a past wrestling champion is something which he wears lightly, but it gives him a weight with the other men he meets. In an existence blurred by future uncertainty, past glory takes on an added resonance. And it is his wrestling prowess which will ultimately solve his son's quandary, in an unapologetically sentimental conclusion which makes a case that the Georgian man's pride, self-sacrifice and the inherent nobility of settling things with fists redeems weakness in other quarters.
Production company/international sales: Kino Iberica, levan.koguashvili@gmail.com
Producers: Irakli Rodonaya, Olena Yershova, Michel Merkt, Kateryna Merkt
Screenplay: Boris Frumin
Cinematography: Phedon Papamichael
Editing: Sasha Frumin, Davit Kiknadze, Elene Asatiani
Main cast: Levan Tediashvili, Nadezhda Mikhalkova, Giorgi Tabidze, Kakhi Kavsadze