Delightful rom-com from the Apatow stable focuses on the gay dating scene - with winning results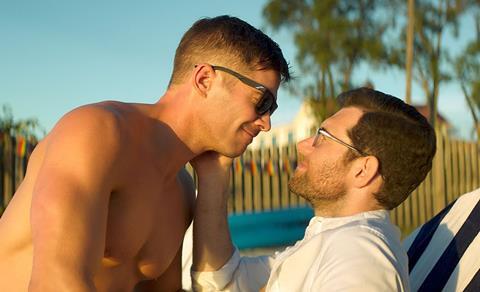 Dir: Nicholas Stoller. US. 2022. 115 mins.
A winning romantic comedy about two men whose emotional intimacy issues may jeopardise the good thing they've got going, Bros is frequently funny but also quite touching, spearheaded by the dynamite chemistry between co-writer Billy Eichner and Luke Macfarlane. Produced by Judd Apatow and directed by Nicholas Stoller, the film takes aim at the perils of the gay dating scene while also skewering how gay courtship is often portrayed in popular culture. (As Eichner's cynical character puts it, those pictures are usually tragic and played by straight actors who want Oscars for their bravery.) So consider Bros a witty, spirited counterbalance to those dour affairs — defiantly feel-good while carefully dissecting the ways that the lovelorn can sabotage their chance at happiness.
A bold, sexually frank rom-com starring two gay actors
Slotted for a September 30 release in the US, this Toronto premiere will open in the UK in late October through Universal, catering to audiences that will appreciate a bold, sexually frank rom-com starring two gay actors. Apatow's commercial clout should only further raise Bros' profile — as will good word of mouth and favourable reviews.
Set in New York, the film introduces us to Bobby (Eichner), a popular podcaster who has been tasked with opening the country's first major LGBTQ+ museum. Convinced he's never going to be in a relationship — and insistent that he's fine with that — Bobby meets Aaron (Macfarlane), an estate lawyer who is into hookups, not commitment. And yet, the spark between them is so strong that they flirt with the idea of maybe pursuing something more serious.
Stoller (Neighbors), who co-wrote the script with Eichner, has crafted a fairly straightforward rom-com, except that it's seen through Bobby's jaundiced worldview. Hyper-intelligent but also neurotic, Bobby is resentful about how LGBTQ+ stories have been erased from history — and how gay men like himself have had few role models for what a healthy romantic relationship can look like. Of course, it's common for the hero in a rom-com to despise the very concept of true love, but Bros digs deeper in its analysis of why someone like Bobby would be so resistant to a meaningful connection with the sweet, approachable Aaron.
Bros boasts a plethora of zingy one-liners, with a majority of the finest quips delivered by Bobby. Eichner is perhaps best known for his outrageous series Billy On The Street, but although he brings some of that same no-nonsense New Yorker energy to this film, Bobby is actually a more vulnerable, nuanced character who needs to stop being so shut-off. Eichner makes Bobby's path to openness moving — in particular during a poignant monologue in which Bobby explains that his apparent confidence is a reaction to years of nobody giving him opportunities as a writer because he's gay. Bros repeatedly connects the character's romantic hangups to self-loathing ingrained from societal homophobia — for Bobby to let Aaron in, first he has to think that he himself is someone worth loving.
Eichner is well-matched by Macfarlane, who plays a successful but unfulfilled attorney who is intimidated by Bobby's worldliness. Whereas Bobby is proudly outspoken about LGBTQ+ causes, Aaron is more reserved — especially around his parents — which causes conflict between the two lovers. But whether it's during their sex scenes or in the midst of casual conversations, Bobby and Aaron radiate such affinity that they seem meant to be together, which only makes it more disappointing that their individual issues keep getting in the way. Bobby is convinced he's not the hunky Aaron's type, while Aaron feels insecure around the more outgoing Bobby. And both men are wrestling with how their sexuality is perceived out in the wider world, sometimes leading to big laughs. (Debra Messing, a gay icon because of her role on Will & Grace, provides an especially delicious cameo.)
Certain rom-com conventions are carted out, but even if Bobby is cynical about love, Bros is most assuredly not. The film doesn't mock the genre cliches because Stoller and Eichner understand why people need to believe in them so much. That said, the film often finds fresh approaches to expected plot twists, never allowing Bobby or Aaron to act foolishly in order to forward the narrative. (Indeed, one of Bros' strongest elements is its characters' acknowledgement that they're in their 40s and getting too old for childish game-playing.) There are racy moments involving orgies and Grindr meet-ups, but what's really grownup about Bros is its clear-eyed perspective on these two bright adults who run from the prospect of contentment. Bobby and Aaron may not always know what they've got, but everyone in the audience certainly will.
Production company: Apatow Company
Worldwide distribution: Universal Pictures
Producers: Judd Apatow, Nicholas Stoller, Joshua Church
Screenplay: Billy Eichner & Nicholas Stoller
Cinematography: Brandon Trost
Production design: Lisa Myers
Editing: Daniel Gabbe
Music: Marc Shaiman
Main cast: Billy Eichner, Luke Macfarlane