Dir/ed: Rodrigo Cortes. Spain. 2010. 93 mins.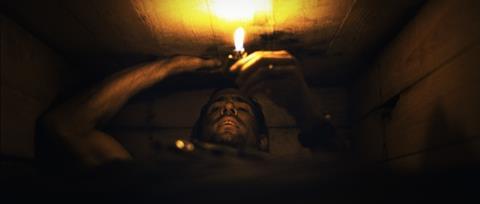 Cruelly efficient yet ethically questionable, Buried jangles the nerves but gets into trouble when it aspires to political topicality. Set entirely inside a coffin in Iraq, where an American truck driver has been buried alive, Spanish director Rodrigo Cortes's B-movie thriller has style and panache, and Ryan Reynolds gives a gripping performance, but some may find the subject matter inherently exploitative.
Scooped up by Lionsgate after its premiere at Sundance, Buried seems a perfect fit for the studio behind the Saw and Hostel films. Reynolds' name value will raise this high-concept thriller's profile, and down the road the film seems well suited for midnight-movie revival screenings.
Paul (Reynolds), an American truck driver contracted to deliver supplies in Iraq, wakes up to find himself in a coffin buried underground after he was attacked by insurgents. With only a cell phone and a lighter, he must try to get help before he runs out of air.
Buried's clever concept is enthralling in two ways: Not only do we wonder whether Paul can escape, but we also want to see if Cortes can keep the suspense taut across the movie's running time. And while there are some slow moments, Buried is consistently engaging, thanks in part to Reynolds's desperate, believable reactions to his horrifying situation.
Unfortunately, screenwriter Chris Sparling muddies the waters somewhat by trying to throw in a commentary on America's ongoing occupation of Iraq and the unscrupulous companies making profits there. But the film's slick down-and-dirty style doesn't have the moral heft to make the commentary resonate, leading to criticism that rather than shedding light on these important subjects, Buried is merely using them as fodder for a would-be escapist thriller.
To sign up for Screen's weekly Reviews Newsletter with all the week's new releases, international openings and full festival reviews delivered free to your mailbox every Friday, please click HERE
Production companies
Versus Entertainment
The Safran Company
Dark Trick Films
Domestic distribution
Lionsgate
International Sales
United Talent Agency
+ 1 310 273 6700
Producers
Adrian Guerra
Peter Safran
Screenplay
Chris Sparling
Cinematography
Eduard Grau
Music
Victor Reyes
Main cast:
Ryan Reynolds
Robert Paterson
Jose Luis Garcia-Perez
Stephen Tobolowsky
Samantha Mathis
Warner Loughlin
Ivana Mino
Erik Palladino