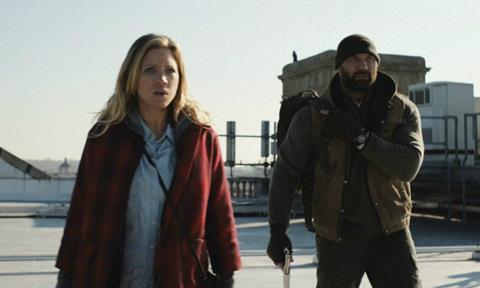 Dirs. Cary Murnion & Jonathan Milott. US. 2016. 93mins
All hell breaks loose, rather perfunctorily, in Bushwick, an action-thriller that depicts full-out war on the streets of Brooklyn but is oddly uninvolving. Constructed to look like a real-time, single-shot affair, the latest from Cooties filmmakers Cary Murnion and Jonathan Milott boasts superficial pleasures thanks to its potentially gripping premise. Alas, stars Dave Bautista and Brittany Snow aren't compelling enough, and the film's formal gimmicks aren't clever enough.
Brittany Snow shows some grit as a frightened young woman who becomes unexpectedly heroic
Premiering in Sundance's Midnight section and screening in Directors' Fortnight, the film will mostly play to hardcore genre aficionados, with Bautista's involvement in the Guardians Of The Galaxy franchise helping to raise its profile. Cult status seems assured.
Snow plays Lucy, who's taking her boyfriend to meet her grandmother in New York's Bushwick neighbourhood. But once they get off the subway, they discover that the city has been beset by gunfire in the streets and helicopters buzzing overhead. After her boyfriend is killed in the crossfire, Lucy runs for her life, befriending a former Marine named Stupe (Bautista), who reluctantly lets her tag along as he ventures to New Jersey for sanctuary.
Bushwick sports a provocative conceit; the rampant violence and rising body count is because Texas has decided to secede from the United States, inspiring other southern states to join its insurrection and invade northern cities such as New York. Murnion and Milott tap into simmering cultural tensions within the country, and the dramatic storyline is augmented by the filmmakers' decision to structure Bushwick as one frenetic, unbroken shot.
Intermittently, it's arresting to observe Lucy and Stupe as they dash through the Bushwick streets, trying to avoid random snipers and southern mercenaries in close-quarters action scenes. Unfortunately, Nick Damici and Graham Reznick's screenplay doesn't maximize the political content or the high-octane filmmaking approach.
Early on, it becomes obvious that cinematographer Lyle Vincent is hiding invisible cuts in these long takes, but it's not nearly as seamlessly executed as it was in Birdman. As a result, there's little thrill to the exercise because it becomes too easy to focus on where those cuts are awkwardly occurring.
Also distracting is the fact that the characters aren't very stimulating. Bushwick gives us little information about Lucy and Stupe, and so in theory the movie should be a fun reveal of their personalities through this harrowing ordeal. Snow shows some grit as a frightened young woman who becomes unexpectedly heroic once she's put into danger. And Bautista displays a little depth once Stupe, during a quiet moment, unburdens himself of a dark secret. But those brief flashes of inspiration pale in comparison to a story that's mostly about the dull logistics of maintaining the illusion of a continuous shot.
Even as political commentary, Bushwick falters. The reality of America's political and cultural divide isn't satisfyingly explored beyond being exploited as the film's inciting incident. And even when the movie tries suggesting that Bushwick is a melting pot of disparate nationalities and creeds learning to work together to defeat a common foe, the ham-fisted screenplay fails to make this sentiment stirring or amusing. Its characters are running for their lives, but narratively the movie largely runs in place.
Production companies: XYZ Films, Bullet Pictures, Ralfish Films, RJL Entertainment, Mensch Productions
US distribution: RLJ Entertainment, www.rljentertainment.com
International sales: XYZ Films, nate@xyzfilms.com; and WME Global, MAnkner@wmeentertainment.com and cgelb@wmeentertainment.com
Producers: Joseph Mensch, Nate Bolotin, Adam Folk
Executive producers: Dave Bautista, Jonathan Meisner, Cary Murnion, Jonathan Milott, Nick Spicer, Todd Brown
Screenplay: Nick Damici, Graham Reznick, story by Cary Murnion, Jonathan Milott
Cinematography: Lyle Vincent
Production design: Sara K White
Editor: J Henry Hobeck
Music: Aesop Rock
Main Cast: Dave Bautista, Brittany Snow, Angelic Zambrana, Jeremie Harris, Myra Lucretia Taylor, Alex Breaux, Arturo Castro