Elizabeth Banks and Sigourney Weaver anchor Phyllis Nagy's timely 1960s abortion drama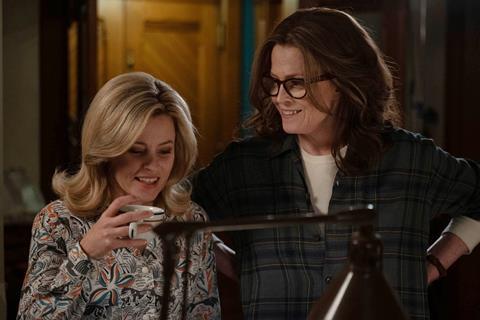 Dir: Phyllis Nagy. US. 2021. 121mins.
Abortion was illegal in America in 1968, forcing women like Joy, the evolving heroine of Call Jane, to seek black-market remedies to terminate their pregnancies. Director Phyllis Nagy has crafted a subdued but affecting portrait of that time, strengthened by deft performances from Elizabeth Banks as a sheltered suburban mother whose eyes are opened and Sigourney Weaver as the leader of an underground abortion-facilitation service. Inspired by Chicago's Jane Collective, Nagy's drama elegantly tackles the urgency of reproductive rights, choosing nuance over bromides.
Some may hope that Call Jane will be a fiery rebuke to embattled abortion rights, but Nagy's approach is far more reserved
This Sundance premiere arrives at a moment when other films, including Never Rarely Sometimes Always and Happening, are also addressing the growing difficulty of obtaining safe, legal abortions. With the possibility that Roe v. Wade might soon be overturned in the US, Call Jane couldn't be more timely. (Indeed, Sundance will also be debuting a HBO documentary about the Jane Collective, The Janes.) Banks and Weaver's star power will only help bring attention to a film which is certain to attract headlines as it moves on to a screening in Competition at Berlin.
Banks plays Joy, a housewife happily married to successful lawyer Will (Chris Messina) and the proud mother of teen daughter Charlotte (Grace Edwards). She's excited about becoming pregnant again, but she soon discovers that she has a serious heart condition which is exacerbated by her situation; and since she can't get an abortion, she'll have to hope the foetus doesn't kill her. Furious after her doctors refuse to grant her an exemption, she seeks illicit option – which leads her to a telephone number for a group, led by Virginia (Weaver), that assists pregnant women with ending their pregnancies in secret.
Nagy, who was Oscar-nominated for her Carol screenplay, shows us the world of the Jane Collective from Joy's outsider perspective. A refined, somewhat prudish woman, she wants this abortion because she fears for her life — and is offended that the men around her seem more concerned about the unborn baby's welfare — and Call Jane presents a fascinating tour of this underground community working together to sidestep the law. With almost clinical precision, the film dramatises the abortion procedure, as Joy meets Dean (Cory Michael Smith), the chilly doctor who is good at his job but lacks much of a bedside manner.
The resolution of Joy's dilemma leads to a surprising development once this well-to-do housewife gets drawn into the Jane Collective. But she'll quickly have her own biases challenged, learning that women she'd consider "loose" — i.e. young single women having affairs with older married men — are among those calling Virginia's hotline in need of help. There's a puritanical streak to Joy, and Call Jane is, in part, about how she lets go of her judgmental side.
Weaver is terrific as the blunt, charismatic leader, someone who has attended rallies and protests all her life, relishing the 1960s' climate of revolution and liberation. Where Joy is prim and proper, Virginia is pragmatic and defiant, and the actresses' combustible rapport suggests an unlikely friendship forged by a common cause.
That Joy has to hide her actions from her husband and daughter — she says she's out attending art classes — will inevitably lead to plot complications, and in Call Jane's later stretches, the story becomes flatter and more predictable. Likewise, the resolution feels somewhat rushed: Hayley Schore and Roshan Sethi's screenplay is ultimately better at establishing these characters and their milieu than in finding a wholly satisfying ending to the themes that course through the film.
That said, Call Jane is exquisitely designed, starting with Greta Zozula's artfully faded photography, evoking a bygone era whose feminist concerns are, sadly, as relevant as ever. The supporting cast brings additional dimensions, especially Wunmi Mosaku as Gwen, the one Black member of the Jane Collective, who confronts Virginia about her racial blindspots. (The procedure costs $600, which many Black women can't afford — why won't Virginia make an exception for them?) And Smith makes for a vividly aloof abortion doctor who bonds with Joy as she becomes curious about how he performs these procedures.
Some may hope that Call Jane will be a fiery rebuke to embattled abortion rights, but Nagy's approach is far more reserved, illustrating how, among the film's many female characters, these issues can be complicated. Banks' perfect smile and impeccable blonde hairdo are like a shield that have protected Joy from seeing the hard realities facing so many women. This muted drama chronicles how the character becomes engaged in the fight, and Banks subtly charts Joy's growing radicalisation — even as she remains the mother who can be counted on to bake cookies for the next PTA meeting.
Production companies: RB Entertainment, Redline Entertainment
US sales: UTA, RonsonR@unitedtalent.com; International sales: Protagonist Pictures, info@protagonistpictures.com
Producers: Robbie Brenner, David Wulf, Kevin McKeon, Lee Broda, Claude Amadeo, Michael D'Alto
Screenplay: Hayley Schore & Roshan Sethi
Production design: Jona Tochet
Editing: Peter McNulty
Cinematography: Greta Zozula
Music: Isabella Summers
Main cast: Elizabeth Banks, Sigourney Weaver, Chris Messina, Kate Mara, Wunmi Mosaku, Cory Michael Smith, Grace Edwards, John Magaro