Mario Martone's lurid drama is set on the island off Naples in 1910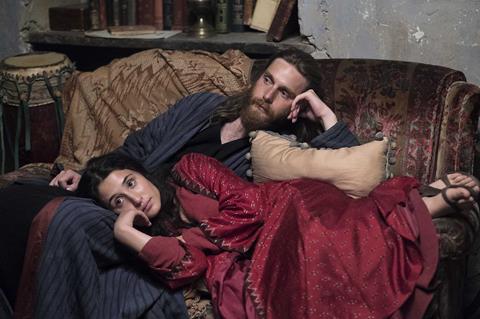 Dir. Mario Martone. Italy. 2018. 122 mins.
Hippie-style peace and love come to the Italian islands in Capri-Revolution – some five decades before their appointed time, but that doesn't seem to worry veteran director Mario Martone, who weaves some very anachronistic touches into a romantic tale of a Capri peasant girl who has her head turned by an avant-garde utopian community in the 1910s. This lushly mounted, flamboyantly ludicrous pudding of a melodrama represents an all-out bummer of a trip from respected auteur Martone (L'Amore Molesto, Death of a Neapolitan Mathematician).
Too many false notes – and too many bad performances, in too many languages - to convince as a realistic historical drama
Inspired by actual Capri history, and the experimental community founded there in the early 20th century by painter Karl Diefenbach, Capri-Revolution has too many false notes – and too many bad performances, in too many languages - to convince as a realistic historical drama. It's pitched essentially as a tale of female liberation, as rebellious young goatherd Lucia (charismatic Marianna Fontana) is caught between tradition on one side, modernist rationalism on another, and on a third, the adventure of getting your clothes off and grooving with a gang of sun-kissed hipsters.
The film begins with some nice period imagery in a rural-realist style that suggests echoes of Ermanno Olmi's The Tree of Wooden Clogs; what follows is just woodenly clogged. Lucia is first seen clambering after a stray goat on Capri's rocky hills – which look ravishing throughout, as do the goats – and comes across a group of sun worshippers doing a spot of naked interpretative dancing on the crags.
Intrigued enough to try a spot of experimental nudity herself, Lucia finds herself coming under the spell of group leader and Jesus lookalike Seybu (Reinout Scholten Van Aschat), a charismatic painter and seeker after truth who, disappointingly for plot developments, is far more benign than the Charles Manson figure you rather hope he'll turn out to be. Her is father dying of lung disease, her macho brothers are riding roughshod, and she faces the unwelcome prospect of marriage to a local fatcat baldie. Little wonder that Lucia takes refuge in the international boho community, enjoying its chamber-folk hootnannies, and even sampling a spot of levitation at Seybu's hands – which is where the film entirely loses touch with terra firma.
All is not well in the community, however: resident psychoanalyst Herman is into far more muscular therapies than Seybu approves of, working with freshly-killed meat and copious blood-smearing, as well as snarled invocations of war and Greek mythology.
Meanwhile, there are other revolutions in the works on Capri: electricity is coming to the island, while an enlightened young village doctor (Antonio Folletto) is exchanging ideas with a group of militant Russian workers who have taken up residence there (although they keep a curiously low profile throughout). And, inconveniently enough, World War One is about to break out.
Despite a fiery, good-humoured and no-nonsense central performance by Fontana, Martone's film feels anything but grounded in any recognisable historical or emotional reality. Seybu's circle waft around looking pious, performing naked group dances at the drop of a hat, and exchanging earnest dialogue in multiple languages including English ("I'm seeking a deeper relationship with the movements of the earth," says Seybu, who in his spare time is trying to generate electricity from lemons). Things finally come to an abrupt and unsatisfying conclusion, as if someone had erased several episodes of an over-lavish period miniseries.
Composers Sascha Ringg and Phillipp Thimm provide a part-electronic, part-acoustic score that's pleasing to the ear, but out of place when it comes to a realistic evocation of the sort of music that might have been played in a 1910s commune – especially when Seybu starts accompanying it with improv poetry that suggests Jim Morrison gone soppy. Michele d'Attanasio's photography is unfailingly gorgeous, although too many luscious ocean blues give the film a feel of postcard kitsch. Lucia's goats are a lively presence throughout, their shaggy pelts considerably more realistic than the lustrous locks and well-trimmed beard of Seybu, who – Christ-like radiance apart – could be a L'Oréal for Men a.
Production companies: Indigo Film, Rai Cinema
International sales: Pathe International, amelie.stevens@pathe.com
Producers: Nicola Giuliano, Francesca Cima, Carlotta Calori
Screenplay: Mario Martone, Ippolita di Majo
Cinematography: Michele d'Attanasio
Editor: Jacopo Quadri, Natalie Cristiani
Production design: Giancarlo Muselli
Music: Sascha Ring, Phillipp Thimm
Main cast: Marianna Fontana, Reinout Scholten Van Aschat, Antonio Folletto, Gianluca Di Gennaro