Absorbing documentary about legendary New York guitar maker Rick Kelly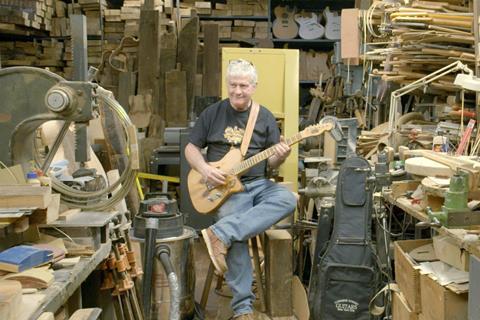 Dir. Ron Mann. Canada. 2018. 80mins
Carmine Street Guitars is an intimate look at a maker of guitars in New York's Greenwich Village. It's a mostly quiet celebration of the work of an artisan whose days on Carmine Street could be numbered, as soaring New York rents elbow out family businesses. Tender without sentimentality, the doc by Ron Mann is as absorbing as it is understated. At its core is Rick Kelly, a soft-spoken craftsman with the round face and gentle demeanor of an Irish monk. Kelly's store/workshop is a magical destination for guitarists.
Ron Mann makes it easy to watch this guitar-maker at work
This mix of charming encounters and a stiff reality check will have a strong run at festivals and art houses. Outside the English-speaking world, there should be a public for it in Europe and Japan, where hipster history and rock lore are part of the market for Americana. Rick Kelly the artisan will likely appeal to audiences of films about visual artists, as Mann makes it easy to watch this guitar-maker at work. US television networks are likely to compete for this portrait of a craftsman who feels as American as Norman Rockwell.
The quiet film distills five days in Kelly's shop; a warren of what seems like clutter, where tools pile up and his completed guitars hang from the ceiling like hams. As Kelly works on other instruments, customers come through the door — some with his guitars. With each visit, the story of the shop unfolds; like a vaudeville act that keeps you in suspense for the next performer. The "acts" are spontaneous samplings. Bill Frisell plays an inspiring impromptu "Surfer Girl," Eleanor Friedberger sings, and Lou Reed's guitar technician Stewart Hurwood takes you inside the rock auteur's special tunings.
Most of the guitars are electric and all are made of solid wood, taking the classic Fender Telecaster as a template with Kelly's variations. What sets his guitars apart is that the wood comes from the 19th century, or earlier. Boards were saved or scavenged from demolished buildings and catalogued from floor to ceiling. Kelly recalls crossing a police barrier after a fire destroyed a Serbian orthodox church to get boards, and told a policewoman (probably of Irish extraction) that he had permission to do it from "the monsignor." Smiling, he notes that the Serbian church hierarchy has no such thing as a monsignor.
That's the kind of warmth that Mann weaves through Carmine Street Guitars, where customers are often friends and work feels like sculpting in a studio. Kelly's platinum-haired colleague, Cindy Hulej, is a former apprentice and a specialist in burning designs onto guitar surfaces as if she's tattooing the instruments. Kelly's 93-year-old mother Dorothy dusts off autographed photographs of musicians amid her son's guitars.
Mann conveys the atmosphere of paradox in the store, as musicians arrive to share secrets of guitar design and then crank up the amps to test the products. Some who are just discovering his guitars gasp with admiration. Kelly's composure never wavers, however, as a jangly score by The Sadies (who are also customers) announces the end of each day.
The wood of the guitars is metaphor as much as it is material. Kelly is recycling the bones of an earlier generation of New York, and the old-growth white pine resonates with history as deeply as it does with sound. Given New York's slash and burn property market, it's good that Ron Mann got to Kelly while Carmine Street still has its magic. Who knows whether history will honor Rick Kelly as much as this film does.
Production companies, backers: Sphinx Productions, Bell Media, Telefilm Canada, Rogers Group
International sales: Match Factory info@matchfactory.de
Producer: Ron Mann
Executive Producers: Carter Logan, Michael Hirsh
Screenwriter: Len Blum
Director of Photography: John Minh Tran, Becky Parsons
Editor: Robert Kennedy
Music: The Sadies