A vibrant musical from Nabil Ayouch, shot over two years at the cultural centre he founded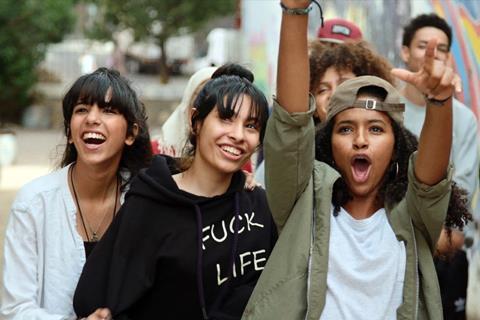 Dir: Nabil Ayouch. Morocco, France. 2021. 102 mins
Hip hop and rap music infuse every aspect of Nabil Ayouch's vibrant musical, from the score, obviously, to the structure – a cut up mix of stories which can seem a little scattershot but defiantly dances to its own beat. This is a highly personal picture for the French-Moroccan director: Casablanca Beats was shot over the course of two years at a cultural center that Ayouch co-founded called Les Etoiles de Sidi Moumen, and features a charismatic group of young people who were real life students in a hip hop program called The Positive School of Hip Hop.
Ayouch blurs the line between fiction and documentary
This picture, the first Moroccan film to be selected for Cannes' main Competition, is Ayouch's second film in the Cannes official selection – the first was God's Horses which screened in Un Certain Regard in 2012 and was also set in the sprawling Casablanca shanty town of Sidi Moumen, the backdrop for Casablanca Beats. But while that film dealt with the subject of suicide bombers, this one takes a more optimistic stance: it is a film which celebrates empowerment and the exhilarating release of finding a voice and being heard. As such, it should prove to be an engaging addition to further festival programmes. The film's energy and interesting backstory will be a draw for arthouse distributors, although it's unconventional structure and lack of focus could be challenging.
Casablanca Beats, which blurs the line between fiction and documentary, opens on Anas (Anas Basbousi), the charismatic former rapper who is the founder of the Hip Hop programme at the arts centre. He is, it's fair to say, a magnetic screen presence. But the film sidesteps the expected route into the inspirational teacher narrative. Instead, after setting up his class and delivering a few damning appraisals of his students' clumsy early attempts at rhymes, Anas as a character takes more of a back seat, allowing the young students to take centre stage. It's a bold decision, but one which doesn't take into account just how arresting Basbousi is as a performer. The fact that his character is not developed in more depth feels like a missed opportunity. As it is, we glean a few tantalising facts: Anas is living out of his car; he has rejected, wholesale, his former life; he's nice to dogs. And while a film can arguably never have too many shots of an exceptionally handsome man petting a stray mutt, a deeper insight into his backstory might have been more satisfying.
The classroom, and the streets around the arts centre, become a platform for the students to perform, but perhaps more importantly, for them to discuss the issues which shape their lives. Heated discussions take in religion, sexual harassment, societal expectations, censorship and whether some subjects should be taboo as material for rap. There's something of the electric charge and the flow of ideas that characterised Laurent Cantet's Palme d'Or winner The Class, although this picture is a more undisciplined and messy entity.
Self-expression finds many channels – one teenage boy has a soulful voice and a talent for improvisation; another kid is a proficient beatboxer; a fierce girl raps with the confidence of a performer twice her age. But perhaps the most thrilling are the dance sequences which spill into the streets and narrow alleyways of Sidi Moumen – defiant, uninhibited and full of attitude, street dance is harnessed as a means for young women to claim their space in a society which still tends to dictate how much they can be seen and heard.
Production companies: Les Films Du Nouveau Monde, Ali N' Productions, Unite De Production
International Sales: Wild Bunch International Smichel@Wildbunch.Eu
Producers: Nabil Ayouch, Amine Benjelloun, Bruno Nahon, Alexandra Henochsberg
Screenplay: Nabil Ayouch, Maryam Touzani
Cinematography: Amine Messadi, Virginie Surdej
Editor: Marie-Hélène Dozo, Julia Gregory, Yassir Hamani
Music: Mike Kourtzer, Fabien Kourtzer
Main Cast: Zineb Boujemaa, Maha Menan, Soufiane Bellali, Marwa Kniniche, Abderrahim Errahmani, Marouane Bennani, Hasnaa Ben El Fahim, Amina Kannan, Samah Barigou, Nouhaila Arif, Mehdi Razzouk, Sofia Akhmisse, Meriem Nakkach, Abdelilah Basbousi, Ismail Adouab, Anas Basbousi