Dir: Tod Williams. US. 2016. 97mins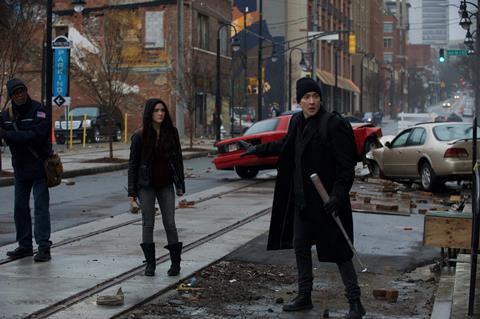 A Stephen King pedigree and John Cusack and Samuel L Jackson above the title should be enough to ensure that any indie film at least earns its keep. Cell, based on the prolific horror scribe's 2006 novel, certainly has its King hallmarks and, while Jackson is under-used, Cusack is as solid and appealing as ever in the central role. In essence, though, this apocalyptic thriller is a run-of-the-mill zombie flick that goes through the genre motions efficiently enough but fails to live up to its credits.
The action veers towards zombie pastiche more often than it achieves a satisfying creepiness
Recently released (through Lionsgate) on US ultra VOD platforms, the film opens in American cinemas (through Saban Films) on July 8 and reaches other markets over the rest of the summer. King and the stars have always been reliable international as well as domestic draws, though getting anywhere near the performance of 2007 King/Cusack/Jackson outing 1408 (which took nearly $132m worldwide) seems unlikely.
The mobile phones of the title trigger the action when everyone currently on a call gets a mysterious signal which instantly turns them into rabid killers. Cusack's graphic novel author Clay barely escapes from the airport where he witnesses the violent transformation (his battery was dead at the time) and eventually teams up with Jackson's kindly but gruff subway train driver Tom (spared by the lack of reception underground).
While the zombie-like 'phoners' start forming up into murderous flocks – apparently guided by intermittent wireless tower transmissions – Clay and Tom set out across the blighted land to find the former's estranged wife and young son. They're joined along the way by various other survivors, most of whom last only a couple of scenes. Stacey Keach does a nice turn as a sinister prep school headmaster and Isabelle Fuhrman (from The Hunger Games) plays a young woman who hangs on longer than most.
With a script credited to King himself and Adam Alleca (one of the writers of 2009's The Last House On The Left), the film tries briefly to introduce a supernatural element (the survivors all start dreaming about a tech-savvy Satan in a red hoodie) and to hint at socio-political themes. But neither avenue is followed for long and in its final 20 minutes the story becomes a confusing and pretty barmy mess.
The effects and production values are good by indie standards, but under eventual director Tod Williams (Paranormal Activity 2) - Eli Roth had at one time been attached - the action veers towards zombie pastiche more often than it achieves a satisfying creepiness. The familiarity of the situations, especially in the wake of TV's more stylishly staged The Walking Dead, sometimes causes the film feel cheesier than it really is.
Production companies: Benaroya Pictures, 120dB Films, Genre Company.
US distribution: Saban Films. International sales: International Film Trust (www.iftsales.com)
Producers: Richard Saperstein, Michael Benaroya, Brian Witten, Shara Kay
Executive producers: John Cusack, Stephen Hays, Peter Graham, Ben Sachs, Paddy Cullen, Edward Mokhtarian, Armen Aghaeian, Laurence Freed, Tyler Hawes, Brian Pope, Geno Tazioli, Xavier Gens, Marina Grasic, Jan Korbelin
Screenplay: Stephen King, Adam Alleca
Director of photography: Michael Simmonds
Production designer: John Collins
Costume designer: Lorraine Coppin
Editor: Jacob Craycroft
Music: Marcelo Zarvos
Main cast: John Cusack, Samuel L Jackson, Isabelle Fuhrman, Stacey Keach