Dir/scr Apichatpong Weerasethakul. Thailand/UK/France/Germany/Malaysia. 2015. 122mins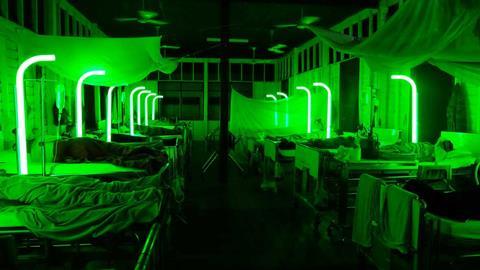 Past lives, shared histories and a fluid sense of personal and national identity are the familiar concerns addressed by Apichatpong Weerasethakul in Cemetery Of Splendour (Rak Ti Khon Kaen), his first major feature since Palme D'Or winner Uncle Boonmee in 2010. Working through a largely linear narrative creates a more approachable piece than many of his previous films, suggesting the potential to broaden his core arthouse audience. " Slow cinema" lovers and devoted followers of the director should also find enough to mull over in this mysterious, melancholic feature to feel that none of his distinctive vision has been compromised for the sake of accessibility.
There is the notion that any individual or country can awaken from the darkness of its past.
There are shades of the patients treated by Oliver Sacks in Awakenings in the story of a strange sleeping sickness that has overwhelmed a group of soldiers. A former school has been transformed into a temporary clinic where the men now lie slumbering.
Volunteer Jenjira (Weerasethakul regular Jenjira Pongpas Widner) maintains a vigil at the bedside of handsome soldier Itt (Banlop Lomnoi), watching over him and massaging his body. She has clear memories of the hospital when it was a school and reminders of the past are all around. She makes friends with young medium Keng (Jarinpattra Rueangram) who reveals that the grounds were once a graveyard for kings and their spirits could now be accessing the energy of the sleeping soldiers.
History is everywhere in Cemetery Of Splendour, submerged in the very ground that people walk over and layered throughout individual lives and experiences. Jenjira's perspective on events changes as her relationship with Keng deepens and allows her to seek out some of the spirits around her.
Maintaining his fondness for long, contemplative shots, Weerasethakul creates a deceptively serene sense of storytelling, with gentle grace notes of wry humour. Itt questions his skill with the Isan dialect and is told to "keep eating the local chilli paste and your accent will improve". The sense of tranquility is constantly undercut by subtle reflections on the political upheavals that mark Thailand's history. Weerasethakul has described the film as a " rumination on Thailand".
Working with director of photography Diego Garcia for the first time, Weerasethakul finds his most striking images in the changing colours of the glowing electric lights used for the experimental treatment of the soldiers. It could almost be an art gallery installation.
Weerasethakul ends the film with a bittersweet sense of joy and optimism in what almost amounts to a big musical production number. Grounds that once saw bloodshed and oppression are now a place where children play football and adults exercise to music. There is the notion that any individual or country can awaken from the darkness of its past.
Production companies: Kick The Machine Films, Illumination Films
International sales: The Match Factory info@matchfactory.de
Producers: Keith Griffiths, Simon Field, Charles de Beaux, Michael Weber, Hans Geissendorfer
Cinematography: Diego Garcia
Editor: Lee Chatametikool
Main cast: Jenjira Pongpas Widner, Banlop Lomnoi, Jarinpattra Rueangram, Petcharat Chaiburi