Can Prano Bailey-Bond and Niamh Algar save the UK from 'video nasties'?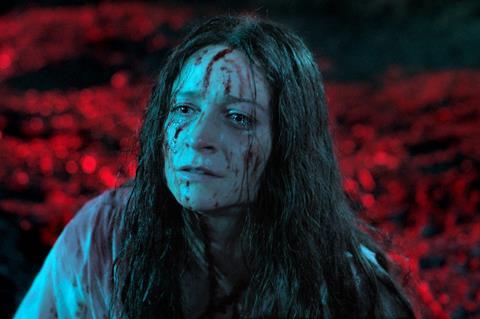 Dir: Prano Bailey-Bond. UK. 2020. 84mins
In the early 1980s, a troubled film censor draws a disturbing connection between a gory video nasty and the disappearance of her younger sister decades before. As she follows the clues, debut director Prano Bailey-Bond crafts a stylish, effective horror that is both an homage to genre cinema of that period and a psychological dive into the combined traumas of grief and guilt.
Appalling reality and desperate fantasy collide at breakneck speed
Making its debut at this year's Sundance online, Censor is a calling card from Bailey-Bond and will likely draw the attention of further festivals, particularly those with genre strands. It could achieve success with a specialised streamer, as horror fans will find much to enjoy in the film's use of period setting and raft of gory scares. A strong central performance by Niamh Algar (a Screen Star Of Tomorrow in 2018, along with Bailey-Bond) may widen its appeal further.
Algar plays Enid, a prim, dedicated film censor who spends her days in darkened rooms diligently assessing extreme works. Devoted to her job, she agonises over every cut. When we first meet her, she is discussing the artistic merits of an eye-gouging scene with her colleague, Sanderson (Nicholas Burns). That he equates it to Shakespeare while she feels it is an unnecessary step too far in a film full to bursting with provocative material — "I only trimmed the tiniest bit off the end of the genitals," she points out — is the first of Censor's many knowing nods to ingrained gender issues in the horror the genre. A female colleague's note that most of the works they examine are examples of "male inadequacy revenge catharsis" is another pleasing moment.
With dark circles under her eyes and a stoop to her shoulders, Enid is carrying more just professional stress. She is haunted by the disappearance of her young sister many years previously, and consumed by the fact that she can't remember the events of that day. An archive film called "Don't Go Into The Church", which features two sisters in a familiar location, sends Enid down an increasingly disturbing rabbit hole as she becomes convinced that its maker can lead her to the truth.
Algar is careful to keep a firm grip on her character. Unlike the female protagonists of the films she watches, she never appears hysterical or deranged; she keeps her neurosis under wraps for most of the running time. Enid has an awkward relationship with her parents and no friends to speak of. She's so adrift in her own life that it's no surprise she finds solace in the strict ethical codes and conducts of her work.
It's also true, perhaps, that her job offers her some form of escapism, both from her personal demons and the oppressive sociopolitical environment in which she lives. Censor briefly ventures into the wider world when, through archive footage and newspaper headlines, we see Thatcher stoking unrest, companies on strike and unemployment rife. A sense of aggression and unease bubbles under the screenplay, co-written by Bailey-Bond and Anthony Fletcher. A couple argue furiously on a train; Michael Smiley's predatory producer believes he can behave with impunity. And with the government and media attempting to shift the blame for societal breakdown onto these so-called video nasties, Enid feels under increasing pressure to safeguard the morality and sanity of an entire nation — an impossible task exacerbated, of course, by her failure to protect her own sister.
As her paranoias begin to take hold, and Algar starts to loosen Enid's tightly-wound threads, Bailey-Bond and her largely female crew effectively manipulate the film around her. Cinematographer Annika Summerson's framing becomes increasingly claustrophobic and off-kilter, composer Emilie Levienaise-Farrouch's score is foreboding and insistent. Most effective is the use of colour, which ranges in extremes from the dingy browns of Enid's home and office to the increasingly disorienting strobing yellow of the projector. Not a single chink of natural light is allowed to permeate Enid's tightly sealed world until the bombastic final reel, where appalling reality and desperate fantasy collide at breakneck speed.
Production company: Silver Salt Films
International sales: Protagonist Pictures info@protagnostpictures.com
Producer: Helen Jones
Screenplay: Prano Bailey-Bond and Anthony Fletcher
Cinematographer: Annika Summerson
Production design: Paulina Rzeszowska
Editing: Mark Towns
Music: Emilie Levienaise-Farrouch
Main cast: Niamh Algar, Nicholas Burns, Vincent Franklin, Sophia La Porta, Adrian Schiller, Michael Smiley