Dakota Johnson joins Cooper Raiff for his touching follow-up to SxSW winner 'Shithouse'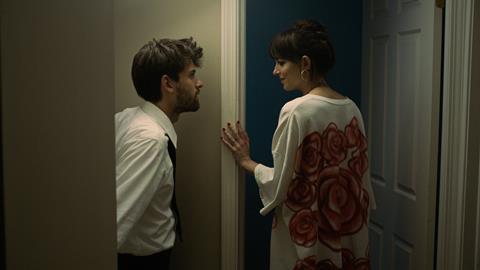 Dir/scr: Cooper Raiff. US. 2022. 107 mins.
Writer-director-actor Cooper Raiff's second feature concerns a directionless young man who discovers that falling in love isn't the same thing as finding your path. Much like his 2020 debut Shithouse, Cha Cha Real Smooth is a sweet, sensitive comedy-drama populated by likeable characters who feel things deeply and are searching for contentment, which is always just out of reach. There's a slightness to this tale, and also a nagging familiarity in its exploration of twenty-something restlessness, but Raiff's compassionate eye — paired with Dakota Johnson's melancholy turn — results in a touching, understated affair.
A touching, understated affair
Cha Cha screened as part of Sundance's US Dramatic Competition, where it won the audience award — Raiff's previous film won the top prize at South By Southwest — and Johnson's marquee value no doubt helped move a sale to Apple for a reported $15m. (Veteran comic performers Brad Garrett and Leslie Mann are also part of the ensemble.) Those who enjoyed Shithouse's low-key indie charms should be on board for Cha Cha's comparably earnest tone.
Fresh out of college but unsure what he wants to do with his life, Andrew (Raiff) decides to move back home while his girlfriend travels to Barcelona. Over the summer, he lands a job as a party-starter for bar mitzvahs which brings him into contact with Domino (Johnson) and her autistic teenage daughter Lola (Vanessa Burghardt). Andrew senses an immediate spark with this older woman, and while Domino may as well, she resists pursuing anything because she's engaged to Joseph (Raul Castillo), a busy lawyer whose work often takes him out of town.
Cha Cha looks slightly more polished than the micro-budgeted Shithouse as Raiff expands his narrative scope, telling a larger (though still intimate) story that encompasses more central figures. But what hasn't changed is his close attention to the minute sadnesses that hang over people — whether it's Andrew's bipolar mother (a superb Mann) or Domino, who adores Lola but feels the burden of essentially being a single mother. Andrew himself is struggling, quickly feeling disconnected from his absent girlfriend — he notices she's often gallivanting with a good-looking guy in her Instagram posts — and finding in Domino and Lola a sanctuary where he doesn't have to ponder his future.
A crucial flashback that opens Cha Cha shows a preteen Andrew (Javien Mercado) professing his love to Bella (Kelly O'Sullivan), a party-starter whom he's convinced is his soulmate after just meeting her. Bella is flattered but explains she's too old for him, setting a pattern that the present-day Andrew will unconsciously repeat. Not just older than Andrew but also saddled with adult responsibilities, Domino is at a different phase of her life than he is, and yet she finds him so easy to talk to that she keeps spending time with him.
Raiff and Johnson have an endearing rapport, with enough of a flirty edge to their characters' conversations that we can see why Andrew refuses to give up on her as a romantic possibility. But Johnson's wistful eyes express what Domino won't say: she's not leading him on so much as she's so grateful to be around someone who isn't complicated. Andrew may be drifting through life, but he's freer than Domino is, and she enjoys being around his spirit.
The film also takes care to flesh out Andrew's family, including his mother's new husband (Garrett), who neither Andrew nor his kid brother David (Evan Assante) likes, even though the's good to her — unlike their father. One of Cha Cha's over-riding themes is the way that people cobble together family units, and Andrew gets drawn into Domino and her daughter's orbit, hanging out with Lola because she's such a goodhearted person. Autistic actress Vanessa Burghardt is marvellous in her first feature role, and her quiet bonding scenes with Raiff are among the film's most touching.
To be sure, plenty of American indies are devoted to the lightweight travails of privileged young male characters trying to find themselves. But the unexpected, possibly short-lived connection between Andrew and Domino has its modest pleasures, speaking to how people at different ages think differently about love. Johnson's movie-star glow is toned down for Cha Cha, but she commands the screen in a way Raiff can't — a lovely echo of Domino's worldliness in comparison to the more naive, moonstruck Andrew. They're ships passing in the night, even if he's too young to realise that.
Production companies: Picturestart, TeaTime Pictures
International sales: WME, dmcintosh@wmeagency.com; and ICM, jessica.lacy@icmpartners.com
Producers: Dakota Johnson, Ro Donnelly, Erik Feig, Jessica Switch
Production design: Celine Diano
Editing: Henry Hayes
Cinematography: Cristina Dunlap
Music: Este Haim and Christopher Stracey
Main cast: Dakota Johnson, Cooper Raiff, Raul Castillo, Odeya Rush, Evan Assante, Colton Osorio, Kelly O'Sullivan, Vanessa Burghardt, Brad Garrett, Leslie Mann