The Russo Brothers go straight in this epic tale of a college drop out, war veteran and druggy bank robber starring Tom Holland.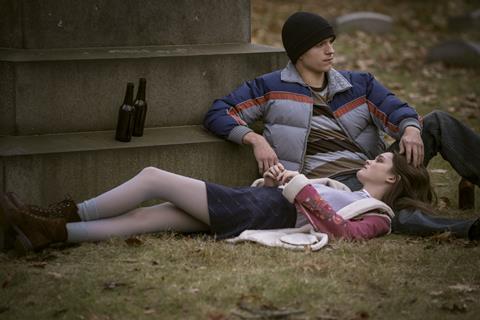 Dirs. Anthony Russo, Joe Russo. US, 2020. 142 mins.
The Russo Brothers turn their hands to deathly serious fare in Cherry, an adaptation of Nico Walker's novel which he wrote behind bars and is loosely based on his life as a university drop-out, army medic, heroin addict, and bank robber. (Or, to use the film's vernacular, a "junkie motherfucker with PTSD".) With a jokey, druggy, deathly feel and focus on the colour red, both in onscreen washes and accompanying marketing materials, Cherry does bring to mind Scorsese's Bringing Out The Dead. Or a patchwork, dice-and-splice of that 1989 film with Candy, Love And Death In Long Island, and every war film where an idealistic young boy signs up to find Hell on the other side of the contract – this time in Iraq.
Cherry comes across like a deeply personal passion project for a group of talented film-makers
The Avengers and Captain America directors, who also made You, Me And Dupree and Welcome To Collinwood in their early careers, count on the considerable talents of Tom Holland and Ciara Bravo here, and together they'll make a play for a younger following keen to devour fare relevant to the current opioid epidemic (the bank sequences are an interesting counterpoint to Robert Redford's last film The Old Man And The Gun, aimed at a demographic which is the polar opposite). Although Cherry can, at times, be an entertainingly brash and playful film, it's also a long, loud trip through familiar material which only fitfully delivers its rewards. Apple TV subscribers will have to settle in for the long haul; awards attention could possibly focus on Holland or Bravo.
As with anyone's life story, characters come and go and parts don't necessarily connect with each other outside the protagonist. This is even more evident in Cherry, with its three distinct narrative blocks. After a prologue set during a bank robbery, the first episode depicts the angst of the titular Cherry (the slang word for a new soldier out of his depth in combat zone, but apt for the film's hero in nearly every situation he encounters). Comfortably off, Cherry drifts through his Ohio life in a haze of weed before falling in in love with the sweet, neckribbon-wearing Emily (Bravo). For some airily vague reason Emily decides to leave Cherry and study in Canada despite the fact they're so into each other. Dropping out of college, Cherry signs up as a medic in the Iraq conflict over the vocal protests of his best friend James (Forrest Goodluck).
We then move to the section of the film which deals with Cherry's military service. Barely trained and armed with Ibuprofen instead of anti-biotics, he descends into Hurt Locker territory, and emerges a vastly changed man. Emily waits for him at home, and the third section follows their mutual descent into the full-blown drug addiction prompted by his undiagnosed PTSD, as well as his decision to embark on a career as a runny-nosed, if polite, smack-addict bank robber with the help of his drug dealer Pills and Coke (Jack Reynor going full Dr Gonzo). There's also a hastily-scratched-out epilogue which does rather make the viewer wonder what all this sturm und drang was really about, but, in for a penny, in for 142 mins.
The film's epic nature is emphasised by its musical choices – Van Morrison (including 1968's 'Astral Weeks') bookends the action, while a full-throated 'Madame Butterfly' accompanies a rather grotty denouement.
Cherry comes across like a deeply personal passion project for a group of talented filmmakers, and that's for better and for worse. In its attempts to address Cleveland's opoid crisis and the devastating trauma of repeated overseas conflicts for young Americans, the Russos' film can effectively convey the grim desperation of those involved. It is often distracted by its own technique, though. The tone wavers wildly, the attention hovers, and scenes are allowed to ramble on. At times the resulting sense of discomfort can help challenge the viewer, but Cherry isn't sufficiently fresh to be challenging enough.
Production company: The Hideaway Entertainment
International distribution: Apple TV
Producers: Joe Russo, Anthony Russo, Mike Larocca, Jonathan Gray, Matthew Rhodes, Jake Aust, Chris Castaldi
Screenplay: Angela Russo-Otstot, Jessica Goldberg, based on the novel by Nico Walker
Cinematography: Newton Thomas Sigel
Editing: Jeff Groth
Production design: Philip Ivey
Music: Henry Jackman
Main cast: Tom Holland, Ciara Bravo, Jack Reynor, Michael Gandolfini, Forrest Goodluck, Fionn O'Shea, Jeff Wahlberg, Theo Barklam-Biggs