Ada Uspiz's camera dramatically demonstrates how children grow up all too quickly in Palestine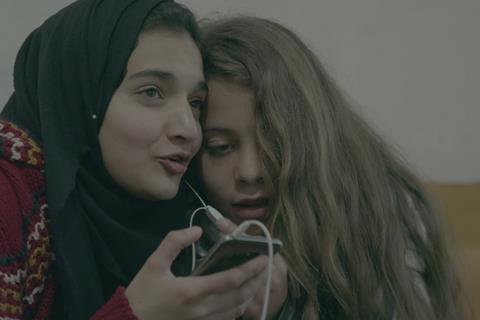 Dir. Ada Ushpiz. Israel. 2020. 128 mins.
The title of Israeli documentary Children seems straightforward, but there's a grim irony to it: the subjects are indeed children, but it's debatable whether they enjoy anything resembling a childhood. Focusing on three Palestinian girls aged between six and 13, Israeli documentarist Ada Ushpiz (Vita Activa: The Spirit of Hannah Arendt) has made a distressing, intimate study of the ways in which daily experience of the Palestinian-Israeli conflict politicises children from early on, leading them to acts of sometimes drastic protest. Arguably overlong and narratively unfocused, it is nevertheless a revealing and sobering watch, which should have resonance beyond its premiere in DOK Leipzig.
There is so much powerful material in Children that it feels churlish to complain about the film's structural bagginess
Opening captions inform us that Palestine's so-called 'Knife Intifada' – a wave of stabbing attacks on Israelis that began in 2015 - was spearheaded by children, and that Israel's defence forces responded with lethal force. In 2019 alone, we learn, 56 Palestinian children were killed, and over a thousand jailed. We meet Ushpiz's first subject in Tulkarm on the West Bank – Dima Al-Wawi, a 12 year-old girl just released from prison following her arrest by Israeli forces, allegedly for carrying a knife with intent to stab. Greeted by her parents, she is instantly surrounded by cameras, with journalists aggressively pushing her for statements about her imprisonment; understandably, Dima seems stunned, not to say traumatised, and is similarly recalcitrant at a ceremony hailing her as a heroine of the Intifada. Later, Ushpiz shows her at home the following year, angry with her parents and resentful at constantly being talked about.
Then there's 11 year-old Janna Jihad Ayyad, a formidably confident girl who films conflict with the Israelis, uploading her videos to the Agora platform. When she interviews Dima, the two hit it off instantly. They discuss their political convictions and Dima's prison experience (everyone seems to want her to say she was tortured, although she constantly denies it), but also goof around and burst into laughter, finding that with each other it's possible to be simply young girls.
The third subject is six year-old Dareen, who lives with her family in Halhul, where her father keeps a CCTV camera trained on the street, monitoring the constant tensions with the local Israeli patrol. Dareen sits wide-eyed through political discussions, her father believing in peaceful co-existence with the Jews, while his teenage sons are hardline hostile. But perhaps the film's most revealing sequences are those at Dareen's school, where the curriculum appears to be heavily ideological from the start, with the teacher asking her young pupils to debate terms like 'freedom' and 'homeland'.
You absolutely understand why a Palestinian upbringing would be steeped in political discourse, but you also wonder about its effects on young children, and about the degree to which politics absolutely defines a schooling like Dareen's: does the film faithfully represent the education of six year-old Palestinians, or simply not showing us the lessons that deal with, say, arithmetic and furry animals? As for Ushpiz's access to her subjects' home life, we easily forget that a camera is present, yet there is an uncomfortably intrusive edge to a scene showing Dareen in tears as a confrontation erupts outside her house.
As far as the suspicion of intrusiveness goes, this is a consideration that the film seems to take into account from the start, in showing us Dima beset by news cameras. By contrast, we know that Ushpiz is present by her subjects' consent, yet it is moot whether her underage subjects have given their consent in the same way that their parents have – even if we are seeing a world in which the dividing line between adults and prematurely worldly children has effectively eroded.
The most shocking scene shows Dareen and her young male cousin chatting in a carefree way about their hatred of Jewish settlers, and harping on death, including their own ("We'll die in our homes and no-one will bury us"). We come away from the film understanding how tensions in the Middle East can make children see themselves as combatants, but we also become aware of the extremity of a situation in which normality means seeing their peers imprisoned or killed, and celebrated as martyrs. Chillingly, Dima is seen at the end with another girl, Astbraq, talking about their desire to stab Israeli soldiers. It comes as some relief to hear Dima, cycling home afterwards, confessing, "I wouldn't kill an ant" – although we know that some haven't had such qualms.
There is so much powerful material in Children that it feels churlish to complain about the film's structural bagginess: not quite sustaining its 128-minute length, it could use some tightening to focus its alternating glimpses of its subjects. And it could certainly lose the somewhat precious score that occasionally surfaces to remind us, as if it were possible to forget, that this isn't just a story about politics but about everyday suffering and sorrow.
Production company: AU Films
International sales: Cinephil, info@cinephil.com
Producer: Ada Ushpiz
Screenplay: Ada Ushpiz
Cinematography: Danor Glaser
Editor: Neta Braun
Music: Avi Belleli
Main cast: Dareen Al-Rajabi, Dima Al-Wawi, Janna Jihad, Astbraq Noor