Master documentarian Fredrick Wiseman takes the pulse of a nation as he surveys the city of Boston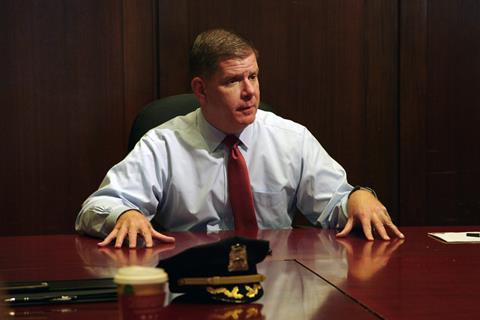 Dir: Frederick Wiseman. USA. 2020. 272 mins
US documentary director Frederick Wiseman's four-and-a-half hour study of Boston's city government is remarkable for its view of a disparate groups of American citizens talking, explaining, disagreeing, correcting, persuading, conceding and engaging with one another. Wiseman's true subject here is arguably off-screen, shamed by example, guilty in absentia: the erosion of democratic values and civil, civic debate in an increasingly divided country.
Wiseman is keen to show rather than embroider
However 90-year-old documentarian Wiseman is too rigorous and curious a director to fritter away 272 minutes on a single message. Like all his studies of institutions and the way in which they tick, City Hall is only partly piloted by Wiseman's choice of what to film and how to assemble the result. It's also to a large extent an open work in which we become our own editors, making connections between, for example, a silent scene of a municipal horticulturist sowing seeds in a Parks and Gardens greenhouse battered by a gale, and a Schools committee debate about increasing enrolment numbers in a high school that is doing great work with disadvantaged kids but, due to budgetary constraints, doesn't have the physical square-feet-per-pupil capacity to justify taking in more students.
It must be something about his home town, Boston, that brings out the maximalist in Wiseman: in terms of length, City Hall places second of all time in his 46-film oeuvre, beaten only by Near Death, his almost six-hour portrait of the Intensive Care Unit at the Massachusetts city's Beth Israel hospital. It's the material that determines the length, Wiseman would argue, and among his aficionados, being in for the long haul is a badge of pride. If anything, City Hall is more 'marketable' than the director's last film, Monrovia, Indiana, a middleweight at a mere 143 minutes. That was a sombre, austere study of an overwhelmingly white rural town in the Trump-voting 'flyover state' of Idaho. Here, Wiseman returns to the kind of vibrant, diverse, urban, East Coast community he charted in Ex Libris or Jackson Heights, and the energy is palpable. Its political timing will also help City Hall find an audience following its physical Venice debut and Toronto online airing.
If Wiseman ever pinned his colours to the mast, he does so here. The mast has a name: Marty Walsh, the plain-talking mayor of Irish origins who features in around a third of the film's 45 scenes. If this were set in Baltimore, not Boston, you could imagine the snub-nosed Walsh featuring in seminal TV series The Wire as a good guy in a tough town. In the course of a series of mayoral appearances that take him to – among other places – a military veterans' gathering and a demonstration by striking nurses, we learn that Walsh was diagnosed with cancer when he was seven, and that he's a recovering alcoholic.
Opportunism is definitely a tool in his armoury – he boasts about the day he called a press conference half an hour after Trump announced his notorious travel ban, surrounded by all the immigrants who work for Boston's municipal government. But Wiseman seems to suggest that there's good spin and bad spin, and this stocky, twinkle-eyed Irish Bostonian, who serves gravy at a Thanksgiving dinner for special needs adults and boasts at a municipal gala about the city's low unemployment rate and success in fostering upward social mobility, is held up as an example of the canny yet virtuous politician, the anti-Trump in person.
Wiseman is keen to show rather than embroider. This film is shot mostly in still, clear takes and carefully composed to reinforce the connection between the corridors of municipal power and the city they serve. Bridging sequences between scenes set at the city animal shelter, at the helpline call centre that fields citizens' enquiries, at a Boston Red Sox victory parade, in a police station briefing room, and in an office where people come to contest parking fines, paint a picture of a city in transition. In an elegiac touch characteristic of the director's most recent work, these outdoor scenes also chart the changing seasons, from early autumn through snowbound winter to the first green shoots of spring.
The film's most engaging and stirring scene comes towards the end, during a lively, occasionally tense meeting between some of the residents of one of the city's poorest neighbourhoods, Bowdoin Geneva, and the owners of a cannabis smoke-shop franchise who have applied for permission to open a branch there. This is civic debate in action, one in which raw nerves of ethnic prejudice and class resentment are exposed but also talked through. It's a galvanising moment, one that sums up the urgent relevance of what is probably Wiseman's most topical documentary to date.
Production company: Zipporah Films
International sales: The Party Film Sales, sales@thepartyales.com
Producers: Frederick Wiseman, Karen Konicek
Editing: Frederick Wiseman
Cinematography: John Davey