Lukas Dhont's |Grand Prix-winning picture is an intimate, quietly devastating study of childhood friendship between two boys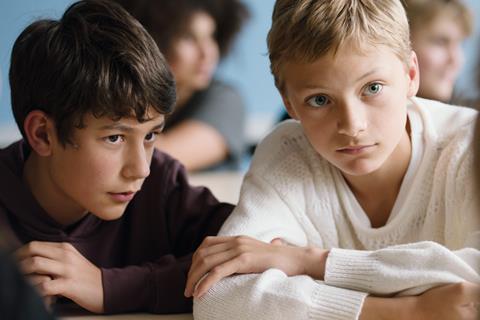 Dir: Lukas Dhont. Belgium/France/Netherlands. 2022. 104 mins
The disintegration of a friendship between two boys on the cusp of adolescence in rural Belgium triggers a tragedy, in the quietly devastating sophomore picture by Lukas Dhont. A study of children confronted with the kind of grief that they have neither the maturity or the temperamental framework to fully understand is always going to be a powerful proposition, but the combination of knock out performances, in particular from newcomer Eden Dambrine as Léo, and direction of uncommon sensitivity from Dhont makes for a picture which is intimate in scope but which packs a considerable emotional wallop.
Dhont elegantly uses the quotidian routines of a child's school and after school routine to show how nothing and everything can change all at once
Dhont has already shown himself to be a gifted director of young actors with his debut, Girl, which screened in Cannes Un Certain Regard in 2018, where it won several prizes, including the Camera d'Or for best first film. His work on Close builds on this, capturing both the churning interior world of the central character, and the quicksilver shifts in playground status, the tensions that can smoulder or spark from a throwaway comment. The recent success of Colm Bairéad's The Quiet Girl, a film which shares with Close a delicacy of approach and an empathetic embrace, suggests that there is a healthy audience appetite for sensitively handled films such as this one, which explore the uncomfortable edges of childhood. Mubi has acquired the title for multiple territories, including the UK and Ireland.
We meet Léo and his best friend Rémi (Gustav De Waele) at the end of what seems like an endless childhood summer. They fight off imaginary invaders; they sprint through fields of the chrysanthemums that Léo's family grow on their flower farm; they sleep, tangled together on the same bed, breath and limbs intermingling. But although they don't quite realise it, the summer, like this period of childhood, is coming to an end. The giddy tumbling orchestral motif of the early scenes gives way to more plaintive and uncertain tones – it's no accident that Rémi plays the oboe, surely the saddest-sounding of all the woodwind instruments.
The two boys, as close as brothers, are starting a new school. Nervous, they cling together as they navigate the new social structures of secondary education. Their physical intimacy does not go unnoticed. Dhont doesn't overstate this – it's in a brief glance from another boy who notices when Rémi rests his head on Léo's shoulder, an interrogation from the girls about whether they are "together". It's enough to spook Léo, to make him suddenly self-conscious of the closeness which was previously their unquestioned natural state. He starts to place distance between them, throwing himself into passionate discussions of football with the sporty kids, and taking up ice hockey. Deft handheld camerawork captures the way his eye is still drawn to his former best friend, now sitting in the Siberian fringes of the school yard with the other nerdy kids. But when Léo unilaterally cancels their long-standing arrangement to cycle to school together, Rémi breaks down.
Without revealing too much about the story, suffice to say Dhont elegantly uses the quotidian routines of a child's school and after school routine to show how nothing and everything can change all at once; how finding the words to speak can be the hardest part of coping with feelings for many young boys. There's one extraordinary scene towards the end of the film when Léo, sadness saturating him like ink on blotting paper, picks up a stick, as if he can somehow fight off his emotions. There's a naivety and futility in the gesture, in the way that it evokes the war games played in happier times: it's an utterly heartbreaking moment.
Production Company: Menuet, Diaphana Films, Topkapi Films, Versus Production
International sales: The Match Factory, info@matchfactory.de
Producers: Michiel Dhont, Dirk Impens
Screenplay: Lukas Dhont, Angelo Tijssens
Production design: Eve Martin
Cinematography: Frank van den Eeden
Editing: Alain Dessauvage
Music: Valentin Hadjadj
Main cast: Eden Dambrine, Gustav De Waele, Émilie Dequenne, Léa Drucker, Igor Van Dessel, Kevin Janssens, Marc Weiss