Charming, crowd-pleasing Day One Sundance title about a Child of Deaf Adults (CODA) who has to find her own way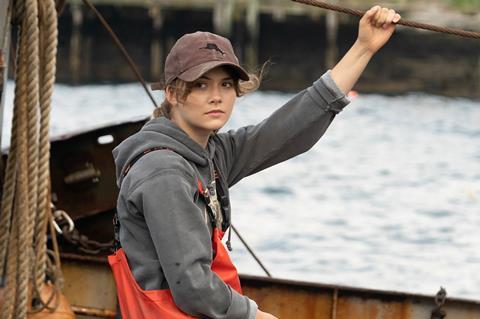 Dir/scr: Sian Heder. US. 2020. 111mins.
The normal tensions that exist between a restless teenager and her possessive parents are amplified in CODA, a lovely coming-of-age story in which a promising young singer must balance pursuing her passion against the pressure she feels to take care of her family members — all of whom are deaf. The title is an acronym for 'Child of Deaf Adults' and Emilia Jones winningly plays a self-conscious outsider who comes to realise she must finally leave the nest. Often quite touching and funny, writer-director Sian Heder's second feature sometimes succumbs to contrivances and crowd-pleasing theatrics, but one can hardly fault her obvious affection for these messy, engaging characters.
Ruby's family comes across as a complicated, nuanced group, with their inability to hear an obstacle but hardly their defining characteristic.
Like Heder's first film Tallulah, CODA screens as part of Sundance's US Competition, and certainly the picture's feel-good tone will make it an attractive pickup for indie distributors. (CODA is based on the 2014 French hit The Belier Family, which was also about a singing prodigy in a deaf family.) Word of mouth ought to be strong, particularly after the glowing reviews for a far more challenging drama about deafness, Sound Of Metal.
Set in the fishing community of Gloucester, Massachusetts, the story centres on Ruby Rossi (Jones), a 17 year-old who works on her family's boat in the early-morning hours before heading off to school. Although she adores her deaf, gleefully uncouth parents Frank (Troy Kotsur) and Jackie (Marlee Matlin), Ruby is mocked by her small-minded classmates — in part because she reeks of fish — and mostly tries to fade into the background. But after signing up for choir as her extracurricular activity, she piques the interest of her teacher Bernardo (Eugenio Derbez), who is wowed by her sublime singing voice, deciding that she should do a duet with handsome Miles (Ferdia Walsh-Peelo) for the upcoming recital.
CODA has its share of shopworn elements — a young protagonist hungry to break free of her roots, a precocious love story, a finale hinging on a make-or-break musical performance — but the film is strongest when it explores the interpersonal dynamics within the Rossi clan. As the only person in her tight-knit brood who can hear — she also has an older deaf brother, Leo (Daniel Durant), who works full-time on the boat — Ruby is expected to serve as the family's interpreter and ambassador to the outside world in order to keep their fishing business afloat. And while Ruby values that responsibility, Jones' vulnerable performance hints at how it's also a burden — especially after Bernando recommends she audition for the prestigious Berklee College of Music, which forces her to choose between helping her family and focusing her energies on practicing her performance piece.
It's unfortunate that CODA is susceptible to sentimentality and manipulative plot twists that risk overwhelming what's so delicate about Ruby's journey to independence. Thankfully, Heder never stoops to making the Rossis blandly noble because of their deafness. Quite the contrary, Ruby's family comes across as a complicated, nuanced group, with their inability to hear an obstacle but hardly their defining characteristic.
Matlin (who won an Oscar for Children Of A Lesser God) shines as a mother who fears losing her daughter, sometimes acting selfishly to guilt Ruby into giving up on her dream. At the same time, the actress's flirty rapport with Kotsur is a source of consistent amusement. (In fact, Jackie and Frank's horniness memorably results in an mortifying incident for Ruby in front of Miles, whom she secretly likes.)
Jones' three costars are all deaf, and CODA's seamless transition back and forth from speaking to signing — with the American Sign Language subtitled — creates an intimacy which is particularly affecting once the Rossis start having difficult conversations about their codependent relationship with Ruby. This young woman resents the idea of her family forever leaning on her — but perhaps she's also using her sense of obligation as an excuse so she doesn't have to face her fear of failing as a singer.
Of the supporting cast, Derbez's cutesy tendencies can undercut his role as Ruby's tough-love mentor. But he zeroes in on Bernardo's own outsider status — growing up in Mexico, this teacher has never felt entirely at home in Gloucester — which adds extra poignancy to this underdog tale. And Walsh-Peelo, the appealing star of the similarly inspirational/musical film Sing Street, exudes boyish sweetness playing Ruby's love interest. Even when CODA stumbles, this ensemble largely hits the right notes in a charming drama about finding your voice.
Production company: Vendome Pictures
International sales: Pathe, sales@patheinternational.com/US sales: CAA, nick@caa.com; and ICM, jessica.lacy@icmpartners.com
Producers: Philippe Rousselet, Fabrice Gianfermi, Patrick Wachsberger, Jerome Seydoux
Production design: Diane Lederman
Editing: Geraud Brisson
Cinematography: Paula Huidobro
Music: Marius de Vries
Main cast: Emilia Jones, Eugenio Derbez, Troy Kotsur, Ferdia Walsh-Peelo, Daniel Durant, Marlee Matlin