Unlikely travelling companions bond on a train ride from Moscow to Murmansk in Juho Kuosmanen's Competition title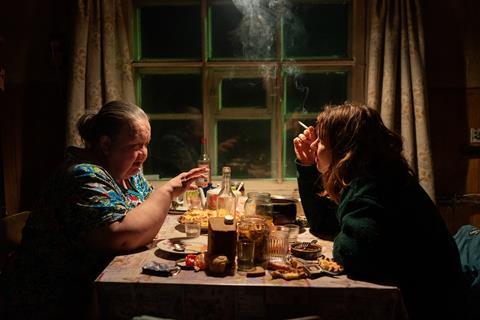 Dir. Juho Kuosmanen. Finland/Germany/Estonia/Russia. 2021. 106 mins.
A Finnish woman and a Russian man become unlikely travelling companions on a train journey from Moscow to Murmansk. That's about the shape of it when it comes to summing up Compartment No. 6, a leisurely, low-incident road (or rather, rail) movie from Juho Kuosmanen. The Finnish writer-director made his mark with his 2016 debut, black-and-white period comedy The Happiest Day in the Life of Olli Maki. His follow-up is an altogether more leisurely and realist affair – a loose-feeling, seemingly happenstance drift through a series of minor incidents and gently observed shifts of mood.
You can practically smell the spilled vodka
Somewhat lightweight to entirely convince as a Cannes Competition contender, it's likeable and unassertively involving, with an affecting pair of low-key leads, but otherwise this laid-back Russian-language item has a certain inconsequential flavour of 'What I Did in My Gap Year'. It's likely to inspire fondness rather than fervour in buyers and programmers.
Punchy, vividly-coloured credits set to Roxy Music's 'Love is the Drug' wrong-foot us as to the tenor of what follows, as the film drifts without too much narrative propulsion to follow heroine Laura (Seidi Harla). We meet her in Moscow, presumably at some point in the late 90s – guessing by a reference to Titanic and Laura's now vintage-looking video camera. The young Finn has come there to study Russian, and has started an affair with her landlady Irina (a charismatic Dina Drukarova), an older sophisticate with whom Laura is hopelessly in love. Despite her competent but slightly faltering Russian, we can tell that Laura is out of her depth at a party of Irina's, where arty guests swap literary quotes (and where Laura is told off for mispronouncing the name of writer Anna Akhmatova).
An archeological student, Laura is setting off to Russia's far north, to Murmansk, to see some ancient petroglyphs, or rock paintings - although Irina has changed plans and won't be joining her. Laura boards a train, armed with her video camera and pining for Irina, only to find that her sleeping compartment is shared by a slobbish and soon very drunk young man (Yuri Borisov) with little grasp of boundaries. The carriage's sullen guard – a nicely deadpan Julia Aug – refuses to get her another berth, and Laura finally reconciles herself to making the best of a bad job. The young man, a mine worker named Ljoha, invites her to join him on an overnight stopover, where an elderly woman philosophises to her over glasses of moonshine. Back on the train, a folk-singing Finnish traveller (Tomi Alatalo) shares the compartment, arousing Ljoha's petulant hostility, not unjustifiably as it turns out.
As the journey continues, Laura warms to Ljoha, seemingly in response to his somewhat childlike nature and lugubrious, not altogether articulate joie de vivre – and it's hard to quite shake off the feeling that the film is a little patronising towards him, focused as it is through Laura's middle-class, foreigner, perspective.
Where the film, based on a novel by Rosa Liksom, is least convincing is in the suggestion that, given Ljoha's out-and-out boorishness at the start, Laura would give him the time of day, let alone go on to develop fuzzy feelings for him. Similarly, it's something of a leap to expect viewers to warm to him that much, despite the amusing, nervy vulnerability in the performance of Yuri Borisov (also to be seen in another Cannes competition title, Kirill Serebrennikov's Petrov's Flu).
Nor does Compartment No. 6 ever quite overcome the problem that these are not especially distinctive characters per se : what gives them their interest is primarily the circumstances and space in which they are thrown together. Laura, candidly likeable though Seida Haarla's performance is, functions as our eyes and ears on the trip more than as a full-blown character – with spare touches of emotional insight in the evocation of her longing for Irina, and disappointment in the degree of her reciprocation. Beyond that, Laura serves as the focus of the film's quietly resonant, rueful evocation of how it feels to be a solitary traveller in another country (especially one as thornily inhospitable as this film's Russia is depicted).
Compartment No. 6 is something of a minimalist shaggy dog story, ending on a bittersweet low-key note, and a nice joke about linguistic misunderstanding set up at the start of the trip. This is one of those films where the journey matters more than the destination – although the snowbound end point certainly has its melancholic appeal, as shot by J-P Passi. His 35mm photography is deeply atmospheric here, whether capturing austere, windblown exteriors, or the increasingly claustrophobic compartment itself, where you can practically smell the spilled vodka.
Production company: Aamu Film Company
International sales: Totem Films, hello@totem-films.com
Producers: Jussi Rantamäki, Emilia Haukka
Screenplay: Andris Feldmanis, Livia Ulman, Juho Kuosmanen, based on the novel by Rosa Liksom
Cinematography: J-P Passi
Editor: Jussi Rautaniemi
Main cast: Seidi Haarla, Yuri Borisov, Dinara Drukarova, Julia Aug