Idris Elba takes the reins in this story of an inner-city riding school in Philadelphia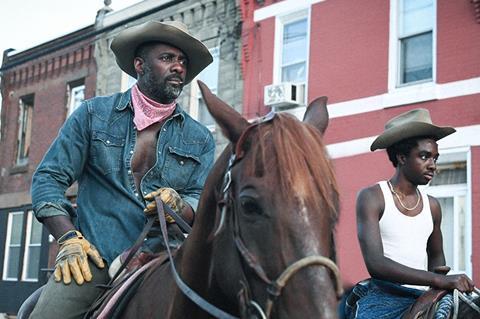 Dir: Ricky Staub. US. 2020. 111mins.
A troubled teenager tries to connect with his estranged father in the only way he can — through his old man's affection for horses — in Concrete Cowboy, a heartfelt but ultimately hobbled coming-of-age drama. Ricky Staub's feature directorial debut brings viewers into the potentially rich world of the Fletcher Street Urban Riding Club, a Philadelphia organisation where black locals celebrate horse-riding and build a community, while Idris Elba provides his usual effortless authenticity as an absent dad hoping for a second chance. But the film's tough-love clichés keep getting in the way of the material's more fascinating elements which ought to have been allowed to run free.
Screening as part of the Toronto Film Festival, Concrete Cowboy could appeal to fans of The Rider and Lean On Pete, two recent indies that also examined the relationship between humans and those magnificent four-legged creatures. Elba's star power will be a draw as well, and his young co-lead Caleb McLaughlin is part of the buzzy Stranger Things. An overly-earnest tone may get in the way of wider commercial interest, although its unique setting is certainly a draw.
As the story opens, 15 year-old Cole (McLaughlin) faces expulsion from yet another Detroit school because of his chronic bad behaviour. His exasperated mother drives him to Philadelphia, dropping the boy off at the home of his father, Harp (Elba), who was never much of a presence in Cole's upbringing. The two men don't initially get along, but Harp tries to get him interested in the urban stables that give his own life meaning.
Based on G. Neri's 2011 young-adult novel Ghetto Cowboy, the film is most engaging when it draws from the real-life Fletcher Street club, which injects an element of the untamed natural world into the city. For the black men and women of different generations who ride these horses, Fletcher Street is a way to preserve a piece of American history that's often overlooked, which is that black cowboys were widespread in the Old West — contrary to the whitewashing that occurs in films and textbooks. Additionally, Fletcher Street has given "at-risk youths" a positive place to congregate in a neighbourhood otherwise wrestling with poverty and crime.
Unfortunately, that compelling texture is too much in the background, as Staub proceeds to give us a threadbare father-son redemption tale. On cue, the resistant Cole will eventually take a shine to the stable's most volatile horse, with the animal obviously symbolising the young man's equally wilful spirit. Concrete Cowboy repeatedly operates on this same well-meaning but simplistic frequency, including introducing Cole's good friend Smush (Jharrel Jerome), a smalltime hustler who's clearly a stand-in for the seductive allure of the criminal lifestyle. Staub pits Smush and Harp as convenient devil and angel figures on each of Cole's shoulders, presenting the young man with competing worldviews from which he must choose.
Elba brings a rugged weariness to Harp, who has made grave mistakes in his past. But McLaughlin is less convincing as Cole, although the problem may be more Staub and Dan Walser's screenplay, which never sees the young man beyond his schematic character arc. Jerome, excellent in the recent When They See Us, oozes sly charisma, but Smush is a Hollywood stereotype of the charming drug dealer who thinks he can talk his way out of anything — even the encroaching danger that will add plot complications near the picture's end.
Several of the supporting cast are actual members of Fletcher Street, and Concrete Cowboy's occasional nods to the socioeconomic realities of the club are among the film's most poignant sequences. (Gentrification is endangering the stables, and it's getting increasingly more costly to feed and house the horses.) Every once in a while, cinematographer Minka Farthing-Kohl captures the arresting image of horses dashing in slow-motion across city streets, a gorgeous but jarring sight that contrasts a blighted urban landscape with the animals' raw power. There's an unbridled freedom in those moments that's otherwise lacking in this too-tame film.
Production company: Waxylu Films
International sales: Endeavor Content, wmaxfield@endeavorcontent.com
Producers: Tucker Tooley, Lee Daniels, Idris Elba, Dan Walser, Jeff Waxman, Jennifer Madeloff
Screenplay: Ricky Staub & Dan Walser, based on the novel Ghetto Cowboy by G. Neri
Production design: Tim Stevens
Editing: Luke Ciarrocchi
Cinematography: Minka Farthing-Kohl
Music: Kevin Matley
Main cast: Idris Elba, Caleb McLaughlin, Jharrel Jerome, Byron Bowers, Lorraine Toussaint, Clifford "Method Man" Smith