Spike Lee fires off a series of grenades in his epic Vietnam war film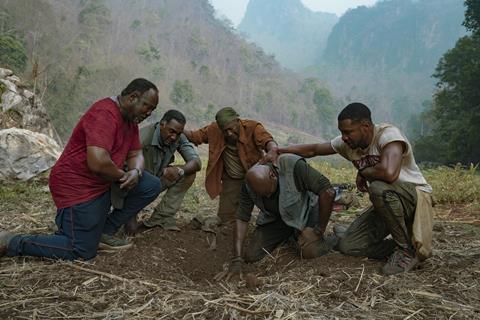 Dir. Spike Lee. US. 2020. 156 mins.
There's a sense of the stars aligning for Spike Lee's Vietnam western Da Five Bloods. It's certainly the right time for a politically-charged drama about the black lives destroyed during that conflict; Netflix can best get the story out to the world right now; and it's also the right place for the film's unruly, scrappy 156-minute storytelling ambition to play out. Da Five Bloods is no dry history lesson, though: it's also an action-adventure shoot-'em-up told with a nod to Apocalypse Now, a dark-hearted trip up the Mekong river with four veterans still mourning the death of the fifth blood (the slang for black soldiers in Vietnam who comprised 32 percent of the troops from 11 percent of the US population).
Da 5 Bloods has all the argumentative ranginess of Lee's earliest work, part-couched in the cinematic language of John Huston's 'Sierra Madre'
As a stripped-back Marvin Gaye sings What's Goin' On? – an album inspired by the Vietnam experiences of his own brother – the answer is "a lot". With the word epic writ large in his mind, veteran director and activist Lee goes for broke. He blends a complex present-day quest with a flashback narrative, adding archive footage of the Civil Rights unrest which played out before, during and after the war, and contextual references to the historical oppression of black people and their role in the US military.
A powerful, unhinged performance from Lee's regular muse Delroy Lindo speaks to the destructive power of PTSD mixed with shame and the lingering effects of the harsh reception these troops received on their return home. Lindo's character, and his break-the-fourth-wall unravelling, brings with it queasy memories of Brando's Colonel Kurtz.
Lee employes his favourite scene-setting device of period footage - from Martin Luther King on to Malcolm X and Panther co-founder Bobby Seale and Angela Davis - before opening into the core narrative set in the present-day. Four old veterans Paul (Lindo), Otis (Clarke Peters), Eddie (Norm Lewis) and Melvin (Isiah Whitlock Jr) meet in the lobby of a hotel in Ho Chi Minh City, previously Saigon, for a trip "in country" to recover the body of their fallen comrade and leader, the activist 'Stormin'' Norman (Chadwick Boseman in flashback).
While they're all distinct characters with their own backstories (from an unacknowledged Vietnamese child to a failed business), it's Paul who stands out: a raging Trump supporter with clear aggression problems provoked by untreated PTSD. When his son, David (Jonathan Majors) shows up, it's clear that Paul's anger knows no bounds. He may be close to his old bloods, sharing the dignity and pride handshake of the black Vietnam soldiers, but he trusts nobody and it seems he never has – not since Norman, anyway.
As the film flashes back to their ill-fated helicopter mission to a downed C47 jet in the middle of the jungle battlefield, it transpires that there's more to their quest than initially meets the eye. Otis's friendship with a former prostitute leads them to the white-suited, Panama-hatted gangster Desroches (Jean Reno), and soon the hunt is on for some bullion that went missing in suspicious circumstances. Melanie Thierry's role as a beautiful French NGO worker brings the issue of unexploded mines into the mix for a busy, bruising narrative.
But Da Five Bloods is technically ambitious as well. Lee shoots flashback sequences in 16mm 4:3 aspect ratio, colourised to reflect the collective memories we have from television coverage of the time, then widens and widens the frame again to bring us to present-day Ho Chi Minh and a new jangle-nerved journey into the jungle. He uses the older actors in the flashback footage alongside the younger Boseman, an unexpected device which is surprisingly effective.
But overall, this is a film which isn't afraid to take a stand, or to be complex. It also asks the viewer to reimagine how the Marxist politics of the North Vietnamese might have struck a chord with oppressed black soldiers, and includes some speeches by radio agitator Hanoi Hannah.
Outside Gaye's powerful songs, Da 5 Bloods uses the talents of Lee's regular musical collaborator Terence Blanchard to remind us we're in epic Hollywood territory as the crew traipses through the jungle. The jade paddy fields call to mind Oliver Stone's work in his Vietnam trilogy but particularly on Heaven And Earth, the film that dealt with the War from the Vietnamese experience. Lee also delves into that too, via the tourguide and potential ally played by Johnny Tri Nguyen.
Lee is firing off rounds in all directions here. Some land, some distract, some feel like overkill. For cineastes, it's a provocative redrawing of the canon; Coming Home or The Deerhunter, and even Stone's so-called "definitive" work including Platoon now seem only part of the picture, almost complicit in their neglect. Da 5 Bloods has all the argumentative ranginess of Lee's earliest work, part-couched in the cinematic language of John Huston's The Treasure of the Sierra Madre. It definitely has its work cut out to hold the viewer constantly to attention. It's cinema with a mission, though, and that's not right-on, it's what is needed right now.
Production companies: Lloyd Levin/Beatriz Levin Productions, 40 Acres And A Mule, Rahway Road
International distribution: Netflix
Producers: Lloyd Levin, Beatriz Levin, John Kilik, Spike Lee
Screenplay: Danny Bilson, Paul DeMeo, Kevin Willmott, Spike Lee
Cinematography: Newton Thomas Sigel
Production design: Wynn Thomas
Editing: Adam Gough
Music: Terence Blanchard
Main cast: Delroy Lindo, Jonathan Majors, Clarke Peters, Norm Lewis, Isiah Whitlock Jr, Melanie Thierry (Hedy), Johnny Tri Nguyen, Jean Reno, Chadwick Boseman