Robert Pattinson and Mia Wasikowska star in this revisionist western.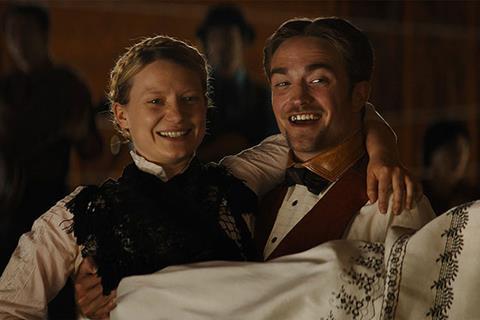 Dir/scr: David Zellner & Nathan Zellner. US. 2017. 113mins
An amusing doodle of a revisionist Western that slowly accrues unexpected resonance, Damsel finds filmmakers David and Nathan Zellner hitting upon a better balance between the jokey and the poetic than their previous feature, 2014's Kumiko, The Treasure Hunter. Throwing darts at genre conventions while honouring what is eternally mythic about the milieu, this comedy-drama draws off-kilter performances from Robert Pattinson and Mia Wasikowska that subtly (and sometimes not so subtly) reframe archetypes and consistently set us back on our heels.
The writing-directing brothers refuse to let viewers take any genre tropes for granted, constantly upending our expectations about who these characters are and what they're capable of doing.
Premiering at Sundance, Damsel looks to be a more commercial offering than the brothers' earlier films, thanks largely to the presence of Pattinson and Wasikowska in the cast. But the movie's Western trappings may also help with accessibility, although unsuspecting audiences may be baffled by this oddball film that's neither a parody nor an homage.
Damsel stars Pattinson as Samuel, a well-to-do young man who has travelled many miles on horseback to reunite with his lover Penelope (Wasikowska), aided by a drunkard (David Zellner) who claims to be a minister who can marry them. But as Samuel prepares to reach his destination, new information is revealed that complicates his romantic rendezvous.
Kumiko, The Treasure Hunter was a quixotic road movie in which the Zellners self-consciously applied a deadpan sense of humour to a young woman's globetrotting, potentially heartbreaking quest to find a treasure that may not even exist. Damsel has its own share of peculiarities, including a twisty narrative filled with spoilers that shouldn't be revealed here. But let it be said that the writing-directing brothers refuse to let viewers take any genre tropes for granted, constantly upending our expectations about who these characters are and what they're capable of doing.
At first, the film seems to be little more than a cheeky riff on the Western's high, lonesome solemnity, with cinematographer Adam Stone shooting the Utah locations in beautiful widescreen to emphasize the grandeur of this untamed countryside. This visual majesty is impishly undercut by the characters' foolish behaviour and the weird problems they encounter that never occur in other Westerns. In Damsel, guns misfire, no one can tie a proper knot, horses come in different sizes, and supporting players end up being crucial to the narrative.
In recent years, Pattinson has enthusiastically worked with auteurs and independent filmmakers in order to push himself creatively. His performance in Damsel isn't as striking as the ones he delivered in Good Time or Cosmopolis, but he clearly enjoys himself playing a gallant pioneer who may not have the mettle required to thrive in the Old West. Pattinson is very smart playing a not-very-bright guy, never letting the portrayal become one-note.
But Damsel's real standout is Wasikowska, who displays a steeliness as Penelope that's initially surprising but then becomes one of the film's driving forces. Her rapport with Pattinson is very appealing, but what's especially fun is how both actors effortlessly add a contemporary spin to their knowingly clichéd roles. By encouraging their actors' approach to the material, the Zellners seem to be hinting at how the moral worldview and social norms evident in the Old West will eventually evolve — and how some of those attitudes continue to be reshaped in modern times.
The filmmakers' long-time musical collaborators The Octopus Project have fashioned a score which is minimalist but also haunting. Produced on period-specific instruments such as banjos and musical saws, which were then doctored with studio effects, the aural landscape proves to be as quietly disorienting as Damsel's increasingly strange and occasionally goofy odyssey. Along the way, the Zellner brothers make cheeky observations about racism, destiny and gender inequality that are so offhand that they feel almost subliminal, woven into the fabric of their quirky little concoction. It's only at the end that Damsel's casual spell fully takes hold, leaving us an unmoored as the characters.
Production companies: Great Point Media, Strophic Productions Limited
US sales: Endeavor Content, info@endeavorcontent.com; and ICM, JLacy@icmpartners.com and OWheeler@icmpartners.com. International sales: Great Point Media, info@greatpointmedia.com
Producers: Nathan Zellner, Chris Ohlson, David Zellner
Executive producers: Jim Reeve, Robert Halmi Jr.
Cinematography: Adam Stone
Production design: Scott Kuzio
Editor: Melba Robichaux
Music: The Octopus Project
Main Cast: Robert Pattinson, Mia Wasikowska